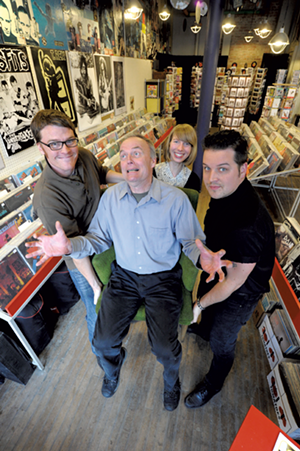 Photos: Jeb Wallace-brodeur
Fred Wilber, owner of Buch Spieler Music in Montpelier, is held in high esteem by his colleagues and coworkers. Left to right: Jeff Thomson, Hannah Bean and Knayte Lander.
Fred Wilber knows all about musical revolutions. He's been selling new and used records, and other music-related products, at Buch Spieler Music for more than four decades. The Montpelier store has survived one musical format change after another, from vinyl to cassettes to CDs to downloadable MP3 files.
"But I never did eight-track tapes," Wilber emphasizes. "I thought it was a completely fucked-up format from day one. And it was."
Now consumer demand for vinyl is soaring, especially among twentysomethings. Wilber, 63, is thrilled to see the classic record album come full circle, as it were. His basement is stocked with vintage LPs and 45s, which he and his staff are dusting off, cleaning up and putting on the shelves, to the delight of local audiophiles.
What's driving this retro craze for pops, hisses and skips?
"You can't download it," Wilber suggests. "And if you want a physical object, I'd much rather hold a record album than a CD jewel case."
Buch Spieler Music — its slogan is "Music to color the silence" — seems like it would be more at home in Manhattan's West Village than in a small state capital shopping district. Yet the store windows' display of bumper stickers reflects the town's, and state's, lefty bent: "If we can't marry, you can't divorce"; "Wall Street is like a crime scene without the yellow tape"; and "Why don't we put a teacher in every gun store?"
Stepping inside Buch Spieler is like taking a time machine back to your favorite '70s record store, right down to the stone-washed jeans, courtesy of the Getup Vintage, which shares some of the retail space. Wilber's side of the store is covered in '70s- and '80s-era posters featuring the Ramones, T. Rex, Jimmy Page, David Byrne, the Police and other acts. Older shoppers perusing the used stereo components on offer may spot a familiar model from their high school days: a Nakamichi tape deck, a Pioneer receiver or the Technics turntable that doubles as a listening station.
In earlier years, Wilber, who moonlights as a professional musician and wedding DJ, sold instruments and amps. He also ran a stereo repair business — that is, until solid-state technology and engineered obsolescence made such repairs impractical for the average consumer.
These days, Buch Spieler sells second-hand DVDs of such classics as Midnight Cowboy, Carrie, Dirty Dancing and The Good, the Bad and the Ugly. Its impressive line of greeting cards puts to shame the bland, sappy fare typically found in chain stores.
But while the bumper stickers, greeting cards, CDs and DVDs attract some customers, Wilber says the store's primary draw is vinyl. Wilber has thousands of records on display, and thousands more in the basement. Recently, he partnered with a now-defunct record dealer in upstate New York, who brought his entire inventory to Montpelier. There's something here for nearly every musical taste, from Dr. Dre to Johnny Cash to Miles Davis.
"Every day there's a new batch coming in, and there's a lot of stuff. A lot of stuff," Wilber says. "That keeps us excited."
As if on cue, a longtime customer and friend, Billy Northrup, stops in to say hello and thank Wilber for a jazz album he just purchased: a decades-old Duke Ellington recording with Paul Gonsalves.
"I love Paul Gonsalves," says Northrup. He explains how the tenor saxophonist played a solo with Ellington at the 1956 Newport Jazz Festival — a concert that helped revitalize Ellington's flagging career.
Wilber says he loves it when customers discover a rare gem that they didn't even know they wanted. After all, he says, "It's my love of music and records that got me started in the first place."
What's the story behind the store's Teutonic moniker?
"I've had Germans come in here and ask, 'What does this Buch Spieler mean? A book that plays to you?'" Wilber says in a mock German accent. "Yeah, that's what a record is. It's like a book that plays to you."
Actually, the name's origin is slightly less poetic. Wilber explains that he started the business with a childhood friend with whom he'd taken a high school German class. "And the only reason we took German was because the German teacher was the hottest teacher in the whole school," he reveals.
Ironically, before choosing that name, Wilber had read a book about how to name your business. Its first rule: Choose a name that's easy to say and spell. "Needless to say," he says, "I threw that book away."