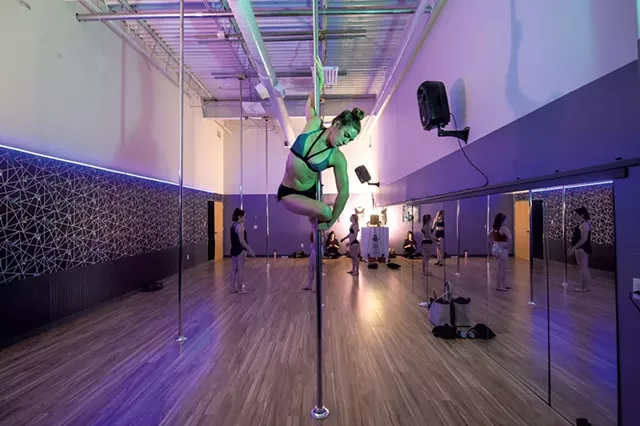 Luke Awtry
Jocelyn Smith
Nobody seemed concerned that Vickie Wacek was hanging 15 feet in the air. Wacek dangled from the metal crossbeams affixed to the ceiling like a kid on the monkey bars at a playground, grinning and pointing her toes, while a few other women chatted and stretched below her. Then she slid down the way she had come up — via the tall metal pole attached to the floor. This is what constitutes a warm-up at Bohemienne Fitness, Winooski's pole fitness studio.
Scaling a pole is a breathless feat of athleticism, too. Wacek seemed to climb to the ceiling effortlessly, maintaining the graceful lines of a dancer the entire time. Pole dancers learn to use every inch of their legs to grip the pole, so the work they're doing with their arms to pull themselves up looks almost easy. They can often sit midair or flip upside down looking as relaxed as if they were on the ground — but every muscle is engaged.
Wacek and seven other dancers were preparing for the Pole Sport Organization's northeast competition in Boston, to be held November 16 and 17, under the tutelage of Alison Mathes, who opened Bohemienne in 2016. This is the third year that dancers from Bohemienne will compete.
Pole dance garnered widespread attention in the wake of the September release of the movie Hustlers, which has already topped $100 million in American box office receipts. Hustlers is about a lot more than pole dance — there's also stripping, journalism, drugs, crime and Constance Wu's bangs — but the movie does showcase the art of mastering the pole. Jennifer Lopez released a behind-the-scenes video of her training regimen, and she of the rock-hard six-pack declared it one of the hardest things she'd ever done.
Bohemienne holds pole dance classes at all levels for all ages. For dancers who've become hooked on the sport, competition offers a new challenge and an opportunity to immerse themselves in the pole dance community.
Mathes, 38, began dancing ballet, contemporary, jazz and tap at age 6 in Florida, where she grew up, but chose not to pursue dance professionally when she was a teenager. As an adult, she found it harder to meet people who shared her passion for dance, especially after moving to Essex in 2014, away from most of her friends and family.
"I always considered myself a dancer, even though I wasn't taking classes," Mathes said. "There aren't that many dance classes for adults. It's kind of like gymnastics ... There wasn't really a community of adults dancing, until I found pole dance."
She installed a pole in her living room, just to try it, and was immediately hooked. It felt intuitive, Mathes said. Vermont had no pole dance studios, so she taught herself via the internet and realized that there were dancers all over the world bonding over their love of pole dance and sharing knowledge online.
"I would take my son to preschool and then come home and dance for, like, four hours at a time," Mathes said. She thought someone ought to open a studio in Vermont. Then she started thinking, Well, why not me?
"I bought some poles, not knowing if anyone wanted to do it, not knowing if I could fill a class," Mathes said. Today, Bohemienne typically sees 40 to 70 students per month.
Wacek, 36, said she was one of the first to sign up for Mathes' classes in 2016. A professional opera singer, she'd been awed by pole dance since seeing it in an opera production. In place of the usual ballerina, the company had hired a pole dancer.
"A lot of us have seen stripper pole dancing ... but I'd never, ever thought of circus, or ballet," Wacek said. "The minute the opera was over, I was on my phone looking for pole dancing classes."
Wacek was quick to defend stripping as a legitimate career choice that deserves a better reputation. But she and other Bohemienne dancers said pole dance isn't inherently sexual. It's a combination of sport and art that can be technical or erotic or emotional — or all of the above.
Pole dance also has a steep learning curve. "It hurt a lot," Wacek said. Beginning dancers often find their inner thighs speckled with bruises from gripping the pole, and Mathes said this puts off some would-be dancers. But, she said, getting used to the pole is like being a ballerina dancing on pointe — at some point, your body adapts.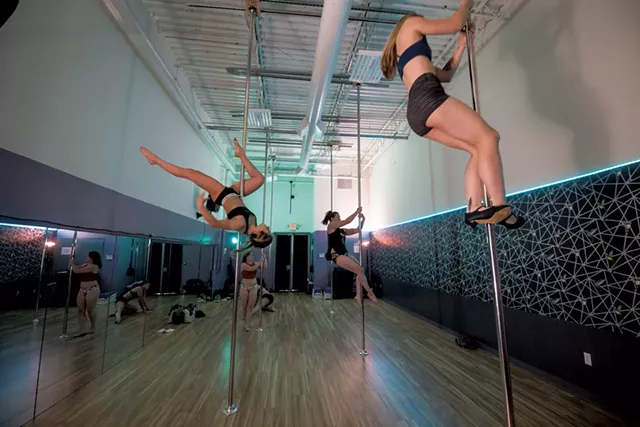 Luke Awtry
Left to right (on poles): Alexis Comeau, Alison Mathes, Madison MacMahon
"It's so invigorating to finally nail something that felt completely impossible a few weeks ago," Mathes said.
After warm-ups, the women took turns performing their routines for the group. Mathes said each dancer's routine is pretty much finalized; now the dancers are focused on fine-tuning. They spent some time working individually before presenting their whole routines once more at the end of the hour. Dancers can perform on both a pole that spins and one that doesn't during a single routine; the type of pole determines the choreographic options.
Some dancers focus entirely on the technical aspects of the performance, executing as many high-level moves as possible during their routines. Others, such as Madison MacMahon, 21, are more theatrical. Her routine is set to a show tune from the musical On the Town, complete with jokey props that help her poke fun at female stereotypes.
MacMahon said she followed Bohemienne dancers for a while on social media before she found the nerve to take a class. Feeling comfortable at the gym where she weightlifted had taken her a long time. When she finally signed up for her first Bohemienne class in 2017, she showed up 30 minutes early because of her nerves. But pole dance clicked immediately for her.
"Holy crap. Why have I been waiting?" she recalled asking herself. Since then, MacMahon said, she's taken some 70 classes at Bohemienne and has installed a pole in her living room.
Clad in a tank top bearing the Bohemienne logo, Mathes demonstrated moves and offered each dancer tips. She told the group that at competition, the performers who come in with a focused mind and confidence stand out above the rest.
"When someone comes out and they come to slay, you can tell," Mathes said.
After the second run-through of her routine, Wacek was breathless, but she slapped the studio floor enthusiastically. "That felt awesome!" she declared.
The dancers attribute their enthusiasm for the art form to Mathes and the welcoming environment she creates in the studio.
"Alison is just such a genuine teacher," MacMahon said. "She's so gentle in her teaching style."
Wacek agreed. "She's not a football coach. She is endeavoring this herself, and she encourages other people to come in and experience whatever it is they experience," she said. "She's not preening her feathers. She recognizes her journey as a dancer."
At the competition on November 16 and 17, the dancers will not only perform but also volunteer to take tickets, clean the poles between routines and cheer on other dancers.
"You can be a level one, which is the lowest level, and give an awesome performance with your face and your theatrics," Mathes said. "That's what I remember most about the performance — how the performer made me feel."