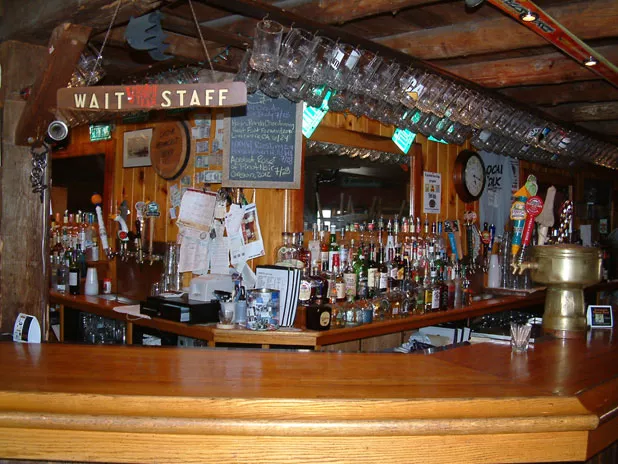 The bar at Localfolk Smokehouse
If the state of Vermont is a craft-brewing mecca, the Route 100 corridor could well be its nerve center. This fall, Waitsfield's Localfolk Smokehouse will join the string of microbreweries that now stretches from Morrisville down to Warren.
Longtime owner John Morris is waiting on permits and equipment for a two-barrel brew system that he'll install in the restaurant's basement. "We'll probably give two of our 24 taps over to our own brews," Morris says. "Then [as he ramps up production] it will be four out of 24."
Morris has long wanted to add a microbrewery to his eatery, he says. Two years ago he began the paperwork for the future Cousins Brewing, named for the partnership of himself; his brother, George Morris; and their cousin, Paul Noglows. None of them will be head brewer; Morris says he is in the process of seeking candidates to fill that role.
Even in the absence of a brewmaster, Morris has had seasoned input: Sean Lawson of Lawson's Finest Liquids and Mark Magiera of Bristol's the Bobcat Café and Brewery have both been guiding him in the process, he notes.
The first Cousins signature brew — an IPA — isn't a surprising choice, considering that Morris has given six of his taps over to IPAs and reveres Lawson's Chinooker'd IPA as "the most amazing beer out there." Morris hopes to follow that with "something on the lighter side," as well as with special beers from a succession of guest home brewers. "I'll definitely let the brewers come in and decide on what to rotate in, instead of my personal taste," he says.
Cousins' small size will enable those brewers to experiment. "If a beer doesn't work, it's not a thousand dollars' worth of ingredients down the drain. We can shake it off and try again," Morris notes.
Will a smoked beer be among the smokehouse's offerings? Morris hints that it will, saying, "We're hoping to recreate the spirit of the original Otter Creek Stovepipe Porter."
The original print version of this article was headlined "Smoke & IPAs."