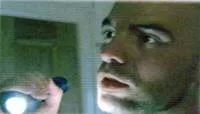 Plenty of video-store clerks dream of making movies — just ask Quentin Tarantino. Jayson Argento, 35, of Colchester isn't quite on that level. But he has translated his experiences working at Essex's Video World into a movie called Finding Providence. Made on the super-cheap, it will be shown at Essex Cinemas this Saturday and distributed on DVD by All Channel Films.
Argento recalls that 10 or 12 years ago, when he clerked at Video World — a store he also owned for a few years — "My friend was wigged out by this guy" who used to rent regularly. In the movie, two clerks suspect the customer, a silent gent with Orville Redenbacher-esque suspenders, of involvement in the recent disappearance of a teen. One of them, played by Champlain College instructor Eric Ronis — who directed The Trojan Women this past spring — is nursing an obsession with another girl who vanished 10 years earlier.
Finding Providence looks unusually good for a film shot on digital video, thanks to a 24-frames-per-second camera that Argento doesn't include in his official $1300 budget — his dad funded the equipment purchase, he says. The camera "simulates the frame rate of a movie," he explains. "Your brain says, 'I'm watching a film.'" His friend Adam Lukens contributed a surprisingly effective lighting scheme involving two lamps from Home Depot and a sheet of muslin. Another friend, Jeff Turner, wrote the score.
Argento filmed the movie over two weeks in July 2005 with a cast and crew of volunteers. At first, he says, "My friends weren't super-excited to do a movie without monsters in it." (Argento and other members of his local film and theater company, Stoneworks Entertainment, have produced a bunch of horror shorts.) But they came on board.
Argento has sent Providence to "tons of festivals," he says — from Sundance, Toronto and Montréal to October's Vermont Filmmakers' Showcase. "I always shoot high," he explains.
When it comes to distributing the movie, Argento says he had no illusions about snagging a plum deal: "Technically, I'm going to get fucked. Who do I want to fuck me?" After some advice from an L.A. lawyer and a phone chat with a former Vermonter who works for All Channel Films, he sent off his movie. The company will put Providence on the domestic DVD market and take a percentage of the sales.
Argento works at Costco now, but he still has his Essex connections: The movie will premiere at the cinema there, where a scene was also filmed.