James Buck
Betty Miller
It started with rattling doors and shaking beds. Then Jennifer Dunbar smelled smoke and heard heavy footsteps when no one else was home. Twice, when she was sleeping, she was pushed into her pillow until she couldn't breathe. She moved to a different bedroom.
Then she saw the little boy in a white, puffy-sleeved shirt standing in the corner. He was blue and wet. Dunbar, who lives in an 1850s-era house in St. Albans, was used to odd creaks and cracks, but when she found an old photograph in her attic of that same little boy, she called the Paranormal Investigators of New England.
PI-NE investigates all aspects of the paranormal, from ghost sightings to cryptozoology — including Lake Champlain's legendary monster, Champ — to UFOs.
"It's anything that can't be explained by science," said PI-NE director Betty Miller. "Tell us what you have, and we'll go check it out."
Miller's team investigated Dunbar's home multiple times using a video camera and a digital voice recorder to capture electronic voice phenomena. On their third visit, they experienced what they call an "acknowledgment" during a question-and-answer session when the flashlight in the middle of the floor turned on and rolled away. In their final report, Miller's team recommended a cleansing of the home; Dunbar chose to bring in a minister to perform it.
After the cleansing, the more serious problems stopped, Dunbar reported. "Now it's just doors slamming and people whispering, but nothing violent," she said. "You get used to hearing things. When I hear a rattling door, I just give it a few minutes and then go on with my day. It doesn't bother me anymore."
Miller said that it's not uncommon for activity to go quiet for a while but then return. The best thing is for the homeowners themselves to cleanse the space of any bad energies, acknowledged Miller: "You want them to declare their space and reclaim it."
Burning sage is a good start (Miller recommends white sage over green for its better burn quality), but palo santo wood — which is native to South America and means "holy stick" in English — is even better. "We're in the process of helping [Dunbar] get more support," Miller noted.
Based in Essex Junction, PI-NE is composed of nine volunteers who travel the region tracking down unusual activity. Most of their investigations take place in private residences, but they've also investigated businesses and institutions including the Swanton Public Library ("substantial evidence of activity"); the Adirondack History Museum in Elizabethtown, N.Y. ("possible activity"); and the Community Center in Jericho ("no evidence of activity"). Their services are free of charge and, just as importantly, free of judgment.
Finding volunteers who are a good fit for the team is important to Miller. "We only take on good team players,'" she explained. New volunteers meet with Miller to talk through the team's code of ethics and sign waivers. Then, though most have studied paranormal activity and already have their own equipment, they shadow different investigators to gain exposure to a range of approaches. "They have to find their own style," said Miller.
Courtesy F Betty Miller
Video camera footage from a recent investigation
Her own experiences with paranormal activity started when she was 19 years old and living in a Victorian-era apartment in Exeter, N.H. After weeks of unexplained phenomena — finding shades drawn when she got home even though she'd left them open; previously unplugged fans plugged in and blowing; sudden severe drops in temperature — she saw a full-bodied apparition of an old man in an overcoat at the foot of her bed.
Years later, when her children were older, Miller decided to become an investigator. She joined PI-NE in 2008 and became the director two years later. Miller said that for a long time she didn't talk openly about her paranormal investigations, but as television shows such as "Ghost Hunters" and "Ghost Nation" became popular, they became easier to talk about.
"People have been pretty accepting of it and don't mock me, so that's been nice," she said. "I'm out there doing what I do and having fun."
Still, being a paranormal investigator isn't easy. Members of Miller's team have been pushed, scratched and even burned by mysterious sources while investigating. Plus, there's the time commitment — all investigations take place on weekends — and the expense: Investigators buy their own equipment, pay their own travel fees and contribute dues to maintain the website.
Currently, the PI-NE team includes one medium (who sees apparitions) and many sensitives (people who can feel energy in any form), but everybody brings a different skill and perspective.
"I don't want everyone thinking the same way, because then you only get one result. I want lots of results," said Miller. "I don't want tunnel vision on my team."
By the time people call PI-NE, a situation in their home "is usually severe," Miller went on. "We've had clients so distraught that they can't be in their house and are sleeping in their car."
As the self-identified "techie" on her team, she is all about measurement: of electromagnetic fields, fluctuations in temperature and acoustic anomalies. An unexplained electromagnetic field, as well as sudden changes in temperature, are considered evidence of paranormal activity.
The investigators' job is to go in, use their equipment and produce a report. "We don't claim to take care of it. We can't cleanse it. We don't promise to get rid of it," Miller said. "We're there to answer one question: Is there something in your home?
"We're equipment-based and data-driven," she continued. "We don't chant. We're all professionals with day jobs; we're not some goth group in the basement."
Miller would like to banish the misinformed image of paranormal investigators sitting around a Ouija board. And don't call her a ghostbuster. "I'm not busting any ghosts. I'm not hunting any ghosts," she said. "We're trying to detect the energies in the surroundings, no matter what they are."
Anyone who thinks they are experiencing paranormal activity in their home or workplace can fill out a contact form on PI-NE's website or Facebook page, Miller explained. The team's case manager schedules initial interviews; all cases are vetted with extreme caution. "There are a lot of crazy people out there!" she said with a laugh.
The investigators conduct a thorough phone interview with, and run a background check on, a potential client. Then they schedule a site visit to assess the conditions of the space itself — the team has encountered hoarding, rats and even domestic-abuse situations — before they return with their equipment.
One of the worst cases PI-NE has investigated involved a house in northern Vermont in which the residents routinely found knives jammed into their kitchen walls underneath messages scrawled in red ink.
"This case is on the down-low to protect the clients' privacy," Miller said. "And a lot of the investigators got injured."
Her team spent three years working on this house, and even helped the owners bring in priests, a shaman and a medium (a step they don't normally take with clients). "But in the end, it was something that was never going to be removed," Miller said with a sigh. "It was like Amityville of Vermont," she added, referring to the subject of the 1977 book (and later films) The Amityville Horror.
Recently, Miller's team investigated Jerilyn Langsdon's 1930s home in Brandon. Langsdon has experienced mysterious things there for 12 years — the TV suddenly turned on, her stepfather's urn moved, the sound of heavy footsteps — but because she worked a night shift, she chalked it up to fatigue and coincidences.
When her boyfriend and his three children were about to move in, however, Langsdon wanted to make sure her home was safe. So she turned to PI-NE. She's currently awaiting the team's final report, but, she told Seven Days, the investigators think the spirit of her late husband could be responsible for the activity.
"Whatever is here isn't malevolent, but more like a warning or a concern," Langsdon said. "That's comforting, so I hope [PI-NE] comes back to do more digging."
"They're really professional," she added. "They don't ever tell you your feelings are wrong. They just listen and take it all in. And then they analyze it scientifically."
House Call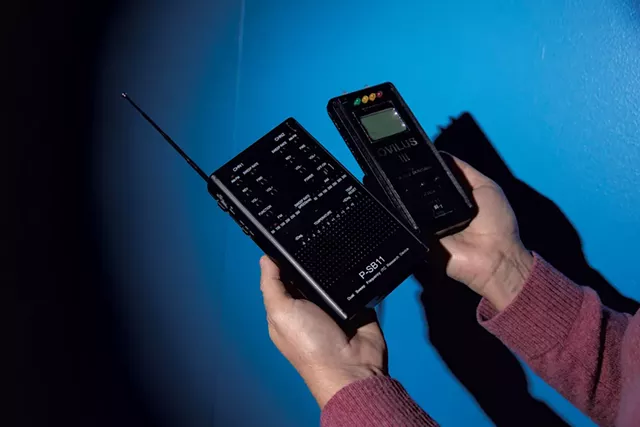 James Buck
Paranormal Investigators of New England equipment
I was curious to see a paranormal investigation in action, especially because my partner and I had recently moved into a new house that seemed to have some strange sounds at night. Miller agreed to demonstrate her equipment, with the assurance that she wouldn't "stir up anything unwanted." On a recent Sunday afternoon, she visited me in North Ferrisburgh, toting three hard-backed suitcases.
If you're picturing, say, a jump-suited Kate McKinnon from the 2016 Ghostbusters remake, stop right there. Miller, a demure grandmother from Jericho, was wearing jeans and driving a BMW.
A standard investigation setup always includes multiple video cameras and a digital audio recorder, but Miller relies on a range of additional tools to establish "a basis of validity." She handed me a pair of headphones to put on and plugged them into what looked like a small megaphone — called a parabolic amplifier — that investigators use to detect hard-to-discern sounds such as whispers. Silence, it turns out, has many layers of sound.
Another common tool, the Spirit Box, resembles a transistor radio and is used to scan AM/FM frequencies. Miller toggled the dials back and forth as static filled the room.
"Everything exists on a frequency, so we're trying to give the spirit tools to communicate," she explained. "You can use this for a simple question-and-answer session. I'm not talking about a radio station, but listening for the voices in between."
Other tools include a simple flashlight and a 360-degree periscope that detects static electricity.
"It's hard to see during the day," conceded Miller. The PI-NE team has learned that night investigations are better. "We've tried to investigate during the day, but it's always failed," she said. "You can't see shadows, and there's a lot of extra noise like traffic or kids playing. We've had to throw out all our audio from day cases."
Next, Miller pulled out a K-II EMF meter that investigators use to detect electromagnetic energy fields. It looked a bit like a TV remote. She walked around my kitchen looking for energy pickup; when she approached the microwave, the red lights flashed. "It's very basic," she said.
The last tool was Miller's favorite: a Kinect SLS camera (also known as a "digital dowser") that maps bodies in 3D. Developed first for video gaming, the Xcam SLS software uses an algorithm of temperature, light and distance to detect a presence (such as a spirit or my partner who happened to walk through the room).
Red dots appear on the screen with the message "anomaly detected." When the camera locks in on a body, red lines connect the dots (think of the classic game Hangman) and reports "anomaly acquired." As Miller explained, "It's one thing to think you have a spirit, but it's something else entirely to see it mapped."
She's especially excited about a promising new tool designed by the PI-NE team's inventor, Carlton Sheldon. The prototype involves inducing hypnotic trances to tap into the subconscious mind to better communicate with spirits.
"It's our responsibility to investigate, but we also need to bring the field forward," Miller commented.
The new equipment is still in the research and development phase, so details must be withheld. But Miller had just tested it for the first time at an investigation. "Did we make a breakthrough? We're not sure yet — it needs further evaluation — but it blew our minds."
At the close of Miller's demonstration, I breathed a sigh of relief. Nothing in my house had registered on her equipment. She nodded in agreement: "Whatever's here is pretty benign."
As she packed up her equipment to leave, she warned me that a lot of paranormal groups "are in it for themselves and not for the client." Miller is critical of investigative practices she considers reckless, such as provoking a spirit by "demanding" that it show itself, or issuing open "invitations" by asking, "Is anything here?"
She stressed the importance of choosing words carefully. "You don't want to invite just "anything" in with this equipment. After a period of time, something's going to answer your knock, you know?"
Numerous books, movies and TV shows feed our fascination with the unknown and unexplainable. The investigators of PI-NE take that curiosity to the next level, trying to understand it by studying it, looking for evidence and asking what — or who — is there.
"Is there life after death? There's something going on — we don't know what it is — and when we die, we'll all know the answer," Miller said. "But we want to know now. With this new equipment, we're getting closer all the time."