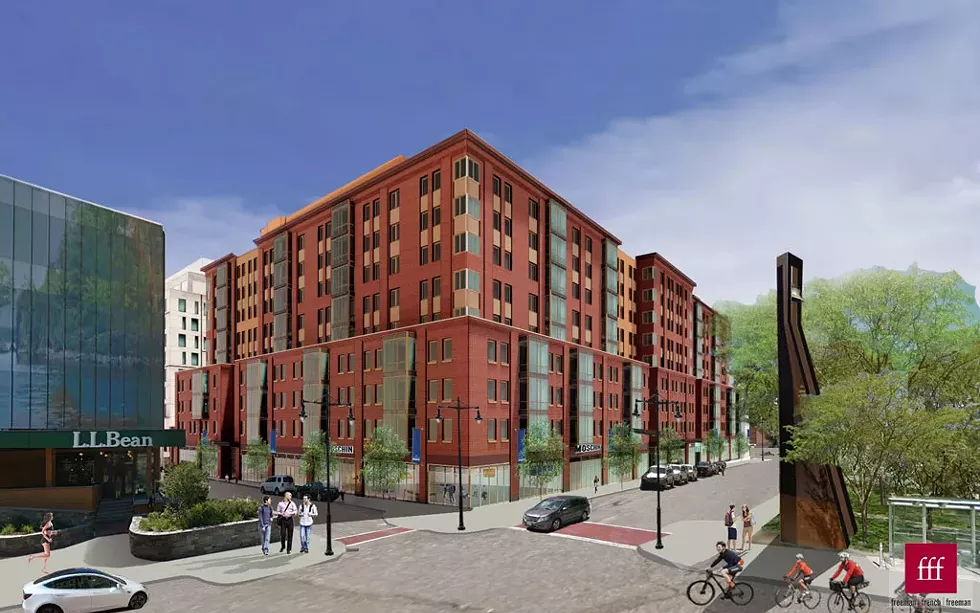 Courtesy of Freeman French Freeman
The planned corner of St. Paul and Cherry streets
Good news, Burlington: There's a new plan for the three-acre vacant lot where the downtown mall used to be. And it's backed by three local partners — Dave Farrington, Al Senecal and Scott Ireland — who are committed to making it happen. Together, the three Vermonters bought a 50 percent stake in the project formerly owned by Brookfield Asset Management. Developer Don Sinex still owns the other half.
Farrington, owner of Shelburne-based Farrington Construction Company, says he and his partners are very eager to get started. The new team has already filed a zoning permit with the city and hopes to break ground by September 2021.
"We've made more progress in eight weeks than Brookfield did in two years," Farrington says.
More of What You Want, Less of What You Don't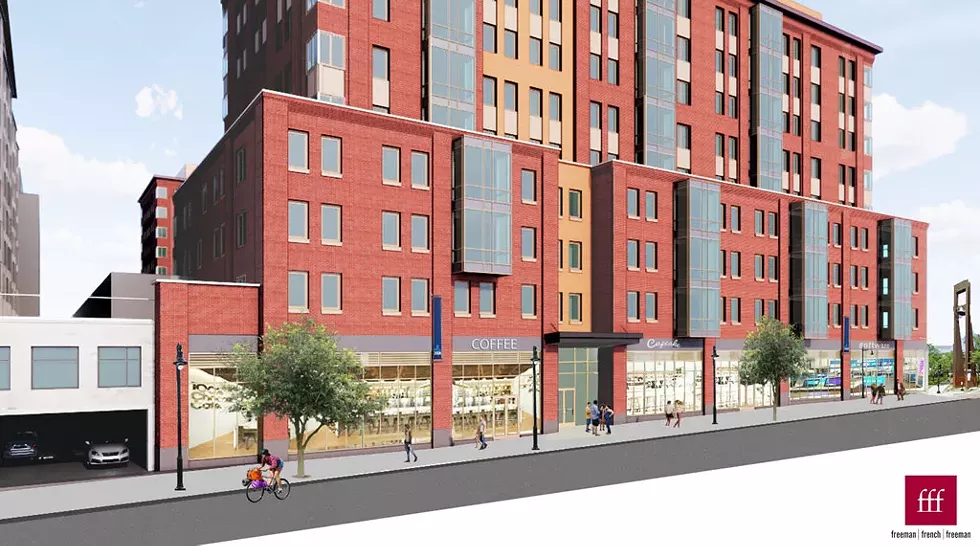 Courtesy of Freeman French Freeman
Close-up of St. Paul Street
Farrington points out that the new project is a scaled-down version of the concept approved by Burlington voters in 2016. This one takes into account public criticism of the design. The 14-story towers have been downsized. The proposed hotel has been scrapped, along with all of the commercial office space.
The project still includes two buildings, but they're smaller: The North Tower will have nine stories; the South, 10.
Courtesy of Freeman French Freeman
The planned corner of Bank and St. Paul streets
The new design includes features to benefit the whole community. These include:
426 units of housing, at least 84 of which will be classified as "affordable"; the old plan included just 357 apartments.
45,000 square feet of street-level retail space.
A rooftop restaurant on the South Tower and an observation deck, open to the public, with a view of the city and Lake Champlain.
Meeting, coworking and community space that will be available and accessible to all.
Public art installations that will beautify the buildings and support local artists.
A state-of-the-art stormwater management system that will help reduce and filter the flow of runoff to Lake Champlain.
Solar panels, green roofs and energy efficiency features that will cut utility costs and reduce the buildings' carbon footprint; both buildings will be LEED Gold certified.
422 parking spaces, along with at least 300 bike parking spaces; the project is in close proximity to the downtown bus terminal and will encourage residents to use public transportation and alternatives such as CarShare VT.
The reconnection of Pine and St. Paul streets between Bank and Cherry.
Farrington notes that he and his partners are all active participants in the local construction community — Senecal owns Omega Electrical Construction, and Ireland owns S.D. Ireland Concrete Construction. They understand the value of employing local contractors, so they've broken up the development into three stages, which he says will make it possible for smaller outfits to compete for the jobs.
A Boost for Burlington Businesses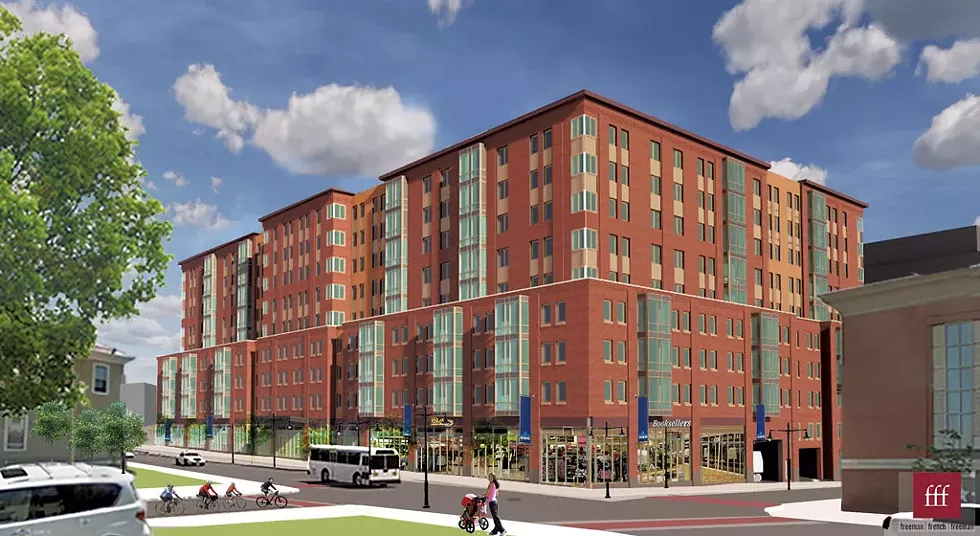 Courtesy of Freeman French Freeman
The planned corner of Cherry and Pine streets
Many business owners and restaurateurs in downtown Burlington are eager to see progress at the CityPlace site. Charles Reeves is among them; he owns Penny Cluse and Lucky Next Door with his wife, Holly Cluse.
He hasn't had a chance to look at the new plans yet, but "I'd like to see something happen," he says.
The stalled project has "put a chill" on the downtown business district, he adds. And the pandemic hasn't helped. The city's locally owned stores and restaurants are all struggling to survive the COVID-19 era. Forward movement on CityPlace would provide a much-needed boost.
Courtesy of Freeman French Freeman
Close-up of Pine Street
And Reeves is impressed with the local team taking it on. "All of these guys are go-get-em, get-the-job-done kind of people," he says. Melissa Desautels, owner of Whim Boutique and Dear Lucy, agrees. She describes Farrington, Senecal and Ireland as "trustworthy locals, people we see on a daily basis."
Desautels, a Burlington resident, saw Farrington's work up close while a member of the fundraising committee for the University of Vermont Medical Center's new Mom and Baby Unit in 2015; Farrington's company built the Children's Hospital at UVM Medical Center. Desautels liked what she saw when she toured the facility. She notes that Farrington also serves on the UVM Medical Center Foundation board. He and his partners "absolutely care about our community and downtown," she says.
Unlike Reeves, Desautels has reviewed the new plans. "I'm all for it," she says. "I like the changes they made."
Like the developers, she's ready to get the ball rolling. "The sooner the better," she says.
Find more information about the new CityPlace Burlington plans at cityplaceburlington.com.
This article was commissioned and paid for by Pomerleau Real Estate.