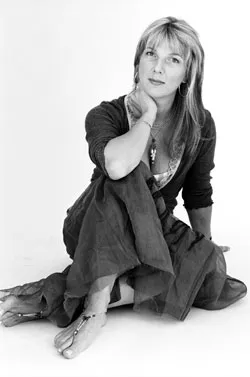 In the first three pages of Tess Stimson's novel One Good Affair, a neonatalogist enjoys torrid sex with her long-time lover, thinks tenderly about her clueless husband, receives an emergency call, leaps out of bed and heads off to the hospital in her sky-high red stilettos.
That doesn't sound like a typical evening in Burlington's South End, where Stimson has lived for the past year. What it does sound like is the concentrated essence of "beach book." But One Good Affair, which was published here in August after a bestselling run in Stimson's native U.K. under the title The Infidelity Chain, has more substance than its opening might suggest. Told from five different points of view, the novel demonstrates how a "no-strings" affair ends up entangling the lives of everyone involved, from the cheaters to the wronged spouses to their kids.
Stimson, 38, is a native of Sussex who got her schooling at Oxford and then trotted the globe as a journalist, reporting for ITN, CNN and the BBC from cities such as Rome and Beirut. She published her first novel, Hard News, in 1993. In 2002, Stimson moved to Florida, from which she wrote a lifestyle column for the U.K.'s Daily Mail. (Sample title: "Just When Does a Woman Get Too Old for Long Hair?") And she continued to produce steamy, cosmopolitan novels, including, 2007 bestseller The Adultery Club. The Evening Standard once called her "the new Jackie Collins."
It's not hard to see why, based on passages such as this one: "His skin smelled of leather and soap and pine trees just after it's rained. There was a quiver in the region of my knickers." But, for all the quivering, One Good Affair offers some hard-headed insights into love and marriage. In a 2008 article published in the Independent, Stimson described her own history as a "good Catholic girl" who had an affair with a married man, wed him after his divorce, and eight years later discovered he was cheating again ... on her.
"I like looking at what comes after the happily ever after," Stimson says in a phone interview. Her latest book is Beat the Bitch!, a nonfiction guide for wives who want to keep their husbands away from the other woman. But her fiction also explores the dissatisfaction women can feel in a seemingly "perfect" marriage. "Women have bought into the whole Cinderella syndrome," Stimson says. "That swooning feeling wears off after a couple of years, and then what do you do?"
Does she call her work "chick lit"? The expression has "become a term of opprobrium,'" points out Stimson, "which is slightly unfair. You'd never hear the same applied to the rubbish men read. I would never say what I write is literature, but it's not as banal as some of the pink-covered stuff you see in the shops these days."
Stimson has caught some flak in the British press for the sentiments proferred in Beat the Bitch! — "what some might consider very old-fashioned advice," she acknowledges, about keeping a man by offering him a steady diet of sex with a minimum of nagging. "It's not about being subservient," she says, "it's simply about playing the game, catching more flies with honey than vinegar."
The author and her second husband, Buffalo native Erik Oliver, moved to Vermont as a "lifestyle choice," she says — both are "keen skiers." Stimson, who's raising three kids, ages 7 to 15, finds the city "very similar to the England I grew up in," she says. "It's very neighborly; you can leave your doors unlocked. It's like stepping back in time for me."
Stimson's next novel, The Cradle Snatcher, is out in the U.K. and should hit our shores in 2010. She's currently working on What's Yours Is Mine, about "two very different sisters," one of whom offers to carry the other's baby. And Stimson says she's "interested in writing a book set here" — about ordinary Vermont couples who give spouse swapping a try and then grapple with the consequences.
Swingers in the land of Birkenstocks? Stimson says her characters don't need to be jet setters: "I could write a whole novel about the street I live on." Her books, she notes, "have a slight glamorous edge to them, but basically they're about relationships, and that's the same the world over."