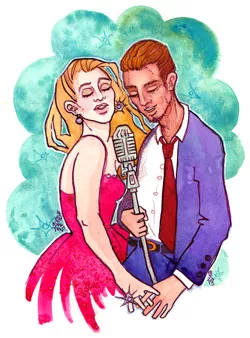 According to Gram Parsons and Emmylou Harris, love hurts — and scars, wounds, mars and burns. According to Def Leppard, love bites — and bleeds. And, according to Frank Sinatra, love is lovelier the second time around — doo be doo be doo.
The annals of pop-music history are filled with love songs for every conceivable romantic condition, from love at first sight to heartbreak, and in every conceivable genre, from rock and country to hip-hop and jazz. No other topic has been written about at such great length or with such passion. For reasons too numerous to count, we simply love our love songs.
Recently, Seven Days asked some Vermont songwriters to share the stories behind love songs they've written. Their responses were as varied as the songs — from sad, introspective tales of love lost to raucous torch songs about pinups and porn stars. Some songs are straightforward, while others are as much a mystery to their writer as to the listener. Yet, no matter the style or metaphor, each offers a glimpse into how and why love songs tug at our heartstrings.
"Terrarium," Vedora, When Dusk Falls (2012)
I wrote this song about an old lover who had an affinity for terrariums — basically an ecosystem of plants, soil, rocks and/or tiny animals enclosed in a container, usually a glass jar. The cool thing about them is that you don't really need to water them like plants; if the lid is closed, the water already inside them can sustain them. But these terrariums he made me kept dying, one after another. It was a striking metaphor for our relationship. These terrariums were high maintenance and just not working out … and though from afar they would look beautiful and alive, if you got close and really peeked into the glass, you'd see everything wilting away. Everything was tiny, beautiful and trapped.
—CAROLINE O'CONNOR
"Matador," tooth ache., Flash & Yearn (2011)
"Matador" is a glimpse at love as the game or sport or chase. In the song, the matador exercises more control over the situation, while the speaker, the bull, is the passionate, even desperate one, hurling herself at him despite love's lances.
But the matador is in danger, too. So while it may seem like the bull is the "victim" of love, they're both in this turbulent, dangerous, but showy and appealing zone. It's this kind of chaotic but necessary ritual. It's anxiety and anticipation … the drum machine's urgency or the bass line's hesitance.
—ALEXANDRIA HALL
"No Gal Cooks Like Mine," Starline Rhythm Boys, Red's Place (2007)
The way to a man's heart is through his stomach. I am in love with Mrs. Bratcher, and her cooking is one fine perk. For example, tonight's meal was cassoulet, a classic dish from France, accompanied with fresh bread she baked. Her pesto bread has opened my heart to levels I never thought capable.
—BILLY BRATCHER
"Destroying Everything They See," Blue Button, Love Angry (2012)
I didn't want to be corny and just write an "I love you, baby" song, so I wrote "Destroying Everything They See," which is about two things: a Playboy centerfold and the superpowers you feel when you're in love with somebody and just starting a relationship.
On the surface, it is a love letter to Crystal Smith, Miss September 1971. I've had this old issue of Playboy forever, and, when I lived in NYC in the late '90s, I was very lonely but had Crystal there to keep me company. She's wearing these amazing American flag bellbottoms and just has the sweetest smile on her face, like an "everything is gonna be all right" face. She just sort of looks like a topless superhero.
The verses are mainly just about the ads and letters in that particular issue — lots of high-end stereo equipment, Puerto Rican rum, pants, etc. — but the chorus is about finding new love and how powerful it makes you feel. "Together, you and me: we'll destroy everything we see!" Like you're suddenly Wonder Twins and you can do anything as long as you're together.
When I was making the song, I had just found out that someone was "in like" with me, and it made me feel stronger than I'd felt in a long time. I'd forgotten how good it felt. It was great. And now I'm going to marry that person.
—JASON COOLEY
"Ragman Rolls," Scott Baker, unreleased
"Ragman Rolls" is a song I wrote a few years ago about a girl named Jacqui, whom I met shortly after I got a divorce in a previous life I led. She was a gorgeous, black-haired beauty, and I was very candid about how beautiful I thought she was. And she was very coy about revealing the fact that she was in a relationship … but she was.
Long story short, we ended up shooting whiskey and making out on the hood of her car at 1:30 in the morning after meeting at a bar she knew I frequented. I thought it was an isolated incident until she agreed to see me again, and history repeated itself. A long evening of shooting whiskey and drinking Guinness ended with some pretty serious tongue wrestling, until she slinked away in regret.
"Ragman Rolls" is the song that came of the tryst, and the line that started it all in motion was the unforgettable thought that I'll always hear your name in the bottle's empty chime. And I do.
—SCOTT BAKER
"Two of Us," Brian Clark, Solo Duo Trio (2010)
I have a complicated relationship with sleep. I go through cycles of a month or more of being awake for some chunk of the night, staring at the dark, staring at the inside of my eyelids, spending way too much time in introspection, examining some stupid thing I said, the career path not taken, the crack in the beam over there, whatever. As I get closer to getting back into actual sleep, I get lost in a swirly place of weird memories and/or visions.
This song must have come out of that weird, dreamy soup … I think the first two verses are the foibles of too much self-examination, too much worrying over the minutiae scurrying around in one's head. And the last verse is the letting go of that crap, letting go of so much self and just being part of the last line from each of the three verses, "the two of us." Because the whole time I've been there sleepless in bed, I've been right next to my wife. I've not forgotten it or ignored it or taken it for granted. I've mostly just been quiet, trying not to spoil her night's sleep, too.
—BRIAN CLARK
"Misty," Ryan Hebert, The Earth (2012)
I stumbled upon a chubby cheek-'n'-thighed, red-haired vixen on some pseudoporn/pinup site in 2007. Her name was Misty Lynn.
My fantasy, concocted over 30 seconds of inebriation during the height of that October, felt as real as ever. We lived in California but longed for the fall in New England. We drove around in classic cars and made love to AM radio. The wind blew through our hair, and we ate In-N-Out [Burger] while wearing fun sunglasses. Up to that point, she was my perfect relationship. I don't know where she ended up, but I hope she got out of LA, found that job she was hoping for, settled down with someone nice and remembers our brief time together fondly.
—RYAN HEBERT
This is about a guy whose sweetheart has died. She's passed on to another world but not entirely — it seems she's lingering on the edge of this world, enticing him to come and join her. The call from beyond is faint and subtle yet insistent. He feels himself pulled in her direction but may have misgivings as to whether or not he should take the leap, figuratively. But it could be literally as well…
—DAN LINDNER
"Nellie and Peter," Nuda Veritas, Songs for Doing Dishes (2009)
"Nellie and Peter" came to me from absolutely nowhere on Valentine's Day. I recall coming home from work and taking a nap on the couch, not giving a shit about the holiday since I did not have a Valentine this particular year. I woke up, picked up my guitar and wrote this song in less than an hour.
The song is a fictional story about two characters meeting serendipitously and falling in love on V-Day. The two strangers run to escape the rain in a park somewhere, end up under the same tree and fall in love at first sight. There are a couple of lines that intimate an age gap ("This man was much, much, much older / Nellie didn't know you were not supposed to do that. / Peter knew you were not supposed to do that."). So really, it is about naïveté in love, throwing caution to the wind … and old-man predators.
This song mirrors my own sort of open-heart policy in love. Give it a whirl! Why not? What's the worst that could happen? Well, you end up alone on Valentine's Day writing imaginary love songs to no one. That's the worst that could happen.
—REBECCA KOPYCINSKI
The print version of this article was headlined "Hurts So Good"