Courtesy Of Brooke Dooley
Holly Chagnon and David Zacharis
Couples who work together can find themselves navigating awkward terrain. Keeping professional and personal lives separate is tricky to negotiate. Compartmentalization can be effective, but it's hardly foolproof.
So, what's it like for couples who make music together? Does playing alongside your life partner complicate things at home? After all, rock-and-roll history is riddled with stories of romantic musical partnerships that didn't work out for the best.
Several successful Vermont-based groups also contain successful couples. Seven Days checked in with a few of them for this week's Love & Marriage Issue, and right away similarities emerged. All three couples, and their projects, have been together more than a decade, even approaching the 20-year mark. All started their romantic relationships after being friends and playing music together for years. And they all have wonderfully friendly canine companions.
We asked the couples to briefly recount their love stories, muse on what it's like to make art with a partner, and discuss how their relationship fits into their band and vice versa.
Holly Chagnon and David Zacharis
The Smittens
"Our musical journey kind of started together," says Zacharis. Though he and Chagnon have been involved with other musical projects before, both regard the Smittens as their first serious band.
The couple bonded early on.
"We've always been really close," says Chagnon. "It was pretty obvious we were best friends prior to getting together."
After a few years, the two took their relationship to the next level.
"We kept it on the DL in the beginning," says Chagnon.
But secrets are hard to keep from your closest friends, especially in close quarters. While on tour, fellow Smitten Dana Kaplan busted Zacharis and Chagnon canoodling behind the twee pop band's tour van. Understandably, the budding relationship became a point of mild contention among their bandmates.
"We really had to be like, 'No, nothing's gonna change,'" recalls Chagnon.
Chagnon and Zacharis initially kept their relationship a secret because of how they thought their union might be received regarding major band decisions. The Smittens have always been a democracy, and the couple worried they'd be seen as a voting bloc.
Due to life changes throughout the group, the Smittens aren't as active as they once were. But there's often still business to discuss, as there was ahead of the release of the band's 2018 album, City Rock Dove. Chagnon and Zacharis don't bring much of that home, since the group communicates constantly via text and email. Why discuss in person what you can bang out in a quick iMessage?
Chagnon and Zacharis recently purchased a house, which has become a retreat for the group when it's working on material. The line between the couple's home life and artistic life disappears — but that's kind of the point.
"The band is our family," says Zacharis. "We're all connected in this way that we're always gonna be. It's not that we can't be in a relationship without the band, but I don't see my life without [it]."
Dwight Ritcher and Nicole Nelson
Dwight & Nicole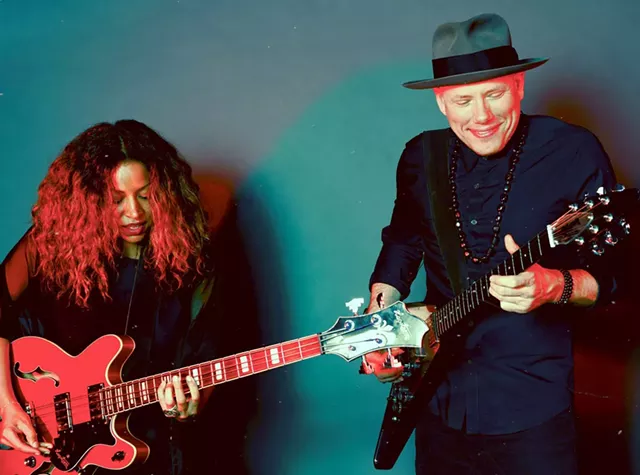 Courtesy Of Eric Antoniou
Nicole Nelson and Dwight Ritcher
Ritcher and Nelson initially met in Boston's blues music scene and were friends and colleagues for years before connecting romantically. Before the two actually got together, friends noted that their musical bond was so intense that many speculated they were secretly involved offstage long before they were.
Being Dwight & Nicole is a full-time job. Cohabiting in a shared live-work space with your business partner can be complicated, so establishing roles — both professional and domestic — has been essential.
"It was hard, in the beginning, figuring out who does what well and how to delegate that without overstepping the boundaries of the relationship," says Nelson. "As we got better in business, we were sort of climbing these mountains together. And mutual respect is really good in a business and a relationship."
In 2018, Dwight & Nicole released a new EP, Electric Lights. Though there was much to celebrate, the past couple of years were also marked by tragedy. Ritcher lost his mother, and Nelson's fell ill. While they didn't broadcast details of their personal lives while touring in support of the record, they say that they happened to encounter many fans who were also dealing with major life turmoil.
"We were trying to be so strong," says Nelson. "But people could feel it."
She and Ritcher claim they've turned down some potentially life-changing opportunities and record contracts in favor of following their own path. Recent success and prime exposure — such as landing a slot on the Melissa Etheridge Cruise last year — have confirmed that they've made the right choices, for their band and their relationship.
"We're having a good time for the sake of it, not because we made this much money or we're playing at this [level of] visibility," says Ritcher. "That makes the whole thing seem like more of an adventure."
Though they rarely have free time, Ritcher and Nelson at least attempt to schedule it.
"If there's a weekend where we just kind of lose ourselves, we just have so much fun," says Ritcher.
He and Nelson don't see much of a distinction between their relationship and artistry.
"It's a completely interwoven tapestry," says Nelson. "It's one and the same."
Eric Olsen and Amanda Gustafson
Swale
Courtesy Of Isaac Wasuck
Eric Olsen and Amanda Gustafson
Initially, Olsen and Gustafson played together in the Spielpalast Cabaret band before forming rock outfit Swale in 2002.
"I felt like I'd found one of my most prized friends," says Olsen. "I kinda didn't want to ruin it by breaking that membrane. I'd entertained thoughts, but I was like, No, no, no, no, no."
"When we were playing music together for Spielpalast, I thought, Oh, [he's] a really fun person and really interesting to work with," says Gustafson. "And then we decided to start making our own [music]; it changed how I thought about him.
"We were bonded," she continues. "We were doing this thing that was just for us."
"I was not a great relationship guy," admits Olsen, adding that he was "kind of a mess."
"I had a lot of reasons to be like, 'Hell no,'" says Gustafson. "It was a real, compelling attraction that made me want to cross into the wasteland."
They both refer to Olsen's lifelong struggle with addiction. In late 2007, just months after getting married and while Gustafson was pregnant with their first daughter, Olsen went to rehab. It was around the time he returned to the band that Gustafson questioned her role in the group.
"It really was a time when I was grappling with [thoughts like], You don't have to show up, because this clown hasn't been showing up. And now he's coming back, telling me what to do?" she recalls. She recollects learning not to rely as heavily on Olsen's artistic inclinations — she says he always "has a billion ideas." She also remembers that time as one of immense personal growth.
"[I thought,] If you're gonna do it, be there and want to be there," Gustafson continues. "It [took] a little time for me to figure that out."
Olsen draws a parallel between relationships and making music in Swale.
"It's not a hobby; it's not a career," he says. "[It's] the opportunity to create and make and reflect on that, and be able to use it as a way to reflect on life."