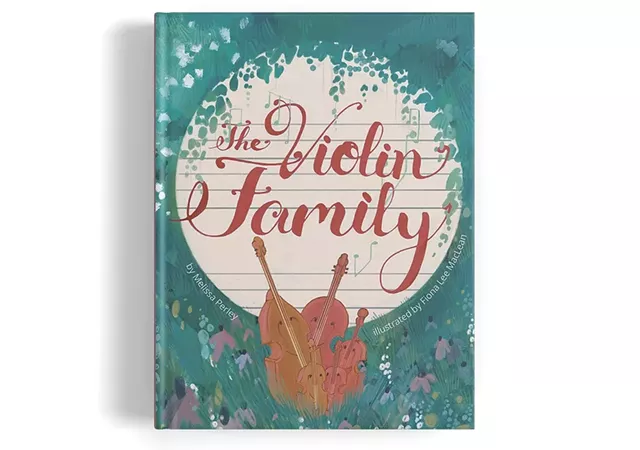 The Violin Family by Melissa Perley
When she was 6 years old, Melissa Perley took piano lessons alongside her father. While he didn't stick with them, Perley persisted. Now a performing cellist and private music teacher to about 20 children and adults, the Berlin resident recently added the title of author to her repertoire. Her first children's book, The Violin Family, was released by Rootstock Publishing last November.
The book, illustrated by Chelsea resident Fiona Lee MacLean, tells the story of a family of five stringed instruments. Basil, the Bass, and Celia, the Violoncello have three children — a viola and two little violins. The whimsically illustrated book, set in Vermont, tells the tale of little Violet Violin, who takes a tumble during a performance at the Barnard Farmers Market and loses her voice. Although frightened that she won't succeed, she works to regain her voice — with the support of her family. A glossary at the book's end defines musical terms like quintet and scroll.
With a mission to connect kids with stringed instruments, Perley, the mother of four adult sons, travels to schools and bookstores to read her story. During these visits, she brings a selection of instruments for curious kids and adults to handle and try.
Over tea at the North Branch Café in Montpelier, Perley shared a glimpse into her creative endeavors with Kids VT. She and her husband, luthier and composer Paul Perley, live and work at their off-the-beaten-path studio, Paul Perley Cellos, on Berlin Pond. Paul repairs stringed instruments and sells cellos, and the couple also raise sheep. "Here's this small business in the woods," Perley said, "and people will come from all over the world to look at instruments. I love that you don't have to fit into an exact mold to make that kind of life work."
Kids VT: What made you want to write a book about music for children?
MELISSA PERLEY: I see the school systems lacking in funding for these programs. When I take these instruments to schools, you can't believe how many kids don't even know what a stringed instrument is. They look at my cello and say, What is it? They think it's a guitar. The reason I made fictional characters instead of a straight nonfiction account was because I wanted to reach families and young children and take what I term the "highbrowed-ness" out of stringed instruments. We're losing this amazing style of music.
KVT: How did you and local illustrator Fiona Lee MacLean pair up?
MP: [After my original artwork fell through], I was kind of at ground zero again. But I just thought, I'm going to figure this out. My husband said to me, what if you put it out on Front Porch Forum and advertised? I was discouraged, but, as I like to tell my students, frustration is not part of the process; frustration is the process. So I put the ad in, and I got 35 responses from professional illustrators. Beautiful work. That's how I found Fiona MacLean. We just jibed.
KVT: Why did you insist the characters look like instruments and not personified instruments?
MP: I thought she did a really wonderful job making them exactly what I wanted. No one would look at the instruments and say, Is that a cello? On one hand, the characters are eating pancakes, but on the other hand, they don't have hands. If I'm just giving you factual information about these instruments, the book doesn't really do the job it's supposed to do. I wanted to tell a story that resonates about acceptance and about family, so it's more than just a factual book.
KVT: How do you envision caregivers and kids enjoying your book?
MP: I wanted this book to have the same feeling of books I loved when I read to my own children — and I read to them a ton. I wanted that feeling that we are loved; that when we finished, you felt full; and when you saw the illustrations, they made you feel cozy.
This interview has been edited and condensed for space and clarity.