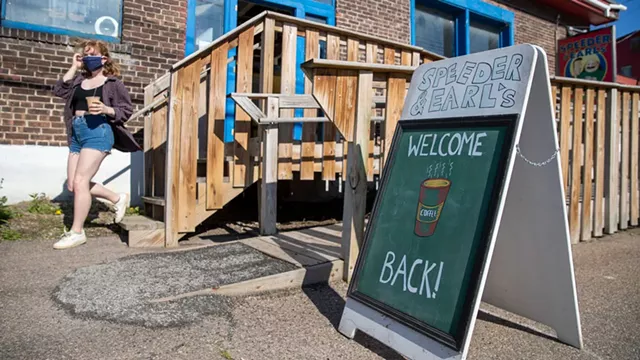 James Buck
Speeder & Earl's in Burlington
In times of trouble, Vermonters pitch in and help each other. It's true when your car gets stuck in the snow, when your house floods because of a freak tropical storm, and when a global pandemic shutters your store and forces you to reinvent your business model.
Tessa Valyou, co-owner of Colchester-based screen-printing and embroidery business New Duds, is experiencing that last scenario. Her retail store closed its doors to help slow the spread of COVID-19 and has yet to reopen to the public. But "we have had a big uptick in online orders," she reported on Facebook. "It's so lovely to see VT lovers shopping from near and far and it really helps! As a local business owner with eight employees we are able to keep on, we TOTALLY appreciate online sales right now."
Many stores are in the process of reopening to customers, and some shoppers are walking in to show their support; others are calling and ordering online.
As Andi Rosen of Woodbury pointed out: "We need to make sure our small downtown stores survive, because I cannot imagine Vermont downtowns without our wonderful local stores and restaurants."
Need help figuring out who's open and who's offering takeout or curbside pickup? Check out Good To-Go Vermont, a directory of local restaurants, and the Register, a new online directory of local retailers. Both were created by employees of another locally owned small business — Seven Days. We're all in this together.
Over the Memorial Day weekend, Seven Days staffers put out a call on social media asking Vermonters to share stories of how they're buying local. We hope their responses inspire you to follow their example. Where you spend your money matters!
Purchased from Kiss the Cook; they do free delivery in Chittenden County and just drop the bag at your door — no mailing needed. Also ordered from Gardener's Supply Company and did curbside pickup. Have done curbside at Skirack a couple times. My boyfriend bought a bike from Outdoor Gear Exchange and picked up curbside! Really appreciating the businesses making it easy to shop without having to go into the store.
Kirsten Berggren
Sent my daughter in NYC a Vermont care package for her birthday from Cheese and Wine Traders — Vermont cheese and beer gift basket!
Bev Spencer
Did curbside pickup at Birdfolk Collective in Winooski yesterday! Ordered online, zero-contact pickup, very easy!
Becca Hopkins
We've doubled down on sourcing food locally with a year-long meat CSA share from Maple Wind Farm and a veggie share from the Intervale Community Farm. Our takeout fave is El Cortijo, as they source locally as well!
Bob Kilpatrick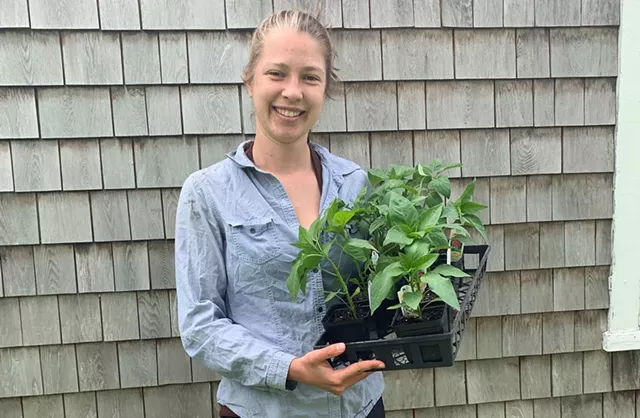 Courtesy Photo
Laura Slesar with seedlings from Red Wagon Plants
We're buying plants from Red Wagon Plants. They have set up online orders with no-contact, next-day pickup! I love getting plants from Red Wagon because they're organic and Julie, the owner, is awesome. I'm so psyched to garden!
Laura Slesar
Not shopping with Amazon! Ordering from Homeport and Phoenix Books!
Glynnis Fawkes
Online [retailers] that can mail their goods or do curbside pickup. Also supporting my independent artists where I can.
Phayvanh Luekhamhan
I have convinced the American Lung Association to use the budget that we would normally spend on hosting a live event to purchase gift cards and incentive prizes from local businesses in exchange for a shout-out on social media for our LUNG FORCE Walk event that's gone virtual. The Lung Association just pledged $25 million to COVID research.
Jana Beagley
Bought shoes from Dear Lucy, a couple of items from Stella Mae and lots of books from Flying Pig Bookstore. Also became a Seven Days Super Reader!
Debbie Herold Seaton
Courtesy Photo
Books from Galaxy Bookshop in Hardwick
We live in Woodbury, just 2.5 miles south of downtown Hardwick. Every week I have been online buying books from Galaxy Bookshop in Hardwick. And every few weeks bought things from another local store, Whistle Emporium. My husband buys every week from the new coffee house in Hardwick, Front Seat Coffee. And we have had takeout from every restaurant in town once a week since the shutdown began. At least four times in the last two months I also bought groceries online for curbside pickup from the Buffalo Mountain Co-op.
Andi Rosin
I only shop local and have not changed my practices except to call ahead and order for curbside or delivery. During this lockdown, I have finished rebuilding my home, kept my farm going, planted my garden, installed a pond, and done several client outdoor projects. I call my local shops, [and] they recognize my voice, or at least know where I live when I say my name, and are easy and eager to help in any way, and many times go out of their way to do an excellent job. Service is quick and clear and thorough.
Thea Alvin
I LOVE getting fabric at Yankee Pride Quilts, easy online order and curbside pickup! I would not hesitate to order from local shops even if it seems like a non-necessary item if you can afford to do so.
Tessa Valyou
I've been buying eggs, spinach and greens from Farmer Sue. She parks at the Staples parking lot and we meet there. It feels clandestine, but it's just eggs. I buy broth, tea, bread and miscellaneous items from Miss Weinerz — and even a hand-dyed bandanna to use as a mask. I have received the veggie basket from Momo's a couple times. They are helping Black River Produce to redistribute their veggies, since the need at restaurants is lower. I've ordered from Live Forever Foods, from Mad River Valley. I shop for other items at either Jake's ONE Market, or, if they don't have what I need, City Market. I go to Central Market, BellaKay HomeGoods to supplement. As I write, it sounds like I shop a lot, and I don't. My spending is way down, and when I do spend, it's either on the above or getting takeout at local restaurants. It's pretty amazing what is available that is grown locally, and now [that] there is a bigger need/market for it, perhaps it can grow and become more widely accessible.
Jen Berger
I bought a share in my local farmstand, Trillium Hill Farm; we also buy from Family Cow Farm. I regularly order Nu Chocolate to send around the country to friends and family. Order books from Phoenix Bookstore, buy local masks from New Duds.
Allison Beach
Buying any art supplies I can and other kid-related items from Jamie Two Coats Toy Shop, curbside pickup. Have had a farm share all spring and now summer, getting books locally at a bookstore rather than online, takeout once a week from Cucina Antica, Tiny Thai or another local restaurant, [and] Danform Shoes on Route 7 for kids' summer sandals.
Laura Wolfsen
Bought a card for a friend and two home décor items from Common Deer. They delivered right to my home!
Katie Hodges
Supporting local stores was also an activity in Kids VT's Good Citizen Coronavirus Challenge. Here are two entries:
Eastman's Bakery reopened for outdoor pickup not too long ago in Fairfax, and my family has been ordering cinnamon buns and other treats to support them.
Emma Foster, grade 6
On Friday, we went to pick up an order we had placed online at Cedar Circle Farm in Thetford. We ordered chocolate ice cream, milk, yogurt, eggs, ground beef, several kinds of cheese, frozen blueberries, frozen corn, and frozen green beans. My sister and I ate the whole pint of chocolate ice cream on the car ride home!
Taylor Smith, grade 6