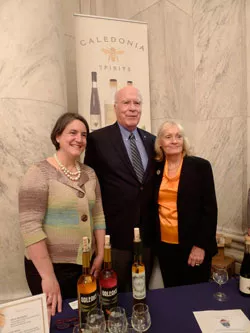 Eleanor Leger of Eden Ice Cider with Sen. Patrick Leahy and his wife, Marcelle
The U.S. Senate's Kennedy Caucus Room is an arresting place with soaring marble columns and blood-red curtains that extend almost to a ceiling carved with gilded rosettes and ornate patterns. Its history is as dramatic as its appearance: This is where the Titanic and Watergate hearings were held, and where Supreme Court justices are confirmed.
Last Thursday evening, though, the room had a folksier feel, its rarified air filled with the smells of just-baked pizza and the pffft of popping beer bottles. Just outside the door, a "Vermont Makes It Special" banner was draped quaintly across two coat racks.
Every May, dozens of Vermont food producers take over the room — arranging goat cheeses on platters, heating up casseroles and filling wine glasses with Marquette — for Taste of Vermont, a two-hour culinary seduction of lawmakers, their staffs and other Capitol denizens.
Sen. Patrick Leahy founded the tasting eight years ago when he invited about 40 Vermont food producers to participate. "The first year we did it, we didn't know if anyone would show up," he said as he posed for photos before Wednesday's reception. "The day after, we got emails and calls [asking], when are you going to do it again?"
The first Taste of Vermont was such a hit that it has happened every spring since. This year, some 500 people showed up for the after-work shindig, and the vendor list swelled to 65. And it has inspired other states, such as Maine, to do their own versions of the event.
"We really could use a bigger space, but this room is so beautiful," said Joanne Priestley, a consultant who's been the primary organizer since the Taste's inception. She calmly floated around the room an hour before guests were due to show up, checking on American Flatbread, Dakin Farm, even Jay Peak — a few hotel reps make the trip, too — and dozens of others.
Edible and drinkable treats ringed the room. On one table was an enormous hunk of carved honeycomb and a dozen bottles of gin — the outpost of Hardwick's Caledonia Spirits. Nearby, Francine Caccavo of Olivia's Croutons filled bowls with savoy cabbage salad, while Joe Buley of Screamin' Ridge Farm fired up a tray of pork enchiladas made with whey-fed meat, local cheese and Butterworks Farm pinto beans. Since Taste of Vermont is officially a reception, booze is key; in addition to the gin, there was vodka from Green Mountain Distillers and beer from Long Trail Brewing, Lawson's Finest Liquids, Trapp Family Lodge, the Alchemist and a few other brewers.
All of the food was driven to Washington in one refrigerated Black River Produce truck. Driver C.J. Goodman of Ludlow has made the 10-hour trip for each of the past seven years. Goodman guessed that this year's load equaled "nine to 10 tons," he said. And before it can be taken into the Senate building, everything is sniffed by dogs, scanned, logged and repacked.
For all its bling, the Kennedy Caucus Room has a chameleon quality: Set up for hearings, it resembles a theater; filled with long tables for Taste of Vermont, it looks like a banquet hall. In one corner is a door to a commercial kitchen, and last Thursday waiters were flying in and out of it carrying ice, spoons and trays. Gretchen Saries of Worcester's Bon Temps Gourmet made her rounds to check on finishing touches. "We help vendors write the recipes to essentially turn their products into cocktail-party food," she said. It's a role Saries has had since the inaugural event. "Fortunately, we have an embarrassment of riches."
As Eleanor Leger of Eden Ice Cider uncorked chilled bottles of Orleans, she also pulled out an unlabeled bottle of her forthcoming barrel-aged hard cider. "Should I open this now or later?' she asked her colleagues. "Now" was the overwhelming consensus, and Leger poured out a few small samples. At the other end of her table, Leahy snapped a photo with the Caledonia Spirits crew and then knocked back a sample of Barr Hill Gin in one long, graceful swill.
Only about half of the vendors with food on display here make it to the event; Restaurant Associates, a national catering company, serve up the others' food and drink for them. Those Vermonters who do come — such as Shirley Richardson of Vermont Chevon meats — say that Taste doesn't necessarily boost sales numbers directly, but breaking out of tiny Vermont has its indirect benefits.
"For us, it's our opportunity to get goat in front of the people," said Richardson, as the aroma from her simmering pot of Vermont Peanut Butter-laced goat stew wafted through the aisle. "We're trying to build the industry from A to Z."
An onlooker noticed me eyeing the stew and advised, "If you want to try something, try it now. In 20 minutes, you won't be able to move in this place."
Sure enough, the initial trickle of people soon turned into a tide. A few senators arrived early — among them Democratic Sen. Christopher Coons of Delaware and Republican Sen. Richard Shelby of Alabama, whose office is right around the corner. Others bore name tags from various Senate committees, including appropriations and judiciary — which Leahy chairs. Primarily, though, the crowd was composed of the hardworking, modestly paid Senate staffers, whose ages appeared to be well under 30.
"They work hard, and so this is one of the perks. If you think they're young, you should see the House staffers. They're children," quipped one Justice Department staffer, making his way toward the pulled-pork sliders from Dakin Farm.
An hour into the event, it was difficult to move. Plates passed by piled with crisp Vermont pickles, American Flatbread pizza slices with West Meadow gluten-free crust, creamy Coulommiers from Vermont Farmstead Cheese Company. (Dozens of cheeses took up one whole side of the room.) Though a dense crowd formed near Screamin' Ridge — where bottles of Lawson's Finest Liquids Maple Nipple Ale were being uncorked — curiously there was no line in front of an icy tub of unopened Heady Topper cans.
"There's nobody here!" marveled Kevin Connelly, an attorney and former staffer for retired Vermont senator James Jeffords. "Let's see if anyone gets it."
Someone gave a microphone to Leahy, who stood in front of a tourism booth for the city of Newport and told the crowd, "We're very proud of what we have in our little state." Sen. Bernie Sanders appeared and slapped him on the shoulder. "People on Capitol Hill go without eating for weeks in preparation," Sanders joked.
In the middle of the room, Black River Produce's Sean Buchanan, a former chef, seemed to be in his element as he doled out plate after plate of a piquant, bright-pink Vermont beef tartar. Across from him, Matthew Gordon of the Vermont Maple Sugar Makers Association spooned maple whipped cream on top of sliced strawberries. It was Gordon's first time — he's less than a year into his job as executive director — and he looked kind of dazed.
As the Heady Topper buzz spread, a line finally developed at the Alchemist table. Eldon Boes, an elegant-looking senior aide for Sen. Tom Harkin (D-Iowa), says his daughter turned him onto Heady Topper. As he spirited away two glasses, he intoned, "I've not had a better beer."
Taste of Vermont organizer Priestley is unclear on exactly how much the event costs to put on, but the tab is picked up collectively by the Lake Champlain Regional Chamber of Commerce, Black River Produce, Fletcher Allen Health Care and some two dozen other sponsors. "They really step up," Priestley said, noting that every year she's also deeply impressed with the camaraderie between producers — such as folks from Screamin' Ridge farm pouring Sean Lawson's beers, even though Lawson couldn't be at the event. "These people are very busy, but they take the time to help each other. Everyone comes down here wearing the 'Vermont first' hat, and they're all unselfish," Priestley observed.
Though Leahy was officially the reception's "honored guest," one wonders how the brews, plates of local pork and cubes of sheep's-milk cheeses might linger on his colleagues' palates and work in his favor. This week the new farm bill — Leahy is a sponsor and huge proponent — will go to the Senate floor for debate. As he worked the room Thursday night, there seemed to be a knowing glint in his eye.