Alma Mujezinovic with her sons
A woman's body is truly a marvel as it goes about growing another human. Blood volume increases, skin stretches, joints and ligaments loosen, and organs move to accommodate the growing baby. And once baby arrives, mom's body can produce food and, at the same time, readjust to its nonpregnant state.
Staying fit through it all can be a challenge. Not to mention finding the energy and the time. Three Chittenden County fitness experts — all moms themselves — cater their work to pregnant and postpartum women. They offer words of encouragement, bicep curls to help you hoist that car seat, and exercise classes where you can stretch, sweat and strengthen with a toddler in tow. Whether it's a You got this! you need to hear, or a Relax, and give yourself time, these women have got your back.
Alma Mujezinovic
Owner/trainer, Shift Well Studio, Shelburne
Children: Hamza, 10, and Faris, 7
For more than nine years, Mujezinovic has worked with pregnant women as a birth doula. In that role, she observed that many of her clients felt tired and sluggish and needed guidance about how to exercise during pregnancy. "Postpartum visits were similar," she says. "Many of my clients were not sure how to safely start exercising again once they were cleared by their OBs." In February 2019, Mujezinovic opened Shift Well Studio, which focuses on functional strength training for prenatal and postnatal women. Conventional gym environments are often designed with men's needs in mind, says Mujezinovic. At Shift Well, she creates training plans "for the female physiology and its ever-evolving state."
Fitness advice for new moms: I want women to look at their bodies as this amazing, strong and capable vessel that has created, nurtured and birthed a baby! We are bombarded with perfect images of women "bouncing back" on social media. And that is absolutely not reality. It took your body nine months to grow a baby. Your body needs that much time and more for recovery. Nurture your body with good whole foods and move your body in any way that feels good to you.
Favorite exercise for pregnant women/new moms: My favorite exercises are those that help with the functional movements we use in daily life as moms — movements such as lifting a baby from a crib, carrying large bags of groceries and feeding our babies.
How becoming a mom changed her outlook on exercise: I see exercise as a necessity now. It keeps me healthy and strong for me and for my children. I want to be able to run with them and ski with them. I want to be able to keep up for as long as I can. I also want to model this behavior so that they, hopefully, grow up wanting to move their bodies.
Suzy Shulman
Owner/trainer, Studio SXB, Winooski
Child: Catherine, 16 months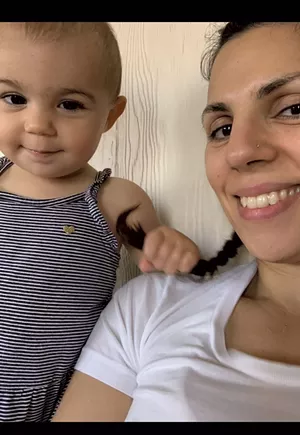 Suzy Shulman and her daughter
Shulman created the SxB method — an amalgamation of strength training, Pilates, yoga and ballet movements — in 2012 and opened her studio in 2016. When she had her own daughter a little over a year ago, she became passionate about helping other moms work exercise into their lives. She allows kids to tag along during daytime classes to make fitness more accessible to mothers and caregivers. At her classes, says Shulman, "It's not uncommon to see a mama nursing, a toddler running around, and some older kids playing in the lounge. There's probably a dog or two as well."
Fitness advice for new moms: One: Do what feels right. Don't push it. You have a lifetime to work out. Listen to your body. Two: Just make it happen. Find 10 to 15 minutes and move your body. You will be happy you did. And demand the time you need from those in your life who can give it to you, be it your partner, your parents or a babysitter.
Favorite exercise for pregnant women/new moms: For pregnant mamas, squats! All the squats, all the time. For postpartum mamas, pelvic curls and bridge toe taps to strengthen the weakened pelvic floor.
How becoming a mom changed her outlook on exercise: It didn't. Exercise is just as important as it was before I had a kid. And I'm lucky: It's literally my job to work out. I definitely took my time getting back into it. I was very happy to not work out at all before 10 weeks postpartum. During that time I took long walks and stretched.
On having a healthy body image: I want to dispel the idea that women need to "bounce back." What are we bouncing back from? Unequivocally, your body is a changed vessel after giving birth. You were perfect before you were pregnant, and you're perfect after.
Rebecca Weisman
Director, Iyengar Yoga Center of Vermont, Burlington
Children: Misha, 3, and Saffron, 3 months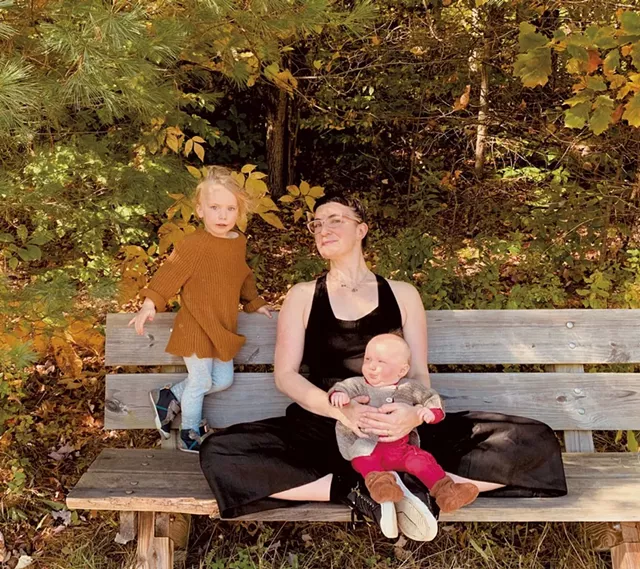 Rebecca Weisman with her daughters
Taking a more zen approach to fitness, Weisman has been teaching Iyengar yoga, which emphasizes detail, precision and alignment, at the Iyengar Yoga Center of Vermont since 2006. She offers prenatal and postnatal yoga class series throughout the year. Weisman practiced yoga during both of her pregnancies and credits it for helping her recover, both physically and emotionally. "During birth, I felt the mental aspects of yoga had a profound effect on my ability to stay present. But it was really during the postpartum time when it was like,
Oh wow, this is no joke, this is hard," she says. "My body and mind were really pushed to the limit, and I needed yoga like never before."
Fitness advice for new moms: Go slow! It takes time for the organs to heal and return to their proper place. Take the opportunity to learn about your own anatomy. Don't ignore symptoms that persist. Seek help from qualified practitioners. Trust that things will improve! When the kids nap, make the first thing you do be something nourishing for yourself. All the other stuff can wait.
Favorite exercise for pregnant women/new moms: Yoga, of course! My favorite poses for postpartum mamas are inversions such as headstand and shoulder stand. These are incredibly healing and also aid in combating fatigue, anxiety and depression. I also recommend walking and spending time in nature.
How becoming a mom changed her outlook on exercise: It wasn't until my first child was 2 that I really felt fully back in my body. But I was also amazed at how strong and resilient I really am. There's a lot of pressure, including self-pressure, to be utterly giving all the time. But actually, if I keep my practice at the center of it all, then everything falls into place. Everyone is happier and more nourished. It's like the glue of the whole operation.
On self-love: I think if we could all treat ourselves and our bodies with the same gentleness, compassion and patience we try to show towards our little ones, we'd all be better off.



As with any program, check with a health care professional before beginning prenatal or postpartum exercise.