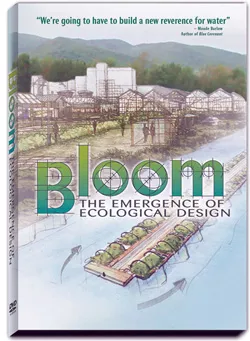 If you live along Lake Champlain, you've heard the periodic warnings to stay out of the water. In a state known for its eco-consciousness, how did our largest lake get so polluted? And what can we do?
As the 40th anniversary of the federal Clean Water Act approaches, Jon D. Erickson hopes a documentary called Bloom, which he executive produced, can answer those questions. "Vermont has been a leader" when it comes to a clean environment, says Erickson, managing director of the University of Vermont's Gund Institute for Ecological Economics. "We can be a leader again."
If Bloom sounds familiar, that's because Erickson's company, Bright Blue EcoMedia, released its first installment last year. That short, which won the New England Emmy for Best Environmental Program, has now been joined by three more chapters, written and directed by Victor Guadagno and narrated by Oscar-winning actor Chris Cooper. Shelburne's Lintilhac Foundation funded the series, which will have its first TV airing on Mountain Lake PBS on February 29.
Bloom points the finger at three culprits for the lake's phosphorus load: an "aging wastewater treatment infrastructure, ecologically degrading agricultural processes and stormwater runoff." Last year's Bloom installment drew flack at public screenings for its spotlighting of the agricultural factor. "I got an earful from people," Guadagno told Seven Days last February, after a crowd of farmers and legislators viewed the first Bloom chapter in St. Albans.
While that installment had an "edge to it ... the follow ups are more optimistic and positive," Erickson says.
Lori Fisher, executive director of the Lake Champlain Committee, agrees, calling Bloom "a constructive film" that "presents some concrete, positive examples of ways to clean up and protect the lake. It's helpful and hopeful," she says.
Indeed: Part 3 of Bloom, subtitled "The Agricultural Renaissance," paints a glowing picture of Vermont's evolving sustainable food system. Visuals of prancing goats and lambs reinforce the arguments against industrial agriculture.
Part 4, on the urban stormwater problem, features darker imagery: rivers raging and highways shattered in the wake of Tropical Storm Irene. "We had the stormwater episode all ready at the end of August," says Erickson, "and then Irene happened." Now that devastation, he notes, is "forcing some long-needed conversations."
As for the third polluting culprit, wastewater, "no one wants to think about [it]," Erickson notes. But, he says, "we're all part of this; we have to think about this more holistically."
Holistic thinking is the goal of Bright Blue EcoMedia's upcoming project, a "crowd-sourced" documentary on energy independence to consist of footage gathered all over the state on March 21, or Vermont Energy Independence Day. (More info on our staff blog, Blurt.)
Erickson wants Vermonters to know they can help the lake, whether by writing their state reps, ponying up for stormwater management or choosing organics at the grocery store. "There are so many different entry points to changing the course that we're on."
Bloom screens as part of the Northeast Organic Farming Association of Vermont's 2012 Winter Conference on Saturday, February 11, at 12:15 p.m. in Terrill Hall at UVM; and on Mountain Lake PBS on Wednesday, February 29, 9-11 p.m. More info on participating in the crowd-sourced film: facebook.com/vteid, march21st.org.