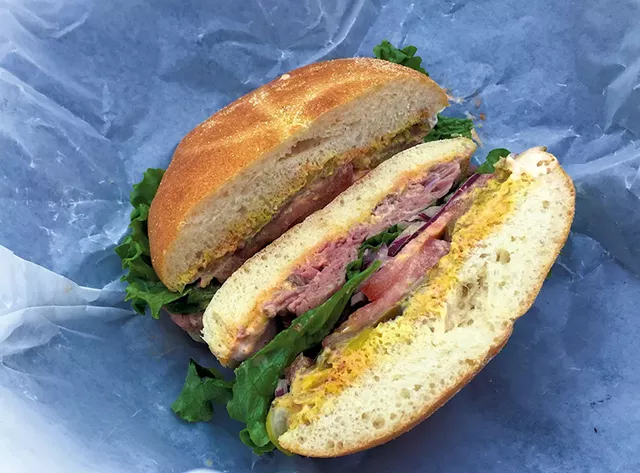 Hannah Palmer Egan
King's Corner Deli's queen-sized roast beef
A sandwich might be the most versatile of meals. It can be breakfast, lunch or dinner; it can range from a delicate tea snack with thinly sliced cucumbers and crustless white bread to a ginormous Dagwood stuffed with all manner of meats, cheeses and condiments.
For many Americans, a love affair with sandwiches starts early, whether with classic peanut butter and jelly, tuna salad or cold cuts on squishy bread tucked into school lunches. We develop preferences at a young age, too — aversions to mustard, say, or a deep-seated loyalty to grape jelly. But these can change. As we mature — and as cuisine and culture change along with us — our tastes and cravings evolve. For some, a go-to sandwich might represent an edible tale of one's personal history.
Here in Vermont, I grew up on deli sandwiches. Stuffed with roast beef and lots of veggies, mayo and mustard, they were a special treat I would grab on the go before or after some sport or outdoor activity. I took it for granted that any general store in my orbit would have a meat case in back and a nice attendant waiting to make me a sandwich. I'd grab a drink and a bag of chips on the way out.
After high school, I moved to Colorado. A corner 7-Eleven was the closest thing to a general store. If I wanted a sandwich, I'd have to make a special trip to a sandwich shop. Delis, at least the kind I was used to, didn't exist there, and I never got over it. When happenstance brought me back to the East Coast, I was grateful for the bodegas and delis of New York City, where sandwiches come stacked high with Boar's Head meats and are as good as those in Vermont.
Lately, I've been on the prowl for some good local sandwiches. To me, the finest ones weave together all the basic tastes — salty, sweet, sour, bitter, umami — and a variety of textures. And, of course, the bread has to hold it all together in a way that's easy to eat and eminently portable.
Here are three excellent sandwiches I've encountered in recent weeks.
Queen-Size Roast Beef With ... Everything
King's Corner Deli, 41 King Street, Burlington. kingscornerdeli.com
Bread: Hard roll, Junior's Bakery, Colchester
Inside: McKenzie Country Classics roast beef, lettuce, tomato, red onion, pickle, sliced pickled jalapeños, banana peppers
Condiments: Garlic mayo, chipotle mayo, spicy mustard
Tasting notes: Burlington is rich in sandwiches, but I'm adamant that King's Corner Deli makes the very finest in town. The unassuming spot offers incredible breakfast versions and several specialty stackers. The Dank boasts ham, pepperoni, lettuce, red onion, pickles and Swiss cheese, with a zany blend of three flavored mayonnaises. It's rad. But for me, a build-your-own beef sammie sets the gold standard. The sturdy Junior's hard roll corrals the multitude of ingredients, and the flavor is a wild party in your mouth. The beef forms a heady base note for a symphony of garlic and spice, zingy red onions and three pickled veggies, which add plenty of crunch. It's a big, beautiful, sloppy mess, and I could probably eat one every day.
Berkshire Applewood Smoked Ham
King Arthur Flour Bakery & Café, 135 Route 5, Norwich. kingarthurflour.com
Hannah Palmer Egan
King Arthur Flour Bakery & Café's Berkshire applewood smoked ham
Bread: Multigrain bread baked in-house
Inside: Vermont smoked ham, lettuce, Brie
Condiments: Whole-grain fig mustard
Tasting notes: Of the three sandwiches featured here, this agreeable number skews the sweetest. The multigrain bread is hefty enough to hold things together, and plenty of fillings provide balance. The fig mustard adds a touch of earthy sugar, and the fruit's tiny seeds add subtle crackle to every bite. Then, of course, there's the thickly sliced artisan ham, which is buttery, not too smoky and has just enough salt. The quarter-inch cuts of Brie are the smooth and creamy salve that brings it all together.
135 Route 5
Upper Valley
Norwich, VT
802-526-1845
Baked Goods and General Food & Drink
Vermont Lamb Gyro
Morse Block Deli, 260 N. Main Street, Barre. morseblockdeli.com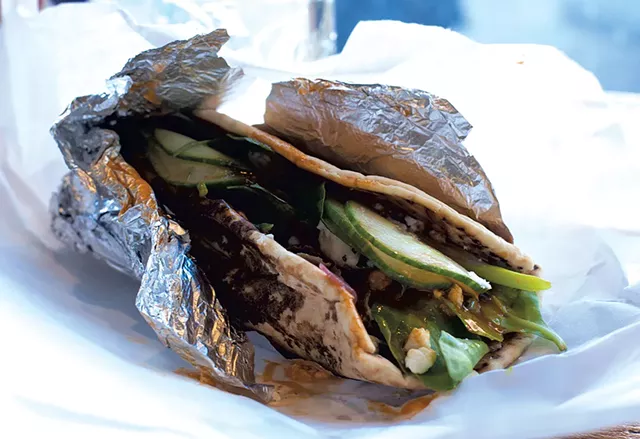 Hannah Palmer Egan
Morse Block Deli's Vermont lamb gyro
Bread: Pita from Joseph's Bakery, Lawrence, Mass.
Inside: Shaved Vermont lamb, pickled red onion, feta, sliced cukes, lettuce, herbs
Condiments: Tzatziki, housemade hotsauce (optional)
Tasting notes: In New York City, you can get a pita stuffed with savory seasoned lamb, shaved to order from a turning spit, on pretty much every corner. My tryst with gyros came to a grinding halt when I moved to Vermont, as street halal carts are virtually unknown here. But after Stefano Coppola took over Barre's downtown farm-to-table deli last year, he put a lamb gyro on the menu. I got acquainted with it last week. It's more rustic than those I loved in New York; the lamb tastes fresher, muskier — more like lamb. But it's faithfully spiced with Mediterranean pepper and herbs, the tzatziki is cooling, the cucumbers are splashed with cider vinegar, and the pink pickled onions are sweet and sour. And, in a healthy update, Coppola has swapped baby spinach for the traditional iceberg lettuce. Toto, we aren't in Manhattan anymore!
260 N. Main St.
Barre/Montpelier
Barre, VT
802-476-2131
Soup 'n' Sandwich, Market & Café and Catering