Courtesy of billings farm
Norman, the newest lamb born at Billings Farm & Museum
Last April, my teenagers and I took a spring day trip to the Billings Farm & Museum in Woodstock to admire the baby animals on the farm. Even as adolescents, the girls were enchanted with the fuzzy chicks and wobbly legged lambs. We stopped in the barn for a lesson about milking and petted the new calves.
We enjoyed a picnic lunch of turkey sandwiches on the lawn, then drove a few miles to Quechee State Park and strolled along the river. Before heading home, we savored ice cream sundaes at the Snack Bar at the Gorge, near the park's visitor center.
Though our world is vastly different this spring, farm animals still birthed babies on farms all over the state. Kids VT checked in with two farms that are closed to visitors right now — Billings and Shelburne Farms — to find out about their new arrivals.
Shelburne Farms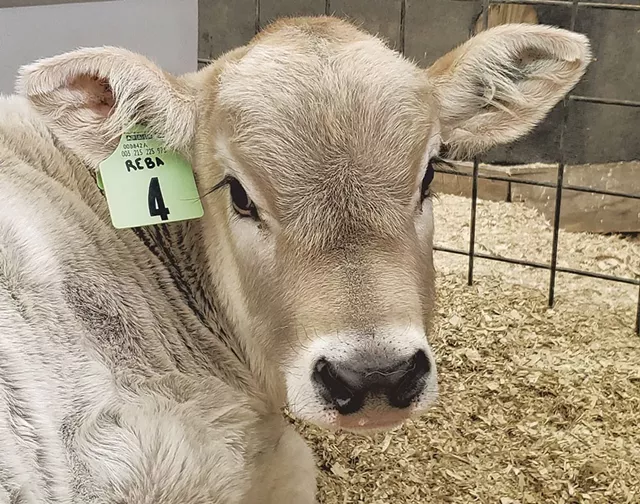 courtesy of Shelburne Farms
Reba the calf at Shelburne Farms
Overlooking Lake Champlain, Shelburne Farms was founded in the late 1800s when William Seward and Lila Vanderbilt Webb consolidated 32 area farms.
In 1984, descendants of the family turned the property into a nonprofit educational organization with a wide array of programs for families, children and educators, and a focus on learning for a sustainable future. The farm operates a dairy and market garden, and sells lamb, pork, eggs and maple syrup. Although the farm store is currently closed, call ahead to order items for curbside pickup. The 10 miles of walking trails remain open.
Herdsman Renee LaCoss offered an update about the farm's new lambs and calves.
LaCoss: We started lambing on February 24, and our last lamb was born on April 16. So, in less than two months, we had 75 ewes give birth to 141 lambs! It's very common for ewes to give birth to twins and even triplets. We also had 50 calves born this spring.
Each year, we pick a theme for naming them. This year's theme was "singers and musicians," and I think my favorite calf (also my favorite singer) is Reba, named after the country singer Reba McEntire. We're looking forward to sending all the sheep and cows out to pasture to graze for the late spring and summer. If you walk on the farm then, you can see them!
Billings Farm & Museum
Courtesy of billings farm
Newly hatched chicks at Billings Farm
In 1871, Frederick Billings — a lawyer, railroad builder, and pioneer in scientific farm management and reforestation — started the Billings Farm as a model operation for local farmers, based on principles of efficiency, sustainability and responsible land use.
Today, the working farm, dairy and historic exhibits are used to educate and entertain the public, with annual events including a celebration of National Ice Cream Day in July and an autumn harvest festival in October.
Farm manager Chuck Deome shared his news, with input from his family. His wife, Amy, is the farm teamster; their son Matt is the assistant farm manager; and their son Brian and daughter Emily also work on the farm.
Deome: Since January 1, the barn has had 17 new heifer calves born, three bull calves, three ewe lambs and one ram lamb. On top of that, 19 chicks hatched at the farm, and more were delivered early last week. Amy takes care of the chicks by feeding and watering them and checking the heat lamp used to keep them warm.
It's an exciting time of year to be on the farm, but it's also a time to focus and be careful. When one of the sheep is due to give birth, she is checked every three to four hours, day and night, to be sure she lambs safely. Once her lambs are born, Brian takes care of them by bottle-feeding the lambs that are not nursing directly from their mother. For Brian, that means feeding the lambs every four hours throughout the day and night. The cows in the maternity ward are on camera and are monitored 24-7 so someone can be there when they have their calves.
And, in addition to all of this excitement, Emily is still milking our herd of Jerseys twice a day. There's never a dull moment on the farm!