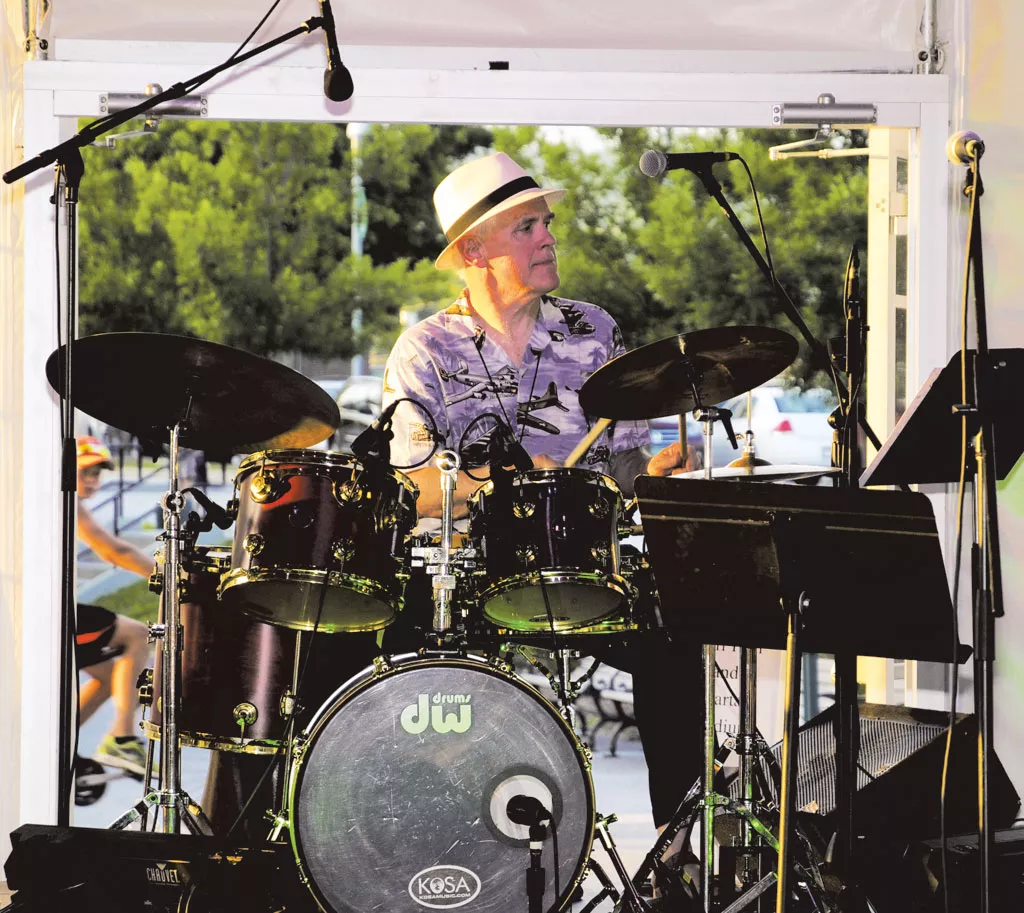 Courtesy of jeff salisbury
About 15 years ago, Jeff Salisbury found himself stumped. The local drummer and drum teacher was approached by a student who had reached an impasse with his development and had a rather profound question for his instructor: How do I move around the drum set?
To the casual observer, that might seem an oddly obvious query. You just, like, hit the drums, right? But for anyone who is not, say, Meg White from the White Stripes or Animal from "The Muppet Show," the question poses a subtle yet tricky conundrum. It certainly did for Salisbury.
"I thought, Shit. I have no idea," he says recently from the garage/practice space at his Jericho home.
Most drummers, or at least those who aren't self-taught, learn to drum by starting with simple rhythmic patterns, such as rolls, paradiddles, double strokes and the like. From there they graduate to rudimentary set drumming: four-on-the-floor rock beats, basic swing beats, maybe a syncopated Latin beat. As they advance, practiced rhythmic patterns become more complex and are integrated into set drumming for use in intricate beats, or epic, 15-minute drum solos. But how those patterns are deployed, the actual anatomy of which stick hits which drum or cymbal and when, and the variation that can result from altering those patterns, was something Salisbury had never fully considered.
"I'd never really thought about it," says Salisbury, who at that point had been playing drums for more than three decades and teaching for nearly as long. "I've always just kind of ... moved around."
So Salisbury began experimenting with fundamental sticking patterns, shifting his targets — snare, toms, cymbals, etc. — at varying points in the patterns. The result of those explorations is a new instructional book, Melodic Motion Studies for Drumset: Directional Strategies for Exploring New Sounds from Familiar Stickings. The book was recently published by Hal Leonard Corporation, the world's largest publisher of sheet music, as well as educational music and method books.
In a preface, Salisbury writes that the madness behind his method is unlocking the "infinite possibilities relating sound to motion" using "circular, vertical, horizontal, diagonal and various combinations of" recognizable drum motions. In layman's terms, his goal is to encourage drummers to think outside the established parameters of how familiar motions and patterns can be employed.
Using the Percussive Arts Society's Standardized Drumset Notation — that's a typical music stave in which each line and space corresponds to a different drum or cymbal, rather than pitches — Salisbury outlines a series of exercises designed to expand a drummer's relationship to motion. They begin simply. For example, the first exercises are based on eighth-note patterns in which the right hand moves counterclockwise from large tom to medium tom to small tom to snare. The left hand, meanwhile, moves clockwise from snare to small tom to medium tom to large tom.
The exercises progress in difficulty and complexity through six chapters, from basic sticking to windmill patterns, inverted paradiddles and practical applications to rock, jazz and Latin beats. Over the course of those 62 exercises, Salisbury draws connections to seemingly disparate styles that only became apparent to him while devising his new method. For example, Swiss military march and Afrobeat.
Salisbury, now seated behind one of two drum kits that face each other in his garage, plays the familiar rum-pa-pum-pum of a military march on the snare. Then he grins and arches his bushy white eyebrows. He adjusts his sticking so that his right hand alternates between the medium and low toms, while his left darts between the snare and ride cymbal. The rhythmic pattern, however, is unchanged. Immediately, the beat transforms from a solemn march into something you'd be more likely to hear as the bombastic foundation of a Fela Kuti song.
"Kinda makes you think about the universal nature of music, doesn't it?" he says.
"The book presents some interesting ideas about ways to play the drum set using patterns of movement to get melodic phrases," says Caleb Bronz, a former Salisbury student and now an accomplished drummer in his own right. "Jeff's book gets you thinking differently about how drums can be played ... and can expand your concept of the drums as a melodic instrument."
Salisbury, 65, has played professionally since he was a teenager in Texas and California. He's played in more Vermont bands than he can count, he says, and has manned the skins for the likes of Albert King, Chuck Berry and Bo Diddley, to name a few touring acts. In the basement of his house, Salisbury has posters from gigs he's played, opening for the Doors and the Rolling Stones, the latter at a Texas county fair well before anyone really knew who Mick Jagger and Keith Richards were. Or, for that matter, Stones drummer Charlie Watts.
As a teacher, privately and at Johnson State College and, more recently, the University of Vermont, Salisbury has nurtured some of the finest drummers ever to call Vermont home, including Dan Ryan, Sean Preece, Steve Hadeka (a Seven Days employee), Conor Elmes and Bronz, among many others. But for all the knowledge he's imparted to local drummers over the years, Salisbury admits that researching and writing his new book was just as educational for him.
"I'd say I learned as much, if not more, about drumming in writing this book over the last 15 years as I could hope to be able to teach," he says.
INFO
Melodic Motion Studies for Drumset: Directional Strategies for Exploring New Sounds from Familiar Stickings by Jeff Salisbury, Hal Leonard, 72 pages. $16.99.
The original print version of this article was headlined "Stick Shift"