Two years ago, Nate Doyon began baking donuts for weekend customers at Northfield's Carrier Roasting, where he is the lead barista. When the pandemic temporarily closed the coffee shop, Doyon — like many Vermonters — was laid off. A trickle of emails began to flow in, asking whether Doyon would deliver his coveted donuts. In a matter of weeks — thanks to word of mouth and social media — he and his wife, Nina Livellara, had created a new business, Local Donut.
Twice a week, the couple makes home deliveries from Hardwick to the Barre-Montpelier area. They also deliver to three farmstands: Black Dirt Farm in Stannard, Peace of Earth Farm in Albany and 1,000 Stone Farm in Brookfield. Wholesale batches go to Front Seat Coffee in Hardwick, Maple Corner Community Store in Calais and Carrier Roasting. Donuts are available by preorder at these venues.
Doyon, a Northeast Kingdom native, is a graduate of the New England Culinary Institute in Montpelier. Livellara grew up in Danby and received a master's degree in culinary arts from the University of Gastronomic Sciences in Piedmont, Italy.
The two were introduced four years ago by a mutual friend at City Market, Onion River Co-op in Burlington. They bought food, went back to Livellara's house and cooked a meal together. Now, the couple lives beside Greenwood Lake in Woodbury, the parents of 2-year-old Chloe and 1-year-old Nora; Doyon and Livellara call their daughters the "donut holes" of the family.
Unlike most commercial bakers, who rely on a premade mix, Doyon uses a method known as pâte fermentée — or "old dough." Traditionally, to prevent waste, French bakeries gathered up leftover flour and dough scraps and mixed them together. Because it includes yeast, this dough ferments slightly, without progressing to a sourdough. When Doyon introduces this yeasty mixture into new dough, the flavor deepens.
Doyon's recipe is based on one his aunt taught him when he was a boy. He still has fond childhood memories of dunking yeast donuts into maple syrup. "You can't beat that," he said.
Local Donut's original flavor — a sugared donut with a hint of salt — was followed by a honey-sesame-cardamom variety and a jam-filled donut.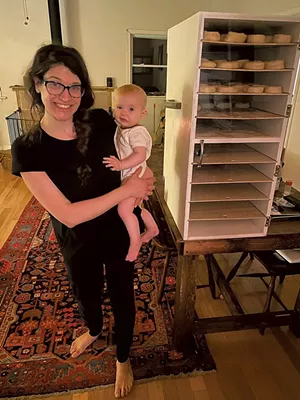 Nina Livellara and daughter Nora
The pair purchases many ingredients from farmstands — which requires more work and time than simply stocking up at the supermarket. Doyon uses milk from Rogers Farmstead in Berlin, which he says is as creamy as half-and-half. Black Dirt Farm supplies the eggs. Craftsbury General Store fills their King Arthur Flour order — about 50 pounds weekly. Doyon buys red raspberry jam in 22-pound buckets from Sidehill Farm in Brattleboro.
Vermont Agriculture Secretary Anson Tebbetts featured Local Donut in the first of his "Fireside Chats" — a video series highlighting how the state's agricultural businesses have responded to the COVID-19 crisis. A story on WCAX-TV increased demand. But the couple intends to keep the operation relatively small; 200 donuts per day is their maximum capacity.
Doyon ferments the dough a day before baking, then wakes at 1 a.m. to cut and fry the donuts in a well-seasoned cast-iron skillet. By 4 a.m., Livellara and their daughters are up, too. Livellara does the packaging, including cutting paper hearts to affix to each delivery bag. The couple separates orders by town into bins. By 8 a.m., they're ready to hit the road. They split up, each with a daughter in tow, to cover their delivery routes. They wear gloves and masks and often drop donuts in a box or basket that customers leave out for them.
The goal of Local Donut — and the couple's dream — is to encourage people to spend their money locally. "I grew up in the Northeast Kingdom. I know you can get a whoopie pie for a dollar," said Doyon. But, he adds, "that whoopie pie has all the cheapest ingredients and hydrogenated fats; there's nothing local."
The pandemic, Doyon said, has made him more aware that "we rely so much on capitalism to bring us all our conveniences, but it doesn't help our local neighbor at all." Local Donut is part of what he describes as "a huge movement" to support local farmers, artisans and cottage industries.
Going forward, Doyon and Livellara hope to diversify their offerings. This month, they'll introduce a strawberry shortcake donut. Winter may bring more savory options.
Doyon's father, Omer, is building a bakery attached to the couple's kitchen. Livellara said this will enable them to keep a better balance between the business and family life — especially because they'll be able to shut the door between the house and the bakery.
What won't change with the new space is Local Donut's family-centered approach. Said Doyon: "I can have one kid strapped to me and make a donut."