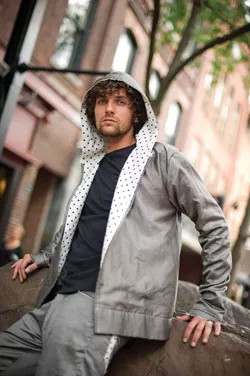 Andy Duback
Bradley Jordan
A dress made completely out of condoms. Clothing sparkling with battery-operated lights. If fashion never struck you as art before, it will after Saturday's "Strut V," this year's South End Art Hop catwalk event.
"Fashion and art go hand in hand," says fashion-show consultant Bradley Jordan. The 25-year-old Maryland native should know. Even planning a runway exhibition is a fine craft. "Timing is everything in the show," he explains. "It can make or break what you're trying to do with the audience."
Jordan, who studied fashion design and marketing at the Art Institute of York, Pa., is no stranger to running the runway. Though he's new to "Strut," he coordinated five fashion shows during college, showed his own designs in last year's Montpelier Fashion Show, and helped organize and emcee the inaugural Church Street Marketplace Fashion Show, which took place last Saturday. He's having a busy week.
"There's always been one [person] who has taken up the ... wrangling of the designers," says Art Hop coordinator Bob Bolyard, "and that's Bradley's position this year." Bolyard met Jordan at Salaam North in Burlington, where Jordan works as a sales associate. Jordan has also collaborated with Salaam — a Vermont-based manufacturer and retailer of dresses and separates — as a pattern maker in Plainfield, and he currently works on his own threads in the Church Street shop's basement studio.
Nature and snowboarding are the main influences on his work, says Jordan, who came to Vermont partly for the snow and moved to Burlington from Warren last May. "I'm very in tune with the Earth," he explains, describing his duds as "edgy and pushing the envelope." For the women's collection he'll show at "Strut," Jordan collaborated with graphic artist Tony Willette. Motor oil figures into a line of monochromatic muslin frocks in a reactionary statement to the Gulf oil crisis.
You won't find those pieces in stores (yet), nor most of the other independent designs hitting the runway this weekend. Other local costumers include Margaurite LeMay of the House of LeMay, Planned Parenthood of Northern New England (ahem — condom dress!), 11-year-old wunderkind Zymora Davinchi and the Bobbin Sew Bar + Craft Lounge.
"We're cranking out pieces like crazy," says Bobbin co-owner Gyllian Rae Svensson with a laugh. The Old North End crafters are producing upcycled, vintage and handmade pieces with an early '90s sensibility. "We'll have a lot of sweet little ivory beaded tops and dresses," Svensson says.
Also running with the recycled theme is Shelburne resident Carolyn Phelps Little, manager of Battery Street Jeans. "I like to incorporate vintage fabrics and remnants," she says. Little will work them into a lineup of women's dresses for the show. Fourteen-year-old Lucy Leith will display dresses, too; the young Burlington designer's garments are inspired by the work of Japanese film director and animator Hayao Miyazaki. Using conductive thread and tiny LED lights, Leith has created dresses that will light up to the beat of the runway music.
Jordan is doling out strutting advice to some 50 to 80 models, and working with the emcees and deejay to make sure things run smoothly.
"What we're looking at here is people being very artistic," says Jordan, who's currently landing sponsors to launch his own line, Jordan & Twill. "People always want to be noticed, and this is a great way for people to showcase their artwork and wear it."