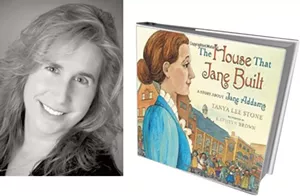 For this month's issue, Kids VT interviewed local children's book authors and illustrators about their recent and upcoming projects.
Tanya Lee Stone is the author of almost 100 books for kids and young adults, including nonfiction works — one about Barbie dolls, another about the first black paratroopers in World War II — and picture book biographies shining a spotlight on strong women in history. Her newest biography, The House that Jane Built, comes out this month. A Connecticut native, Stone and her family have called South Burlington home for the past 18 years.
Kids VT: Tell us a little about your latest book, The House that Jane Built. Why did you choose to write about Jane Addams?
Tanya Lee Stone: In 1900, Jane Addams was more famous than Oprah Winfrey is today. She did a lot of remarkable things, one of which was bringing the concept of community centers to America. My book tells the story of how she founded Hull House, the precursor of all American community centers.
KVT: A number of your books are about strong females. What do you hope that readers, especially girls or young women, take away from your work?
TLS: There are many missing stories in our history, primarily of women and people of color. I love discovering extraordinary stories of people who have shaped our world and filling in some of those missing gaps!
KVT: What are you working on now?
TLS: It's called Girl Rising and is a nonfiction book that will expand the content and stories of the powerful 2013 documentary of the same name by Richard E. Robbins. It's about why there are 62 million girls worldwide who are not being educated.
KVT: What's your favorite part of being a writer?
TLS: Getting up every day and being immersed in learning. I never know what I am going to find out, or on what adventure I may embark!
---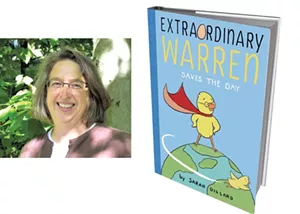 Author and illustrator Sarah Dillard's first book, Perfectly Arugula — about a hedgehog who plans a tea party — came out in 2009. In 2014, she published two books about a bespectacled chicken who becomes an unlikely superhero, Extraordinary Warren: A Super Chicken and Extraordinary Warren Saves the Day, as well as First Day at Zoo School, a picture book for 5- to 7-year olds about animals getting ready to start school. Mouse Scouts, her new chapter book series for kids ages 7 to 10, comes out in early 2016. She's lived with her husband and beloved dog at the base of Mad River Glen in Fayston since 1999.
Kids VT: How did you get into writing and illustrating children's books?
Sarah Dillard: I loved books when I was a kid and loved to draw. In college, I majored in studio art with a minor in English literature. After I graduated, I went to RISD (Rhode Island School of Design) for a year and took illustration courses. It set me on a path to being an illustrator, but it wasn't a straight line.
KVT: How did you get the idea for Extraordinary Warren? Why did you decide to write about a chicken?
SD: I did a little doodle of a chicken talking to an egg, and I wondered what was going on there. I always love the idea of characters who appear very ordinary but have great dreams. I love drawing animals. I find drawing animals is for me nicer than drawing people. When kids look at pictures of children, they're looking for themselves. You can relate to animals in a broader way than you would people.
KVT: Your Extraordinary Warren books are a mix of picture book and graphic novel. Why did you decide to create them this way?
SD: It kind of just started to come out this way. I think it's a really nice way to tell a story. It works very well for reluctant readers. I just love the sequential story telling. Perfectly Arugula was done the same way. It just seems to be the way I tell the story.
KVT: Tell us a little about your upcoming chapter book series, Mouse Scouts.
SD: It's about a troop of mice that are very much like Girl Scouts. They live in our world, so they're always kind of scavenging and avoiding people and cats and other predators. Every chapter ends with a page from the Mouse Scout Handbook, like a craft or a how-to page.
KVT: What makes Vermont a great place to be a writer?
SD: I think it's a beautiful place to live. I think as an author or illustrator, you can live anywhere, so why not pick a beautiful place? It's inspiring to be here.
---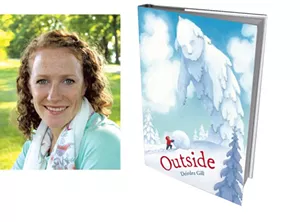 Husband and wife Jason Chin and Deirdre Gill both write and illustrate children's books. The newest of these, an investigation of the water cycle that Chin illustrated, entitled Water is Water, was released in May. Gravity, a book Chin wrote and illustrated, came out in 2014. Chin has also written and illustrated nonfiction picture books about the Galapagos Islands, the redwoods and coral reefs. Gill's first picture book, Outside — about a boy's imaginative snowy adventure — was released in 2014. She's currently working on illustrations for a picture book about trains. Both Chin and Gill grew up in Vermont and moved back to their home state from Brooklyn five years ago. They live with their 4-year-old son and 1-year-old daughter in Middlebury.
Kids VT: Jason, in your books, you sometimes use stories to introduce nonfiction topics and your illustrations are very detailed. Can you talk about this approach?
Jason Chin: Adding a story to nonfiction is kind of like the sugar that helps the science go down. Stories are really memorable and engaging and have a way of interesting kids. The science in my books is pretty advanced, but the picture story makes the book accessible. The pictures give beginning readers a point of entry and a way to be successful at reading the book without being successful at understanding all the science.
KVT: Deirdre, can you talk a little about the process of writing and illustrating Outside?
Deirdre Gill: I was working on a blog about what kids can do to help the environment, The Green Guide for Kids. That's when the idea for Outside took root. From the first idea to the published book it took four years. The manuscript was accepted when my son was 1. It was finished two days before our daughter was born. When I finished the book, I looked back at my sketchbooks and realized I had done probably 4,000 sketches. For me, it can take a couple of months to go from a drawing to a finished painting. One picture can go through 30 to 40 drafts before I'm ready to paint it.
KVT: Any funny anecdotes about how your kids have reacted to your work?
JC: My book Gravity came out last year. After I read it to my son, a few weeks later he told me that sometimes he gets up in the morning and gravity wants him to lie right back down.
KVT: How has becoming parents informed your work as writers and illustrators?
DG: Especially with our son, now that he's old enough that we can watch his reaction when we're reading him books, I have a better understanding of what kids understand. And knowing what piques his interest and what fascinates him is very insightful when coming up with story ideas or what to include in the picture.
JC: I'm much more concerned with the clarity of my pictures. Consistency is so important. Sometimes I read my son books and have to explain to him, "Now that picture is in shadow so it's not red anymore." Now when I'm making pictures, I keep that in the back of my mind.
KVT: Any big ideas you try to get across in your work?
JC: One thing Deirdre and I both have in common is real admiration for kids' imaginations, a desire to make books that help kids use their own imagination, that will hopefully encourage kids to go out in nature and develop their own fantasies around the book.
KVT: How do your balance work with parenting?
JC: We do most of our work when our kids are sleeping.
Chin will read from his new picture book, Water is Water, at Phoenix Books in Burlington on June 13 at 11 a.m.
Other Notable Books by Local Authors Published in 2014 and 2015:
For early readers
Tap Tap Boom Boom by Elizabeth Bluemle
Nelly Gnu and Daddy Too by Anna Dewdney
Little Red Henry by Linda Urban
Up in the Garden and Down in the Dirt by Kate Messner
Elvis: The Story of the Rock and Roll King by Bonnie Christensen
For middle-grades readers
The Expeditioners and the Secret of King Triton's Lair by S.S. Taylor
Smashie McPerter and the Mystery of Room 11 by N. Griffin
Treasure Town by Doug Wilhem
Hide and Seek and All the Answers by Kate Messner
For young adults
No Easy Way Out and No Dawn Without Darkness by Dayna Lorentz
Living with Jackie Chan and Read Between the Lines by Jo Knowles
Like Water on Stone by Dana Walrath
Interviews compiled and condensed by Alison Novak