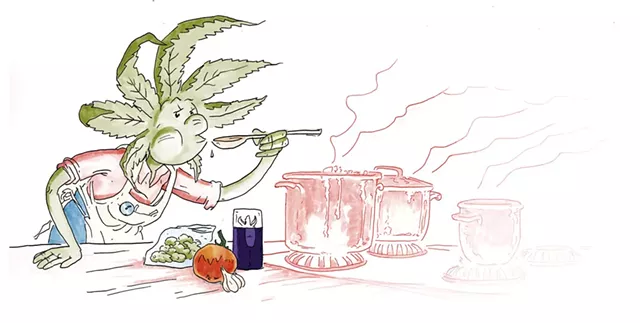 In the spring of 2014, Dave Weiner was a food judge for High Times magazine's Cannabis Cup in Denver. Weiner, who lives near Stratton Mountain, received a kit with about 45 edible products containing cannabis and an app for recording his scores. He had a week to judge the food — from sour gummies to pizza sauce, from Thai iced tea push-up pops to beef jerky — in categories including effect, flavor, packaging and product originality.
The first day of the competition, eager to get going and unsure how to pace himself, Weiner tasted about 12 products. He was "100 times" higher than he would've been if he'd smoked joints throughout the day, he said.
"At first it was quite overwhelming," recalled Weiner, now 26. "But by midweek, I was becoming more comfortable with larger doses." Still, he took a lot of naps during his stint judging the Cannabis Cup. "It was hard to keep my eyes open for a lot of that week," Weiner said.
Marijuana cuisine has come a long way since the pot brownies of a generation or two past, when home cooks tossed butter melted with weed (sometimes including stems and seeds) into a recipe. The result was a gritty, herbaceous concoction that probably wasn't worth the trouble. Times have changed, along with methods and recipes.
Courtesy Of Dave Weiner
Dave Weiner of Stone Sober
Today, Weiner is a partner in Stone Sober, a lifestyle and apparel company that promotes cannabis as a safe and holistic approach to healing. By catering meals for medical cannabis users, he's gained experience in cooking food made with weed. If Vermont law will allow him to cater meals for recreational users, he'll do that, too, Weiner said.
"I [can] do a high-end cannabis-infused dinner," he said, "and you have no idea you're ingesting cannabis."
To make edibles, a cook first has to activate the psychoactive properties of THC through a process called decarboxylation, or de-carbing. One basic method is to put marijuana on parchment paper on a cookie sheet, cover it with aluminum foil and bake it at a low temperature (about 225 degrees) for 30 to 40 minutes.
Because THC is fat-soluble, oil and butter are preferred mediums for cooking with it. Weiner recommends a de-carbing process that he said is accessible for home cooks and produces a palatable infused oil. Take the shake or trim of marijuana — as opposed to the buds — place it in a mason jar with olive oil, seal the jar and put it in a pot of boiling water in the top of a double boiler. Boil the water for 60 to 90 minutes, and then strain the pot particulates. The infused oil can be used for making pasta sauces, salad dressing, and stuffed chicken with prosciutto and goat cheese.
"The beautiful thing about doing a multiple-course, cannabis-infused dinner: It's like doing a wine-pairing dinner," Weiner said. "Once you get to a certain point, you find yourself becoming more and more intoxicated; you can cut yourself off when you've gotten to a certain point."
The trick is finding the right dose, which is why it's useful to understand certain properties of THC. It takes longer to feel the psychoactive effects of ingested cannabis, which is absorbed through the gastrointestinal system, than of inhaled cannabis. When a person ingests THC, it is metabolized in the liver, which converts it to another molecule: 11-OH-THC. This compound is stronger-acting than THC, according to Wolfgang Dostmann, a professor of pharmacology at the University of Vermont.
"That's why some people experience edibles differently, i.e., making them higher," Dostmann wrote in an email. "Conversely, other patients do not like the experience. It makes them feel more uneasy, and they prefer vaporized THC."
In Vermont, recreational users don't have access to edible commercial products in which THC content is regulated and measured, and that won't change on July 1. Accordingly, experienced cooks recommend starting with a low dose and taste-testing your food. Give it time to take effect — an hour or more — and add more THC infusion in increments as desired. You can dilute the canna-butter or infused oil as necessary by using it in combination with plain butter or oil.
"You have to be your own guinea pig," said Mike Giffune, chef at Zenbarn in Waterbury, who has prepared two hemp dinners at his restaurant. "I would dose myself if it were me and determine [potency]. Wait an hour and see how you feel. If you're growing it yourself and cooking at home yourself, essentially, the ball's in your court."
For flavor profiles, he recommends, for example, infusing mint oil and making mint candies. Salad dressing is a good vehicle for cannabis in savory cooking, Giffune said. He suggests an emulsified dressing with a "liaison" such as mustard or egg yolk that will homogenize the ingredients and disperse them evenly.
"If I were to share it with guests or friends," he said, "I would definitely make sure that I had tried it myself."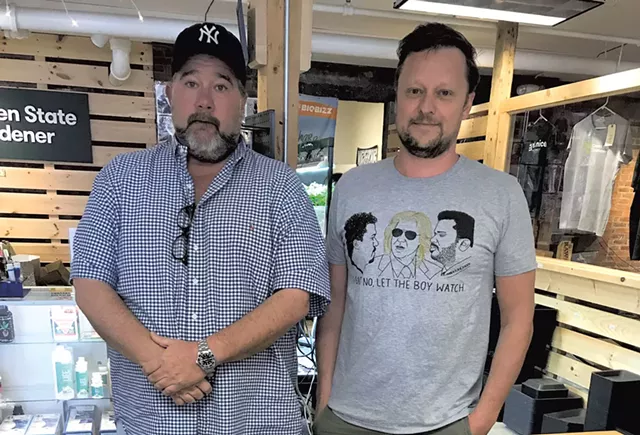 Sally Pollak
Chris Walsh (left) and Dylan Raap at Green State Gardener
Chris Walsh, a co-owner of Nectar's in Burlington, uses medical cannabis for ailing knees. He helped launch the Green State Gardener retail store on Pine Street with Dylan and Kelsy Raap.
Walsh de-carbs cannabis in food-saver bags placed in boiling water, then makes batches of cannabis butter to use in various recipes, from chicken ghee to chocolate chip cookies. For vegans, he recommends coconut oil.
"Ten years ago, you'd have a marshmallow treat and wing it," Walsh said. "It's become very sophisticated.
"My mission is to show people that you can make something other than the hippie, gritty hash brownie of yesteryear that you had to choke down and [that] was not enjoyable," he added.
Walsh returned to Vermont from a recent trip to California with a bag of labeled edibles in a dizzying array of flavors, colors and dosages. It looked like a high version of a Halloween treat bag — very high.
Sally Pollak
Baked Bees honey with THC
The sampling included chocolate-covered blueberries (five milligrams apiece); a plastic honey bear called Baked Bees filled with "medicated honey" (20 milligrams per serving); vegan and gluten-free sour gummies (100 milligrams per package); and a Frooty Krispie bar, whose neon-bright colors could be scarier than its THC content (500 milligrams).
"You'd be on the ground vomiting," Dylan Raap said of the bar.
Looking at the full display of California products, he commented: "This is five years into the future here."
Raap and Walsh recommend five to 10 milligrams as an "ideal starter dosage" for most people. "You can totally dial in what works for you in increments," Walsh said. "You can always add more, but you can't take away."
For making cookies with cannabis butter, Walsh offers this tip: "Don't lick the spoon." He knows he's tasted too much batter, he said, if the 12-minute baking time starts to feel like three hours.
He recommends that home cooks taste-test cannabis-infused butter or oil before adding it to a dish to determine their own tolerance and dosing.
"Be extra cautious if you're doing this at home, and start small," advised Raap, 39, who has a medical cannabis card for back pain. "Work your way up."
After the July 1 law goes into effect, Green State Gardener will offer cooking classes on using cannabis in food, Raap said.
Walsh, purveyor of a famous and fatty Burlington meal — gravy fries — is looking to the culinary future of the Green Mountain State. "One of the indications that Vermont is doing things right is if I can add cannabis to the gravy at Nectar's," he said.
Christopher's "Almost Famous" Coconut Chocolate Chip Canna Cookies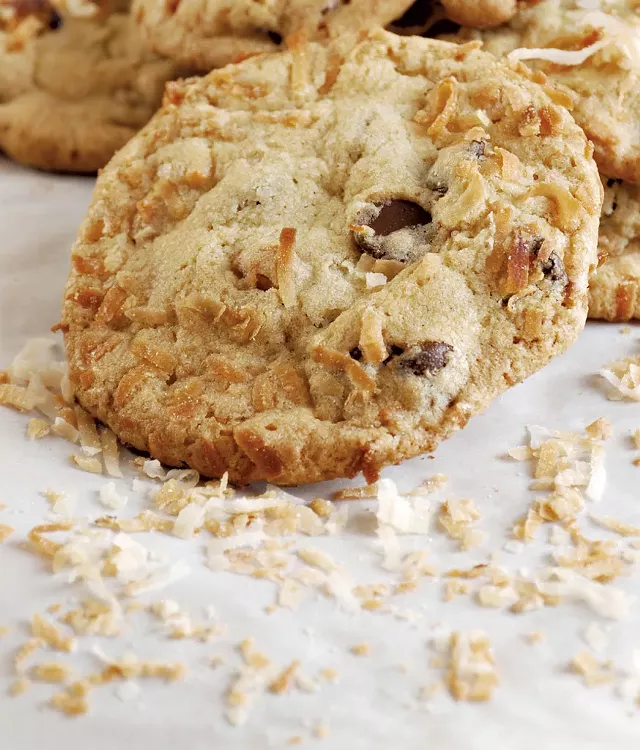 This recipe is from Chris Walsh, co-owner of Nectar's, and makes about 30 cookies. They can be prepared without coconut, but Walsh says it adds nice texture and helps hold the cookies together.
Ingredients:
1 ½ cups all-purpose flour
½ cup whole wheat flour
1 teaspoon baking soda
1 teaspoon Himalayan salt
1 cup salted canna butter*
¾ cup white sugar
¾ cup firmly packed dark brown sugar
1 teaspoon water
1 teaspoon vanilla
1 cup shredded coconut
2 large eggs
2 cups semisweet chocolate chips
*To make canna butter:
Put two ounces of trim in a foodsaver bag and de-carb it in a pot of boiling water for about two hours. Let it cool. Put de-carbed trim and four sticks of butter in about four quarts of boiling water. Let boil for 90 minutes, stirring occasionally. Cool in refrigerator, where it will turn into a "green puck of goodness," Walsh said.
Remove hardened butter from top of water; cut in pieces and heat on low temp to melt. Strain through cheesecloth. Use butter in ½ cup increments to test desired potency. (For extra caution, test strength in ¼ cup increments.) If your batch of canna butter is too potent for the cookies, mix it with ¼ to ½ cup of regular salted butter, for a total of 1 cup.

Source: Chris Walsh

Directions:

Preheat the oven to 350 degrees. Grease two cookie sheets or line them with Silpat. In a large bowl, stir together the flours, baking soda and salt.
In another large bowl, cream the butter and sugars. Add the water and vanilla. Mix the ingredients until they are just combined. Add the coconut and eggs and mix them lightly.
Stir in the flour mixture. Fold in the chocolate chips. Don't overmix the dough.
Drop the cookies two inches apart on the prepared cookie sheets using two tablespoons or an ice cream scoop. Bake them for 12 minutes or until the edges and centers are brown. Move them from the cookie sheets to a wire rack to cool.