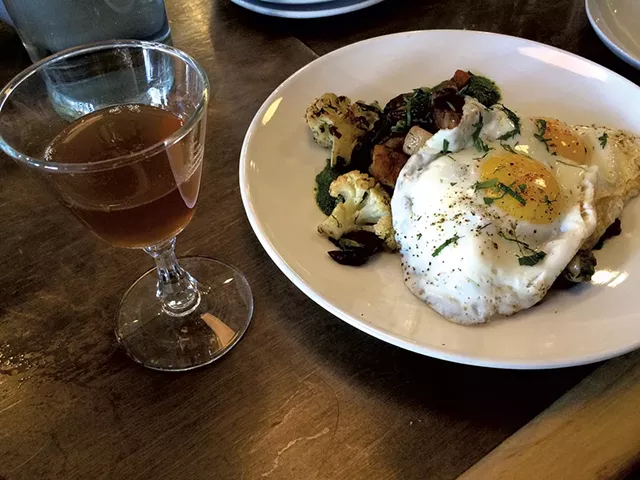 Suzanne Podhaizer
"A Walk in the Woods" with veggie hash
The veggie hash arrived five courses into a brunch-time cocktail pairing at Misery Loves Co. in Winooski — hunks of mushroom and cauliflower and strips of roasted bell pepper and onion, all mounded on a smear of verdant pesto. A pair of orange-yolked eggs slumped off the vegetables like the melting clocks in Salvador Dali's "The Persistence of Memory."
At my elbow was an unusual drink called "A Walk in the Woods." Made of gin, juniper, the bitter aperitif Byrrh and reduced mushroom stock, the earthy, woodsy concoction was a perfect complement to the hash. The fungus in the drink picked up the fungus in the food. The bitter components cut through the fat from the egg yolks, just as the latter streaked gold into the pesto's green.
Misery is one of a handful of Burlington-area restaurants that have made an art of creating food-friendly cocktails, with elements that echo ingredients on the plate or sharply counterpoint them. Other local purveyors of such drinks — which can be served alone or alongside a meal — include the Inn at Shelburne Farms, ArtsRiot and Juniper at Hotel Vermont.
A decade ago, pairing beer with food — instead of wine — was edgy. More recently, serving mixed drinks with meals has become a trend written up in places such as Epicurious.com and Food & Wine. Men's Fitness even described the creation of apt food and booze pairings as a surefire seduction technique (if only!).
Suzanne Podhaizer
Tater tots with Arctic char
The fad has a rational foundation. When pairing food with beer or wine, chefs are stuck with what comes out of the bottle. If they think a wine could use a little more acidity, they can't stir in some lemon juice and call it a day. Bartenders, on the other hand, can tailor drinks to the flavor profiles in a given dish.
"There's more control with cocktails," explains Laura Wade, co-owner of Misery. She adds, "Our cocktails are culinarily driven. We craft them the same way we make our food."
That means taking available seasonal ingredients — often kitchen byproducts such as fermented beet juice, whey and egg whites — and working them into the drinks.
Suzanne Podhaizer
"Ron Burgundy"
At that same brunch, fermented beet juice showed up in a bright pink drink that came out alongside a half-dozen oysters. Like mignonette sauce — the blend of vinegar, shallot and pepper typically served alongside raw mollusks — the cocktail had an acidity that went nicely with the brine.
A white rum, grapefruit and oregano drink — in a glass rinsed with anise-scented Pastis — appeared with a plate of homemade tater tots. The latter were topped with cured arctic char, crème fraîche and a scattering of herbs and seeds. The aroma of licorice and green herbs united the food and drink in a surprising, powerful and lovely combination.
Another local chef who takes a culinary approach to the craft of mixing cocktails is Aaron Wisniewski, who's also a certified sommelier and bartender. He and his brother, Sam, own Alice & the Magician Cocktail Apothecary in Burlington. Using a proprietary method, the Wisniewskis create fragrances that can be sprayed on drinks — or plates of food. Want the aroma of celery without the crunch? A little spritz from a bottle does the trick.
In addition to customizing fragrances for bartenders, weddings and more, the Wisniewskis tend bar at local events and do food-pairing dinners with area chefs. Most recently, they partnered with Hen of the Wood in Burlington for an Alice's Adventures in Wonderland-themed dinner, serving a bevy of unusual drinks to match food from chef Jordan Ware.
Suzanne Podhaizer
French toast with grapefruit curd
For instance, a steaming cast-iron teapot held a green potion chilled with dry ice and made with cucumber, lemon and lime juice that had been spritzed just before serving with a fragrant spray called Southeast Asian Flavor Elixir. The Wisniewskis' concoction accompanied a tender octopus tentacle garnished with cucumber slices, a piece of cured pork cheek and scallion. The cucumber on the plate danced with the cucumber in the drink.
"I like to work from food," Aaron Wisniewski says. "[I] have the chef build a menu, and I build cocktails around it."
Instead of making drinks that are perfectly balanced in themselves and then trying to match them with food, he designs beverages that mesh with the flavors of a dish but are still delicious on their own. Wade takes a similar approach. When pairing is done well, the drink can function as "a satellite to the plate," she says.
Suzanne Podhaizer
"Paradise Hotel"
Wisniewski likes that cocktails offer a broader palate than other alcoholic drinks. "When you're doing beer or wine, you're kind of handcuffed to sour, bitter and sometimes sweet," he notes. "If you're designing cocktails, you have salty, sweet, sour, bitter and umami. You have a bigger palate to work with."
The current trendiness of cocktail and food pairing poses the threat that people will overdo it. (Remember when chefs turned everything into foam, and put foam on everything?) Because booze can clobber the palate, it's imperative that drinks be mixed deftly, with deference to the food. Just as precise control over the finished product can foster subtle, playful pairings, so an inelegant coupling can crush a good dish.
"Higher alcohol can be really rough on the palate," Wisniewski says. "In a certain way, I treat the alcohol [in a cocktail pairing] like the tannins in wine."
While pairing mixed drinks can be tricky, local chefs are motivated to do so beyond the fun of experimentation — namely, the growing strength of Vermont's spirits industry. The state now boasts 20 distilleries that turn out gin, rum, whiskey, maple liqueur and everything in between — some from local grains. Pairings give the state's bartenders another way to showcase those products.
Some distillers even team up with chefs for pairing dinners. Last week, Stonecutter Spirits in Middlebury and Mary's Restaurant at the Inn at Baldwin Creek in Bristol partnered on a dinner based on Wes Anderson movies. One course, the "Moonrise Kingdom," matched a hazelnut-crusted halibut with bourbon-brown-butter glaze and root vegetables to a drink made from whiskey, brown butter syrup, bitters and dry Shacksbury cider.
It was a feat of whimsy worthy of the auteur himself — and a testament to the potential of the trend.
The Persistence of Scent Memory
Suzanne Podhaizer
Aaron Wisniewski
At a recent Hen of the Wood pairing dinner, wares from Alice & the Magician Cocktail Apothecary included a smoky fragrance inspired by co-owner Aaron Wisniewski's memories of hiking. After sampling it, I wondered what it would be like to turn my own memories into scents, and then into cocktails.
So, on a blustery Thursday afternoon, I showed up at the Soda Plant on Burlington's Pine Street to visit the A&M laboratory. An unassuming entryway led to a small, comfortable room that, unsurprisingly, smelled great.
Seated at a low table, I had a view of the bar, which was decorated like a mad scientist's laboratory, complete with beakers, pipettes and a chalkboard filled with formulae.
To prepare for our visit, I'd sent along a list of three memories — gardening, taking a vacation, hearing a friend's favorite song — and associated scents.
"We'll start with 'gardening,'" Wisniewski declared. He picked up one of the bottles and sprayed a puff of mist into a small plastic cup, which he immediately passed to me. I stuck in my nose, and the aroma hit me like a wheelbarrow full of compost: moist earth. As if it had just rained after not raining for a week. The scent was powerful, and it was "right" in some inalienable way. Just right.
From there, he spritzed a parade of perfectly pitched scents: basil, sweet pea, tomato leaf, rain, green pepper. "What do you think?" Wisniewski kept asking. "How is it working for you? Is there anything you don't want?"
I wondered if the green pepper would clash with the other aromas as the flavor can do with wine. Wisniewski assured me that the final result would come down to proportion and balance, and that the mix of aromas could be tweaked as we went.
Once my gardening elixir was complete, we started on a scent based on a tropical dance cruise. It was heavy on fruity components such as coconut, banana and passion fruit. Other ingredients came from bottles labeled "sea water" and, fetchingly, "ball sweat."
Finally, we crafted a mixture we called "Turbo Lover," inspired by the Judas Priest song. We summed up the homage to cars and sex with leather, tobacco, smoke, vanilla and pink peppercorn.
To turn our new scent memories into cocktails, Wisniewski and I first agreed on the base spirits: gin for the garden, rum for the tropical vacation and bourbon for the heavy metal song.
After a run to City Market/Onion River Co-op for ingredients, we convened at the bar, beakers in hand. We spent the next hour perfecting the drinks — adding one element, subtracting another, strengthening and weakening others as we went.
Our final version of the fruity tropical drink leaned sour rather than sweet, with added intrigue from the funkiness of the passion fruit, seawater and sweat. Still, it was my least favorite of the three.
The drink based on gardening, made with tomato and cucumber juice spritzed with vegetable and herb aromas and a healthy hit of soil, made me giggle. In an entirely pleasant way, the dirt lingered on the palate long after the drink was gone.
But, of the three, the Turbo Lover was the most saleable. With sprays of leather, tobacco and smoke, combined with bourbon and Campari, the drink practically purred in the glass.
Wisniewski likes to point out that 90 percent of flavor comes from aroma and that smell is the sense most strongly linked to memory. After a few hours at the lab, I better understood that curious phenomenon. The tropical cocktail might not have returned me to the scorching sun of the Caribbean, but, as I walked back into the snow with the taste of soil in my mouth, I could imagine that I'd just been working in the garden.