Spring is a time of uncertainty, at least when it comes to the weather. A glorious, sun-splashed day can be followed in less than 24 hours by sheets of rain, even sleet. Such is spring in the Green Mountains — and this year, its sunny side is elusive.
What's more certain is that Vermont's brewers, distillers, viticulturists and cider makers stay busy during the winter months, and they've emerged with all kinds of new bottlings. If you blinked this winter, you may have missed a wild sour ale, Vermont's own alternative to Campari, and more ciders than you can shake an apple at — from bone dry to succulent, sweet and even pink. There's even a brand-new blood-orange liqueur on the market, though it's made next door in New Hampshire.
To do justice to the season, here's a drinking diagram with a glass of something new — or no more than six months old — to accompany each of spring's multiple personalities. And, for good measure, a few recipes.
Ahhh, it's spring ... but what kind of day is it?
Carefree: Warm and sunny with a light breeze. Time for playing hooky.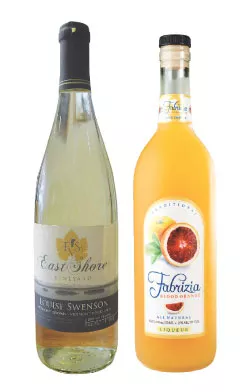 If dawn breaks footloose and fancy free, it's time to take a personal day, haul your pale self out onto the patio and soak up rays. Wheat beers and IPAs, with their juicy but drying citrus flavors, were made for just this kind of weather. Named almost perfectly for the occasion (though it's been out for more than six months — shhh), Drop-In Brewing Company's Sunshine and Hoppiness is a golden-blond Belgian pale ale from Middlebury with a dangerous drinkability that could lead to a lost afternoon.
Just a few weeks ago, the staff at Burlington's East Shore Vineyard — most notably wine maker Holly Rochefort — released their newest vintage of Louise Swenson, a cold-hardy grape that makes for minerally, food-friendly white wines. The 2012 bottling is zesty, grassy and refreshing. Its official release party is still a few weeks away, but you can find bottles in the company's Church Street tasting room.
For something a little frillier, look east. Though not too far: This winter, the two Italian American brothers who run Fabrizia Spirits — a limoncello producer in Salem, N.H. — rolled out a powerful Blood Orange Liqueur. Though nothing inside the bottle is truly local (blood oranges aren't exactly native to New England, nor is corn-based grain alcohol), the coral-colored spirit is a lip-smacking, able-bodied and purer alternative to triple sec. We're thinking Blood Orange Margaritas.
Blood Orange Margarita
Lime wedge
Coarse salt
Ice
1 1/2 ounces silver tequila
1 ounce fresh blood-orange juice
3/4 ounces Fabrizia Blood Orange Liqueur
1/2 ounces fresh lime juice
Sprig of mint (optional)
Rub lime wedge around the edge of a Collins glass. Tilting the glass, twirl its rim through a plate of salt to coat. In a shaker filled with ice, combine tequila, blood-orange juice, liqueur and lime juice, and shake vigorously to combine. Strain into cocktail glass and garnish with mint.
Chillified: A cold, sleety, don't-leave- the-house kind of day.
Even though spring throws out some icy days, your luscious, opulent bottles of red wine are best stashed away until the first fires of fall. Fortunately, Vermont winemakers conjure up all styles, and the juicy Fresh Tracks Farm Freerider Red from Berlin — perfect for spring with its dark cherry and plum flavors — offers a chance to taste cold-hardy St. Croix in its unadulterated glory.
Darker and stronger is the new maple-infused bourbon and rye from Saxton's River Distillery in Brattleboro. Though the bourbon is from elsewhere, these chocolate-brown spirits are sumptuous and, at 70 proof, a bit gentler than traditional brown spirits. It's soft and sweet enough around the edges to serve simply over a few rocks.
Swampy: Heavy rain and muggy. Watch out for falling earthworms.
The rain is falling in sheets, but you can still smell wet earth and maybe even sprouting daffodils. It's a good day for a Negroni — the bittersweet, boozy concoction of Campari, gin and red vermouth. Lucky for us, Deirdre Heekin (of Woodstock's osteria pane e salute) and Eleanor Leger (of Eden Ice Cider) have finessed and released their own version of bitters, a beguiling, rose-tinted liqueur made from ice cider and infused with red currants and Urban Moonshine dandelion bitters. It makes for a juicy, feminine Negroni; when it's served on its own, its tart flavors wake up the palate — as well as the digestion.
For a more straightforward experience, the round and nutty Whetstone Orchard King Cider from Marlboro's Whetstone Ciderworks, made with five types of heirloom apples, can drown out the rain hitting your window. And the tangy, rye-like sour ale from Backacre Beermakers can send a sizzling tingle down your spine. (It's hard to find, but worth the search.)
An Orleans Negroni
Orange peel
Ice
1 1/2 ounces Eden Ice Cider Orleans Bitter
1 1/2 ounces local gin, such as Smugglers' Notch Distillery
1 1/2 ounces sweet vermouth (This is traditional, though I use equal parts sweet and dry.)
Rub orange peel around the edge of a cocktail glass and drop inside. Fill glass with ice. Combine the rest of the ingredients in a glass or shaker, add ice, stir for about 10 seconds and strain into cocktail glass.
Confusing: The sun is shining, but brrrr, baby, it's cold outside.
This is an uncommon species of spring day — dry rather than moist, crisp rather than warm — sort of like, well, fall. It's a day when you might want to stuff yourself with something hearty, like a cheesy Alsatian tart, and sit, if fully clothed, in the sun. The 2011 Shelburne Vineyard Riesling, bottled and released a few weeks ago, is an off-dry, lemony, slightly effervescent powerhouse of a white whose pucker pairs elegantly with all kinds of food, from that filling tart to a spicy shrimp scampi.
Much harder to find, but fitting this weather like a glove, is 5 Sciences — a collaboration from Hill Farmstead Brewery and Belgium's Brasserie Fantôme. This tangy, spicy saison was brewed during a November trip that Shaun Hill and friends took to Belgium; it gives off tart cranberries, stone fruit and spice.
The original print version of this story was headlined "Drinking Spring: Local beers, spirits, wines and ciders to suit the capricious season"