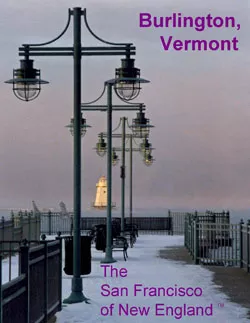 Last Saturday morning, during the South End Art Hop, Steve Norman sat on a stool outside Fresh Market on Pine Street. He was keeping his eye on both the thickening clouds and the display of posters he had set up to promote his new slogan for Burlington: "The San Francisco of New England."
The posters, with the slogan printed along the bottom in orange letters, sold for $10 each and featured a few iconic images of the city — a snow-covered pier, cyclists crossing a wooden bridge, Lake Champlain in a dramatic light.
The previous evening, when the street was thick with the Art Hop crowd, Norman sold 10 of the posters. That was the easy part. The bigger challenge was trying to win people over to the idea that the Queen City can be compared to a major metropolis 3000 miles away.
"There were a lot of smiles," he recalled, "some outright laughs, a lot of I-don't-get-its and some frowns."
Norman, 62, admits he isn't "a branding person." An attorney by trade, he also admits his idea isn't completely original, coming as it does one year after the Lake Champlain Regional Chamber of Commerce rolled out its official tagline for the region, "The West Coast of New England." Like many locals, Norman knew that expression had been around since the '80s.
If his new slogan seems derivative, it also comes cheap. His campaign to "re-brand" Burlington has so far cost him "a few thousand dollars" in the posters and postcards he has distributed to local shops and businesses for sale as souvenirs. He's also set up a website, www.SFofNE.com, to promote his slogan.
The chamber's slogan, on the other hand, was the culmination of the yearlong Burlington Branding Project. Conducted by Lexington, Mass.-based consultant Bill Wilkie at a cost of $35,000, the project set out to discover — through focus groups, an online survey and one-on-one interviews — the appeal that Burlington holds for tourists and potential new businesses.
Wilkie's final report was loaded with marketing jargon and buzzwords, not to mention the kind of observations that would hardly seem to require the services of an out-of-state consultant:
Yes, it's beautiful here; "quaint and charming" even.
The natives are tolerant and friendly.
Burlington's spirit is "'chill," but not "frosty."
Nor is it hick or hillbilly. "It is rural," the report stated, "but not threatening, Hatfields-and-McCoys/Deliverance rural . . ."
Noting that few tourists stay in Burlington for more than two or three days, Wilkie concluded that the city is in "aspirational" mode — an "almost place" that must find "the sweet spot between cherishing its charms and strengths without losing perspective."
Some might argue that linking Burlington to the far edge of the continent is hardly keeping things in perspective. Chamber director Tim Shea said the committee charged with choosing the slogan considered dozens of suggestions, but kept coming back to "The West Coast of New England."
"We thought, 'Well, gosh, if we pick that one, people will say we went through this whole process to pick that,'" Shea recalled. "But why create a new one just to create a new one?"
After settling on the slogan, the chamber unveiled an online branding "tool kit," which provides photos and focus-group-tested phrases that tourism-related businesses can use in their own advertising. The site receives about 80 visits a month. Shea is pleased with the response, but he's unable to say whether the project has actually enticed more visitors to the city. "We've tried to be reflective of the brand," he said. "But it's one of those fuzzy things to measure."
Earlier this summer, Norman offered "The San Francisco of New England" to the chamber, citing the "synergy" the two slogans could generate. "I said, 'Take it and run with it,'" he said. "They said, 'No, no. We think our campaign is going just fine.'"
At that point, Norman set about selling it on his own. An attorney for Vermont Legal Aid for 22 years, Norman quit the nonprofit in 2005 to start a design and publishing firm he calls Linearc. That's also the name of a geometric bicycle Norman designed and introduced a couple years back. The Linearc features pedals that pump up and down instead of rotating, making for what he claims is a faster, more efficient ride.
"The San Francisco of New England" is a less audacious endeavor for Norman than was the bike, but it faces an equally difficult challenge — to change how people perceive a product they're probably inclined to accept as is.
Just as Norman has no quarrel with the traditional bicycle, his slogan isn't an attempt to re-invent the chamber's wheel, as it were. Indeed, "The San Francisco of New England" relies on the same Burlington attributes the chamber is selling: the views, the lake and the weekend-getaway convenience that brings so many Bostonians and Montréalers to town.
But while the chamber has chosen to downplay the city's urban character in favor of something it calls "tame country," Norman wants to play up Burlington's cosmopolitan elements.
"It makes sense to advertise Burlington as something vital and happening and ambitious," he said. "We've got architecture and industry and trade and commerce. San Francisco was a huge lumber port in the 1850s, just like Burlington was for the East Coast."
Beyond the scenery and the amenities common to any city, the San Francisco-Burlington analogy breaks down pretty quickly, Norman admits, especially for those who have actually visited the more famous "city by the bay."
Helen Fuqua, manager of Apple Mountain Vermont Gifts on the Church Street Marketplace, said her customers respond to both slogans with mild amusement. The two "West Coast" T-shirts her shop carries do all right, she said, but are "hardly bestsellers." As for Norman's San Francisco postcards, "we went through 50 of them and just reordered," she said, adding that Norman has been "working his idea pretty hard."
Norman's San Francisco analogy is "a good idea," said Jeremy Bond, owner of Champlain Leather on Cherry Street. While the postcards haven't sold well, he thinks the slogan will eventually catch people's fancy. In the meantime, he'll support it on principle.
"I think it was absolutely ridiculous that the Lake Champlain Regional Chamber, which I joined two years ago and am a happy member of, paid $35,000 to somebody to come up with a phrase about Burlington that people have been saying anyway for years," Bond said.
Hannah Haupt, a long-time employee at Frog Hollow State Craft Center, hadn't heard of Norman's San Francisco brand, nor does she hear tourists — or anyone else — invoke the chamber's slogan. But, having lived just south of San Francisco for a time, she thinks linking Burlington to the real West Coast is a little silly.
"We're Burlington," she said with a skeptical grin. "Why would you want to make comparisons to someplace else?"
As he sat outside Fresh Market on Saturday, hoping the rain would hold off long enough for him to sell a few posters, Norman conceded that Haupt might be right: Perhaps Burlington should stand on its own merits.
"I can see that point of view," he said.