Matthew Thorsen
Left to right: Mary Zompetti, Abbey Meaker, Rebecca Weisman, Sarah O Donnell and Wylie Sofia Garcia
Since it closed in the early 1980s, the dusty rooms of St. Joseph's Orphan Asylum have housed only memories of the thousands of children (and nuns) who passed through during its century of operation. On Thursday and Friday, August 6 and 7, five local artists will invite the public back to the former orphanage, located on Burlington College grounds, to witness "An Order." The series of installations comments on the institution's lengthy, often disturbing history.
The two-day exhibition will also offer what may be the last chance to see the building's interior before developer Eric Farrell begins converting it into housing this fall.
Abbey Meaker, studio director for sculptor Richard Erdman, was the driving force behind the project — in part because of a close personal connection to the site. "My grandfather lived here in the '30s with his little brother ... [who] died of tuberculosis," Meaker says in a walk-through preview of the exhibition. In a later email, she adds that the nuns "wouldn't help Gilbert; they wouldn't take him to the hospital, so [my grandfather] snuck him out and walked there. When they arrived, Gilbert had died on his back.
"It's a horrible story, but I get the sense that many children had similar experiences," Meaker says. Learning details of those experiences is difficult, however. "The [Catholic] diocese is incredibly private, particularly with regard to the orphanage," Meaker notes. "Stories of abuse are known, but the evidence is mostly anecdotal. There are people who had positive experiences there, while others' lives were permanently destroyed by their time there."
One source to which the artists have turned for information is Facebook. A page called Children of St. Joseph's Orphanage in Burlington, VT, which has provided many stories, advertises itself as a place for "former residents to share their thoughts about life at the orphanage, good or bad." The comments tend toward the latter.
A recent graduate of Burlington College, Meaker has been photographing the former orphanage for three years; her efforts culminated in a pop-up exhibit titled "Abject Frontier" at the college in May. As she photographed, she noticed secrets penned or scratched throughout the building: on the walls, inside closets, inside the doors of the bathroom stalls.
For one of her two installations in "An Order," Meaker has collected those messages and painted them on the walls of a room. Some are in red, "in reference to blood spatter which can be found on many walls throughout the building." Others are silver and gold, which "floats in and out of visibility as the words carved on the marble bathroom stalls do," Meaker says. "I wanted to bring these out for people to see — it's the only voice of this building's history."
One of the messages reads, "I hate it here." Another: "They kept the hall light on." Some are mundane, such as "enrollment: 250." Others, including "her stories kept me up all night," give form to the ghosts of St. Joseph's.
In another room, Meaker projects footage on the wall that depicts a woman pacing through the orphanage, staring at projected film of another woman walking toward the ocean. "I always felt like the people that lived here felt stuck, like their freedom was right beyond the wall — the orphans and the nuns," Meaker explains.
Mary Zompetti, director of the photography program at Burlington City Arts, focuses on the concept of home in her four installations. "I've been thinking about all these kids not having homes — that loss," she says, standing over a pile of blue and white prints that depict geometric house shapes heaped in the corner of a faded turquoise room. The images are made with Sunprint paper, which turns blue when exposed to sunlight, leaving white any areas that have been obscured — in this case, by toy houses.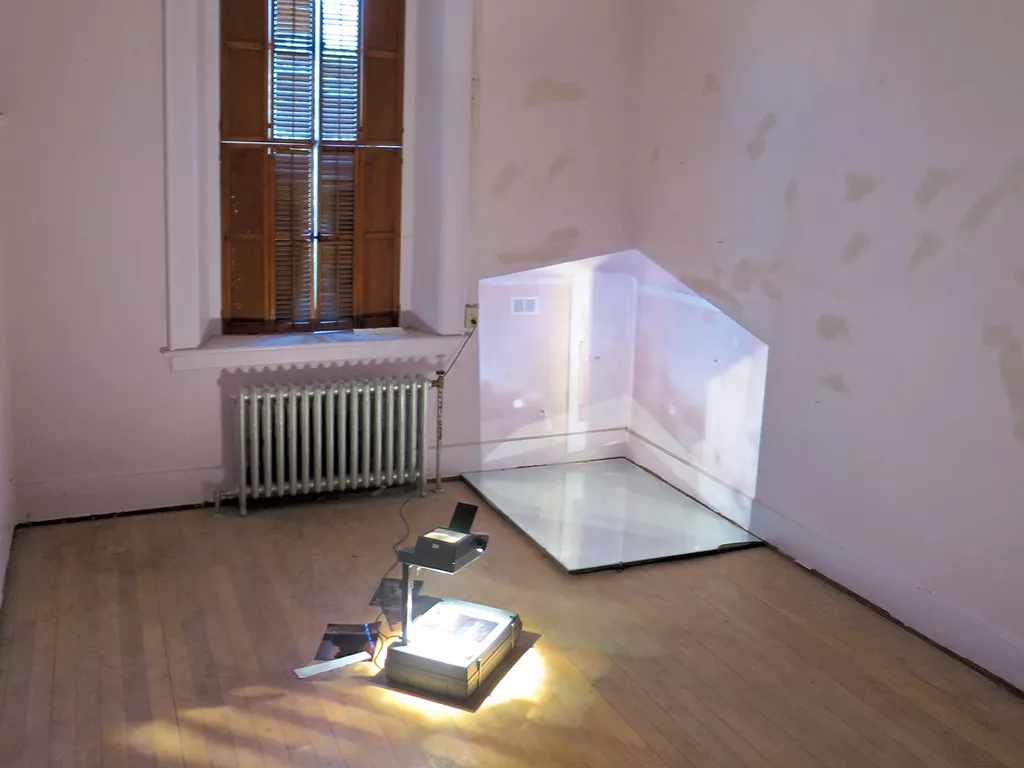 Matthew Thorsen
Installation by Mary Zompetti
In another room, Zompetti flips the concept of home on its head multiple times. She photographed an image created by a camera obscura on the wall of her home — a view of a neighbor's house upside down. At the orphanage, Zompetti projects that photograph onto a mirror on the floor, which bounces it back onto the wall, effectively inverting the image so the viewer loses any sense of up or down.
"I think each of us was struck by different things in this space. I was struck by the loss of home. But, then again, this became home [for many people]," Zompetti says. "They had to come up with their own idea of what [that] was."
Rebecca Weisman, adjunct faculty at Burlington College and director of the Iyengar Yoga Center of Vermont in Burlington, put her spin on orphanage life in iPhone-size videos embedded in holes gouged into the drywall of three rooms. They show pink-Spandex-clad performers writhing with insect-like movements, manipulating slime, plants and other materials with their bodies.
"There's a protecting quality to them," Weisman says of the videos. "I almost think of them as children's hallucinations — their imaginary friends."
Where Weisman drew on the connections past residents may have made, Sarah O Donnell looks at the separations enforced by the orphanage. "One thing that really struck me was this story of siblings arriving together, [but] because boys and girls were kept in different parts of the building, [they] would be separated," O Donnell says, standing in a darkened room where her video of a dancer sweeps across the walls. "That really broke my heart."
Matthew Thorsen
Painting by Wylie Sofia Garcia
The dancer in the video, Dartmouth College ballet instructor Mina Lawton, is accompanied by music emanating from another room. There's "this feeling of two things being detached that really should be together," O Donnell says. The separation of dance and music creates a tension between the two spaces, which might cause a visitor to walk back and forth, trying to put them together. "It sort of makes the stomach tighten," O Donnell says.
While most of the subject matter in "An Order" is heavy, Wylie Sofia Garcia attempts to introduce an element of relief. One room mimics a child's fort, with Vince Guaraldi's "Christmas Time Is Here" playing softly through the chandelier-lit, warmly carpeted space. In a large, green-tiled bathroom, Garcia has inked massive floral patterns across every surface. The ink smells faintly of jasmine, giving the room a "magic garden" aura.
"I really wanted my rooms to feel like a pause," Garcia says, looking around the bathroom, "like a breather from the intensity of some of the other spaces. And I wanted it to kind of have a magical quality. I have two kids — I think about them a lot when I'm here."