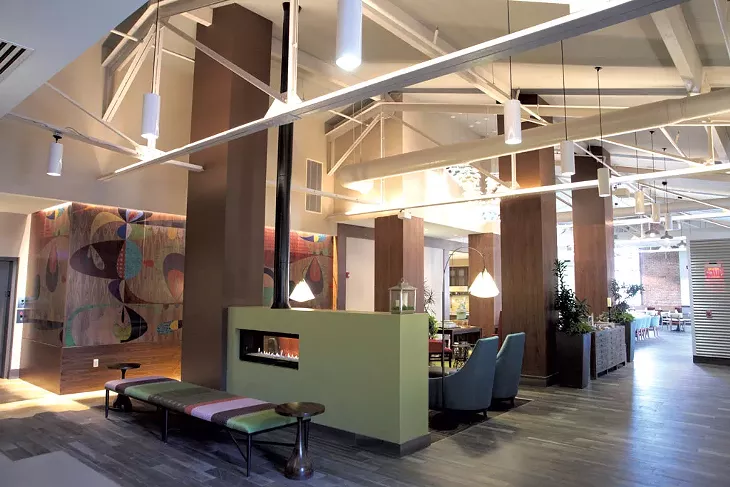 13 slides
Pedestrians who pass by the old armory building on Burlington's Main Street frequently peer into the tall windows and make comments along the lines of "When will it be done?" Seeing nothing through the glass but construction equipment and piles of building materials, they might assume the much-anticipated hotel at 101 Main isn't finished. They would be wrong.
The Hilton Garden Inn opened for business at the end of January. To the left of those windows, a peek around the building's corner reveals the hotel's east-facing entrance, with a covered drop-off area for guests and waiting valets. Beyond that, the Hilton makes a right angle. The perpendicular length swaddled in handsome black brick fills the entire center of the Main-Pine-King-St. Paul city block and offers guests a "back door" across the street from Pizzeria Verità.
The hotel's restaurant-bar, too, is open to guests and the public for breakfast and dinner; the Armory Grille and Bar resides above the unfinished street-side space that many locals of a certain age still fondly remember as "Hunt's." That was the legendary nightclub R.W. Hunt Mill & Mining Company. By summer's end, its capacious quarters will be the new home of the Vermont Comedy Club — and the repurposed and refurbished armory will, at last, look "done."
Meantime, Erik Hoekstra is pleased to show a reporter around the brand-new and fully functional hotel. As the project's manager and co-owner of the Hilton franchise — with his Redstone partner, Larry Williams; Doug Nedde of Nedde Real Estate and a group of private local investors — he's both proud and relieved to see it finally open. (Redstone began planning the urban development in 2001; Hoekstra came on board in 2006.) And Hoekstra, 37, is quick to point out that, for all the hotel's amenities, its biggest attraction is its downtown location.
Many travelers, Hoekstra says, have begun passing up bland airport hotels in favor of walkable urban locations that offer a variety of restaurants, shops, galleries and bars, all bringing opportunities to experience local color. Downtown Burlington certainly offers all those — and then there's that lovely lake just down the street.
The second floor of the 1904 red-brick armory now consists of a sleek, contemporary lobby, flanked on one side by the high-ceilinged restaurant — flooded with natural light during the day — and on the other by a check-in desk. Anyone who visited the offices that once occupied this space, particularly after a 2003 fire in the building, will be astonished by the transformation.
The décor is the handiwork of Boston-based design firm Group One Partners, and it's hipper than you'd expect from a mainstream chain hotel. Dark woods contrast with colorful accents such as bright-blue leather chairs, distressed-leather settees with chic pillows, corrugated-metal sliding doors and tall orange barstools.
Hoekstra notes that, while the Garden Inn franchise requires a nature theme and comes with a hotel prototype, this project is anything but standard issue. "We're in a downtown urban location in a historic building," he says. "We can't build a prototype — not that we wanted to." In fact, Hoekstra seems proudest of the local contributions to the Garden Inn. Local art, that is.
Conant Metal & Light fabricated the lighting above the bar. Five clear-glass light globes hang suspended among dozens of metal hoops of various sizes; one imagines counting them under the pleasant influence of, say, a Burlington Mule. Conant also provided the clever light installation in a back hallway: It's a collection of vintage flashlights that hang from the ceiling, pointed at the floor.
While lighting by the repurposing geniuses at Conant is practically de rigueur in local restaurants, Vermont artworks turn up all over this hotel. Hoekstra worked with Burlington City Arts to place dozens of pieces of art by local artists, with something in nearly every room. Original monoprints and giclée prints by Casey Blanchard easily uphold the "nature" theme; so do large-scale collage-paintings of red poppies by Johanne Durocher Yordan. Other artists represented include painters Carolyn Enz Hack and Cameron Schmitz; and photographers Carl Rubino, Krista Cheney and Jeff Schneiderman.
Guests may be surprised to find artwork gracing even the nondescript luggage carts and a bench by the hotel's front door. That would be colorful "yarn bombing" by Erinn Simon. Inside the hotel, too, the fiber artist has created a Vermont-shaped installation of yarn — in green, of course.
Last month, sculptor R. Elliott Katz completed his installation of "Mushroom Grove," a pair of tall, organic-looking sculptures outside the hotel's St. Paul Street door. Later this spring, Hoekstra says, Katz will contribute "Brightly Colored Trees" — tree trunks painted fire-engine red, sans branches — along the Main Street entrance.
"The art project will evolve over time," Hoekstra says. He adds, "What we spent to put Vermont-based art in every room was only slightly more than stock 'hotel art.'"
Hoekstra and Williams, who also developed the Old North End building that houses apartments and the restaurant Butch + Babe's, are looking toward new projects, including an apartment building across the street from Pearl Street Beverage, and student housing at the University of Vermont. But what really excites him, Hoekstra says, is "adaptive reuse of historic buildings and urban in-fill."
"I could make more money elsewhere, but we prefer this," he says. "What keeps us going is, every day is different."