Jeb Wallace-brodeur
Liza Semler in her kitchen
Liza Semler concocts desserts without refined sugar, dairy products, eggs, gluten, grains, additives or preservatives. And she doesn't bake any of them.
So, a traditional sweets lover might wonder, how could they possibly taste good?
They do. More than that, they taste rich and luscious, even decadent. Yet they're actually — though Semler doesn't like to use the word — healthy.
Using nuts, coconut and dates as a base for her crusts and doughs, Semler crafts raw, plant-based delicacies laden with omega-3s, unsaturated fats, fiber and protein. She uses dates and maple syrup for minimal sweetening. She soaks cashews and almonds until they turn milky and churns them into cream.
Semler, 36, started her Moretown company Nude Food earlier this year to make treats that she feels good about feeding to her two young daughters for a snack. Though her business is still small, with sales limited to local markets and special orders, its flavors are big.
Semler's doughnut-hole-shaped Bliss Balls, made of Medjool dates and ground walnuts, are surprisingly dense and cake-like. The chocolate-y Holy Cacao version is rolled in hemp seeds, packing an extra nutrient and protein punch.
And you could pit Semler's Cheezecakes against their dairy-based counterparts for their intense flavor and creaminess. A pumpkin-spice recipe that she created for Thanksgiving orders combines the depth of pumpkin pie with the velvety lightness of mousse.
Semler produces all of her selections in her home kitchen, where Seven Days recently joined her. With no culinary training other than a one-day workshop in 2014 in Australia with the makers of Rawsome Treats, she went through nearly five years of trial and error to tweak the flavor and texture of Nude Food to perfection, she said.
Georgia Ayers remembers Semler pulling out some Bliss Balls one day when they met at the park for their kids to play. The two moms work together in Waterbury at Prohibition Pig, where Ayers is now a manager.
"I just remember my mind exploding," Ayers said of the snack. "They were so good."
Semler isn't dogmatic about plant-based or raw eating. She considers herself an omnivore. But creeping pain in her neck and shoulders and other health troubles prompted her to change her diet. After ditching sugar and processed foods, she felt much better. "I'm massively interested in gut health," she said.
None of her Nude Foods carry the labels "vegan," "gluten-free" or "low sugar." She doesn't want to scare away customers who might think her treats are flavor-deficient or meant for people with food restrictions.
"The divisiveness of having a very particular stance on food, I think, keeps people from trying something that's delicious," Semler said. "I'd rather remain neutral, so more people are trying it and experiencing it, than turning people off by putting it in a box with a label on it."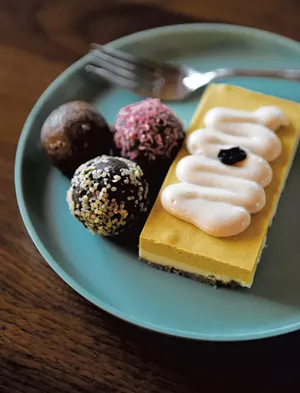 Jeb Wallace-brodeur
A selection of Nude Food treats
On the wide, granite-topped island of Semler's kitchen, half-gallon Ball jars hold walnuts, shredded coconut, cacao powder, dried blueberry powder and other staples. Behind her on a shelf, a food processor was pulverizing walnuts and dates into a pasty batter.
Semler pulled a pot from her double boiler and stirred the contents: a melted, chocolate-like mix of cacao powder, coconut oil and maple syrup that would coat her tahini-date energy bars. She thinks of them as an alternative to Snickers, with a distinct nuttiness that fills the mouth.
"I am actually a total savory person," Semler admitted. "It's so easy to satisfy my sweet tooth. I could have a little chunk of dark chocolate, and I'm like, Yes, done."
Yet she loves the challenge of turning traditional sweets into Nude Food. "I did a Cherry Garcia cake this year because I like Cherry Garcia ice cream," she said of the popular Ben & Jerry's flavor.
Semler's Cheezecake version has a vanilla-cashew base, a cherry cream layer and cacao nibs. Cacao, the unprocessed seed of the cocoa plant, is high in minerals and antioxidants.
"I try not to put anything in that doesn't have some kind of nutritional purpose," Semler said.
Making lemon-blueberry Cheezecakes, Semler poured a layer of lemon-infused cashew-cream batter into a tray of metal cylindrical cups that she had already prepped with the bottom crust. Next came the top layer, whose stunning deep-violet hue came from the blended blueberries that she'd picked at Knoll Farm in Fayston earlier in the year and frozen for the winter. With a cone-shaped pastry tube, she squeezed a dollop of fluffy cashew-cream icing on each small cake and sprinkled dried blueberry powder over it.
All of her cakes go into the freezer to set but can be eaten at room temperature. These round lemon-blueberry minis are a popular Nude Food offering that Semler makes year-round on request.
While she gets her nuts and dates from afar, Semler tries to buy local and seasonal ingredients whenever possible. The pumpkins for her seasonal Cheezecake come from the Roots Farm Market in Middlesex. Her mother owns a maple farm and harvests the sap, then sells it to a sugarhouse that boils it into the syrup Semler uses.
Semler uses only organic ingredients, which adds to the expense. Her whole cakes, serving 16 to 18 people, cost $60. Individual cakes are $5 each, and Bliss Balls cost $3 each or four for $10. People who look for products like hers, she said, tend to be willing to pay more for the organic designation.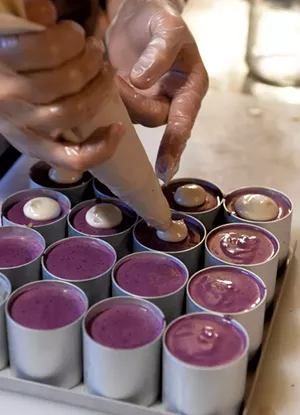 Jeb Wallace-brodeur
Lemon-blueberry Cheezecakes
Semler grew up in Middlesex and studied anthropology and documentary photography at Wheaton College in Massachusetts. Before, during and after college, she traveled the world — visiting 15 countries, by her last count.
In South Africa, she met her future husband, who is Australian. After a stint teaching English in Japan, Semler joined him in 2009 in Perth, on the western coast of his home country. During their five years there, Semler worked as a professional photographer, at an art gallery and at a café called Delicious Fingers.
One day, the owner of Rawsome brought in boxes of raw vegan desserts for the café staff to try. Semler was surprised at how scrumptious they tasted.
"It's so nutrient dense," she says of the kind of plant-fueled tidbit that Rawsome inspired her to develop herself. "It's so fat-filled and low sugar that it keeps you satiated."
Those first bites led her to take a workshop with the Rawsome team. In 2014, soon after she and her husband had their first child, they moved to Vermont to live closer to Semler's family. They eventually found a house with an open kitchen spacious enough to house a home food business.
At first, Semler continued doing photography, but she wanted a job she could incorporate into her life as a parent. She began to experiment with recipes.
Bliss Balls were her first try. "I've definitely made balls that are just — they're either too oily or too gooey or too dry," she said.
Eventually, Semler figured out how to master the qualities of the best fresh-baked goods. She found, for instance, that soaked almond pulp would add more moisture, while ground almonds would bring out the oil.
After those five years of experimenting, Semler finally felt ready to expose Nude Food to the public last spring at the Waitsfield Farmers Market. Ayers invited Semler to bring Nude Food to 18 Elm Street, the Waterbury events venue that Ayers owns with her husband, his cousin and his cousin's wife. Their summer pop-up brunch, the Waterbury Breakfast Club, gathers artists and other creative types to convene with visitors.
"I just felt like more people should have it in their life," Ayers said of Semler's treats. "People loved them because they're unique and they're gorgeous ... It's very clean food."
With the summer markets over, Semler is now producing exclusively special orders, of which she has several over the holidays. And she still has her steady gig at Pro Pig.
Because Nude Food does less than $10,000 a year in sales and sells directly to consumers, it doesn't require a commercial kitchen license from the state. That allows Semler to test the viability of her concept without a major investment in equipment or renovations, she said: "It's just a much lower risk of trying out the market and seeing if your products are well received."
Semler has spoken with other food producers about the possibility of sharing manufacturing space, but for now she wants to stay small. She doesn't have to worry about the demands of a big wholesale order or packaging or keeping her products shelf-stable.
"The scale that I'm at allows me to make everything totally fresh," Semler said. "Because my stuff is made in such small batches, I can just focus totally on flavor and nutrient density and having as many great ingredients in there as I can."