Jeb Wallace-brodeur
Left to right: Stacey and Craig Oshkello, Melanie Kesslerwith Ezra, and Anthony Kessler with Judah
On an unpaved road in Moretown, amid woods and meadows along Dowsville Brook, one of Vermont's newest cohousing projects is under way. It looks like the typical rural intentional community, with solar panels, wooden structures and chickens.
But Living Tree Alliance is not all that typical. It's a Jewish project and, as part of a commitment to values including resiliency, education and social justice, its inhabitants are exploring their religion's earth-based roots. Ancient Hebrew land practices are central to life here, including gleaning, tithing and letting work animals rest.
"The Jewish religion was based on people living together and gave us a code of how to live civilly and morally together, and being connected to the seasons," says Living Tree director Melanie Kessler, a cyclist, drystone-wall builder and mother of two young children. "So, it makes sense that we're trying to embed our life in a religion that has that at its core."
This Friday through Sunday, October 6 through 8, Living Tree welcomes visitors of all backgrounds to its fourth annual Sukkot on the Farm festival. The celebration of the Jewish harvest holiday will feature live klezmer, apple pressing, a farm-to-table dinner, mindfulness workshops, draft-horse demonstrations, dancing and camping. Traditional sukkahs, or impermanent shelters, will offer picnicking under the sky.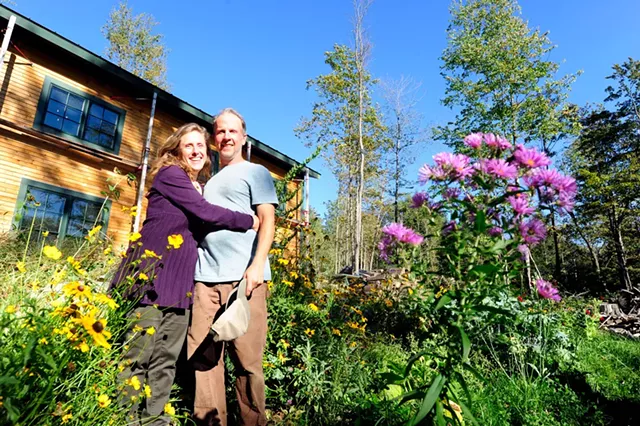 Jeb Wallace-brodeur
Stacey and Craig Oshkellooutside their home
Cofounded by New York natives Craig and Stacey Oshkello in 2010, Living Tree bought 93 acres of Mad River Valley farmland and forest in 2015. Then, its only building was a sugar shack. Now, a completed house, a yurt and several outbuildings sit on a three-acre forest clearing slated for seven houses. (Living Tree is seeking four more households to join in.)
Stacey Oshkello has scratched calves from frequently striding through brush and widely spread toes from going barefoot. She offers fresh strawberries to this visiting reporter, and we sit on the back porch of her house, where the sun touches pines just a stone's toss away. A scolding issues from a resident guinea hen in the underbrush.
"There's all these different agricultural tidbits in the Torah, and I am excited about living some of those out," she says. "What was always so intriguing to me is that [the Jewish calendar] is an agricultural calendar ... I've always felt like I want to bring that aspect of Judaism back to life and celebrate that."
As such, in addition to hosting seasonal festivals, Living Tree plans to bring 10 percent of its farm produce to a local food shelf. Craig Oshkello also slaughters their animals for meat "kosher-style," his wife says.
And then there's gleaning, the practice of gathering produce after the main harvest, mentioned in the Bible's Leviticus 23:22. A youth group from Montpelier's Beth Jacob Synagogue recently harvested extra produce at Living Tree for Community Harvest of Central Vermont, a nonprofit that redistributes food to people in need.
As part of its educational mission, Living Tree plans to launch an apprenticeship program next year to teach farming, nonviolent communication and other skills to people who want to live in intentional communities such as theirs.
The communal project originated in 1997 during the Oshkellos' second date at a vegetarian restaurant in Seattle.
"I told him my dream was to build a Jewish intentional community on a farm, and we started dreaming it," Stacey Oshkello recalls with a chuckle. The couple gained experience with group living for more than a decade at Cold Pond Community Land Trust in New Hampshire. Stacey worked as a registered dietician, Craig as a landscape planner and shepherd. Eventually, they wrote up a business plan for their own community, choosing Vermont in part because Craig is a skier. The couple has two teenage children.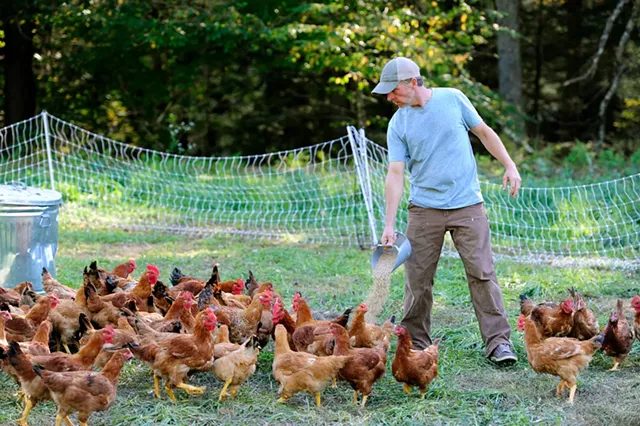 Jeb Wallace-brodeur
Craig Oshkello feeding chickens
In addition to her current day job as director of family and youth education at the Jewish Community of Greater Stowe, Stacey Oshkello is also a Hebrew priestess, one of just a few dozen such women worldwide. She trained at the Kohenet Hebrew Priestess Institute, where women seeking ordainment as Jewish spiritual leaders learn ritual skills based on ancient feminine archetypes including maiden, midwife, wise woman and queen.
According to the nonprofit Fellowship for Intentional Community, there are 23 communal-living groups in Vermont. Living Tree appears to be the only one in New England with a Jewish focus. But theirs is not the only organization working to root Judaism in the earth. Burlington's Roots and Trails explores the religion's earth-based origins, as well. Beantown Jewish Gardens is a sustainable-food project in Boston. New York City nonprofit Hazon claims a place for itself "at the forefront of an evolving conversation about how American Jewish life can be strengthened by engagement with food, the outdoors and the environment." And Jewish Farm School in Philadelphia trains farmers and food activists of the faith.
These organizations speak not just to a growing interest in food and the earth, but also to many Jews' restlessness with the usual forms of observance.
"We're offering something different outside the four walls in the synagogue setting," Stacey Oshkello says. "That may make it more accessible for someone who's estranged from their Judaism to kind of come back."
Jeb Wallace-brodeur
Anthony Kessler weavinga sukkah structure
Living Tree is certainly an inviting place. Livestock graze on a former baseball field, including a herd of spotted sheep and a flock of hungry red broiler chickens that disconcertingly run en masse toward visitors. A scattering of colorful layer chickens pecks in the blue and gold evening light. Two draft horses munch grass lazily.
That horsepower won't be harnessed on Saturdays. Living Tree's members have agreed to let the land rest on Shabbat, which means no plowing, tilling, weeding or work for the animals.
And what do Living Trees' humans do on Shabbat?
"Walk the property and rejoice," Kessler says with a smile. "Swim in the river. Share meals together. Look at the flowers. Enjoy the breezes.
"In modern society, we get lost without our foundation and roots," such as connection to the seasons and the moon's phases, she adds. "Every time we land in that space [of connection], our roots get deeper. That's an important experience to invite people to enter."
But Kessler says the communal project is, for her, even more about culture than it is about Judaism. We need to redefine success, she argues.
"I don't want to live my life based on how much money I can make, and running around taking care of my little family, and not knowing my neighbors, and being scared and feeling isolated," Kessler says. "What we're trying to do is say, 'How can we get back to a time when we were all dependent on each other a little more?'"