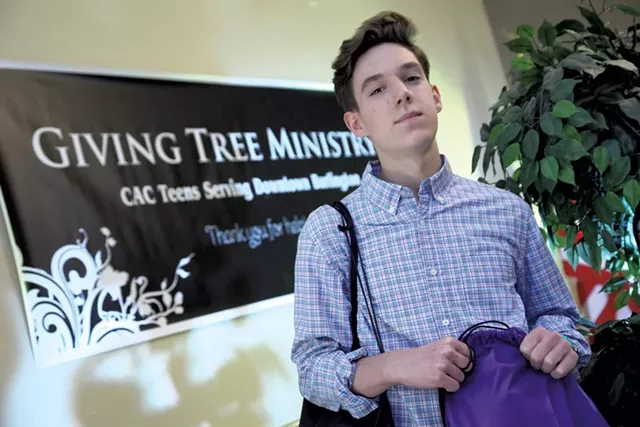 Name: Connor Durochia
Age: 17
Town: Hinesburg
There's an old, anonymous quote that challenges Christians to stay true to the teachings of their faith on a daily basis: "How can you worship a homeless man on Sunday and ignore one on Monday?"
Two years ago, Connor Durochia decided that he could no longer ignore the homeless people in his midst. Durochia, then a sophomore at Champlain Valley Union High School in Hinesburg, had just returned from Life 2016, a national Christian youth conference held in Kansas City, Missouri. The theme of that year's event was "Momentum."
"When we got back, we were challenged to make something out of that experience," Durochia explained. "Being downtown [in Burlington] a lot, it was clear to me that the homeless population could use some help."
So Durochia and several fellow teenagers who belong to the Community Alliance Church in Hinesburg founded Giving Tree Ministry, an event that's now held every other month to distribute food, clothing and personal items to Burlington's homeless population. Parishioners young and old now meet at church on a Sunday morning, but rather than hold their usual Sabbath service, they prepare sandwiches and assemble bags of personal items, such as toothbrushes, toothpaste and deodorant. Then, they drive to Burlington to hand them out downtown. Some days they set up a table in City Hall Park; at other times they walk along the Church Street Marketplace looking for individuals in need.
Durochia, now 17, said that initially, he was surprised by the number of teens he encountered who were living on the streets. He admitted interacting with homeless people was "a bit nerve-wracking" at first for him and other church members.
"A lot of people didn't know what to say," he recalled. "They just wanted to hand off the bags."
Evidently, that initial discomfort ran both ways. Durochia remembered that some of the people they tried to help rejected their offerings, either because they came from a Christian church or they were wary that the group was trying to proselytize them.
But Durochia emphasized that, while he and his fellow Giving Tree volunteers will discuss their faith if someone asks, they never evangelize or insert Bibles or other religious literature into the bags they hand out.
So what kind of reception do they get now?
"After you go downtown a couple of times and you start to know their names and you come up to them and greet them," he said, "you should see the smiles on their faces."
Since its inception, Durochia estimated, Giving Tree Ministry has handed out about 50 bags per event, or roughly 300 per year. For his efforts, Durochia was honored this year by the Prudential Spirit of Community Awards as a "Vermont distinguished finalist."
The Rev. Scott Mansfield is Durochia's pastor at Community Alliance Church. Mansfield remembers one Sunday when he and Durochia went looking for a homeless man he'd befriended on an earlier visit; they eventually found him stumbling down the road with his dog. The two walked the man back to his campsite and provided him with some basic necessities.
Since that day more than a year ago, Mansfield said, the man has graduated from a residential treatment program, is clean and sober, and is currently attending their church.
"Watching Connor's heart for this person grow over time and to see him as a high school student truly invested in the life of a 50-something-year-old homeless person is indescribable," Mansfield said.
After graduation this May, Durochia plans to attend Nyack College, a Christian-centered institution in Rockland County, NY, with an eye for continuing his work in youth ministry. Giving Tree, he said, "has really gotten me excited about working with youth in the future."