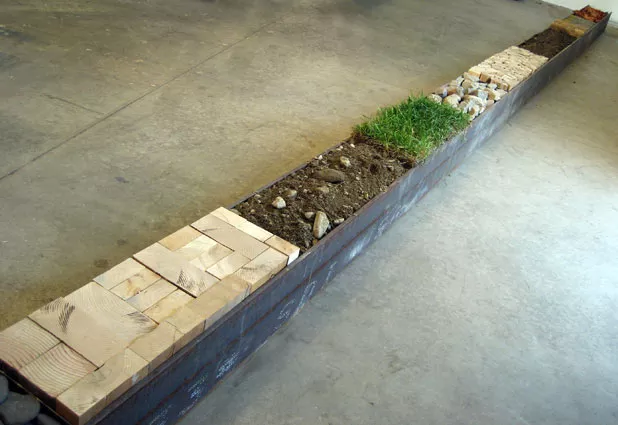 "Lineage" by H. Keith Wagner
If any single artwork in the Firehouse Gallery's "Human = Landscape" allows viewers to absorb at a glance the rationale for this eco-conscious show, it's "Galveston, TX." The light jet print by photographer Alex S. Maclean shows a development of McMansions built in tight concentric rings with engineered water frontage. The arrangement allows each home to have its own dock, albeit little land. The image succinctly exposes humans' hubris, sense of entitlement and indifference to environmental impact. Not to mention tawdry nouveau-riche taste and overpopulation.
Yes, we humans have been a sorry lot, squandering the planet's resources in the most self-centered ways. Maclean's aerial views of disruptive earthling constructions often, ironically, make pleasing compositions. But, while the photos are compelling, they do not tell the whole story of this exhibition. And what a relief.
"Human = Landscape," an ambitious undertaking filling all four floors of the Firehouse, forms part of The Energy Project Vermont, a collaboration of the gallery, the University of Vermont and the ECHO Lake Aquarium and Science Center. Collectively, the project aims not just to show us how we arrived at an environmental tipping point but also to imagine where we might go from here. As such, it has the potential to be unbearably earnest.
For the most part it is not, however, thanks to curator Chris Thompson's choice to cast a wide net. The 22 artists in the show are far too diverse to hew to a single perspective, style or medium. The works range from traditional photography and oil painting to faux futuristic furniture crafted from Styrofoam packaging; from an oversized kinetic sculpture made of blown glass, wood and steel to an anaerobic digester. After perusing this variety, a viewer is just as likely to walk out of the Firehouse feeling somewhat hopeful as hopelessly cynical about our future prospects on Earth.
But to observe all these artworks closely is to run the emotional and conceptual gamut between those two extremes. Some pieces revile what we've come to, and some seem to suggest an inevitable apocalypse. Other artists took it upon themselves to address — seriously or facetiously — the subtitle of this show: "Aesthetics of a Carbon Constrained Future."
What does that mean, exactly? Well, to Burlington landscape architect H. Keith Wagner and builders Alex Carver and Chris North, it means using clever design to give housing a dramatically smaller footprint. This trio is responsible for the 10-by-10-foot "MicroHouse" ensconced in City Hall Park behind the Firehouse. While few of us might be willing or able to reside in such a teeny space — except, perhaps, the homeless denizens of the park — it does provoke thought about how many square feet most humans currently require. It's also a handsome and sturdy little building, constructed from plywood and sheet steel, and has drawn curious viewers of all ages. Call it a teachable monument.
Wagner contributed one of the indoor pieces as well. "Lineage" is a 24-foot-long steel I-beam filled with neat equal portions of grass, soil, rock and asphalt. Sprawling across the front room of the Firehouse at street level, it's a commanding work in the vein of contemporary Earth art. Conceptually, the piece represents the "waves of physical change" in the Vermont landscape over 400 years of European settlement. It serves as a reminder that our ideas about land use — sheep farming, anyone? — have evolved as a matter of functionality and necessity; accordingly, so have our definitions of "beautiful" and "ugly." Indirectly, Wagner addresses the current Vermont schism on the issue of wind power and our sacrosanct vistas, between those who call towers on the ridge-lines a travesty and those who find both the windmill and the renewable resource attractive.
One of the latter is Patrick Marold. Hanging in the gallery, four nighttime photos of his light-generating installations in Colorado presage his similar work at Technology Park in South Burlington. Motorists traveling on adjacent I-89 can view the 1000 small windmills as an orderly regiment of white poles by day and a blinking constellation at night, reactive to the movement of a jousting breeze. Either way, the piece draws strength both from the sheer number of its components and its ability to catch the notice of viewers whizzing past at 65 (or more) miles per hour. It's still better, though, to detour over to Tech Park, get out of the car and really look at the thing in the dark, wondering at it as people have at the stars for millennia.
Back at the gallery, some of the most amazing artworks included in "Human = Landscape" appear only on video. In the case of Dutch "wind artist" Theo Jansen, that's apropos, because his works must be seen in action to be believed. On a flatscreen monitor, viewers can watch Jansen push his gigantic sculptures — made of simple materials such as PVC conduit, scrap wood, cable ties and tape — along a flat stretch of land. As the wind seizes them, the pieces seem to move of their own volition. One skitters crab-like; another resembles a pack of galumphing elephants; a third is perhaps best described as Tinkertoys-meet-The Empire Strikes Back. Jansen's ingenious constructions benefit from his training in both science and art, while his aesthetic marries unlikely partners: playfulness and fervent wind-power advocacy.
"Human = Landscape" is an unusually large exhibition and deserves more discussion than space allows here. Part two of this review will appear next week.