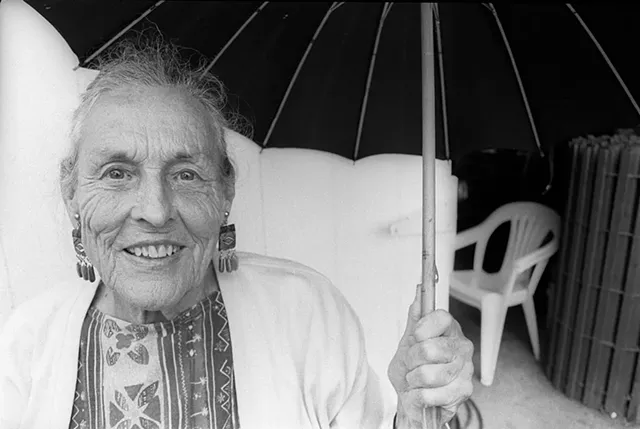 Matthew Thorsen
Lilian Baker Carlisle
When the Shelburne Museum celebrates its 50th birthday this weekend, at least one guest will remember it as a newborn. In the midst of all the history and the hoopla, Lilian Baker Carlisle will attend the "do" as a veteran of the museum's colorful beginnings — these now the stuff of history as well.
When Carlisle was hired as personal assistant to the Shelburne's founder, Electra Havemeyer Webb, she didn't know she was about to contribute significantly to the making of what would later be called "Vermont's Smithsonian," nor that she would learn to catalogue an astonishing variety of Americana. Along the way, Carlisle became something of a self-taught expert, gaining skills in historical research that serve her to this day.
"She was the interface between Mrs. Webb and the museum," says Rick Norcross, coordinator of the Shelburne's "First Fifty" festivities and a former "museum kid" himself" — his mother, Dorothy Norcross, was assistant to two successive directors, and the family lived above the Toy Shop on the museum grounds from 1951-61. "Mrs. Webb would drag stuff from her home and put it in the museum; Lilian would keep track of it," he recalls. "She's the living link between the Webbs and the museum now."
Trained as a legal secretary, Carlisle worked for Webb 11 for years. "I was her secretary, librarian, researcher, I was everything," she says.
"Whatever came up, I did."
Now a nimble, active and beautiful 85, Carlisle notes with some pride that her elegant, white-haired employer — one of the wealthiest daughters of the American Industrial Revolution — started the museum project "as a senior citizen." Both Electra and her husband, James Watson Webb, died in I960. Carlisle remained at the museum for just another year, as J. Watson Jr. stepped in to become president and continue his mother's vision.
Carlisle became a freelancer, and went on to author books, including a collaboration with former museum president Ralph Nading Hill on the history of the Shelburne Museum, and her own opus, Vermont Clock and Watchmakers, Silversmiths and Jewelers, 1778-1878. In 1981 she went back to school for a B.A., and in '86 earned a master's in geography and history from the University of Vermont. "I had a time getting them to accept my thesis," she says with a mischievous grin. "It was 'The Evolution of the American Kitchen.'"
With energy apparently in generous supply, Carlisle continues to pen — or rather, bang out on her aged word-processor — articles for antique trade magazines, and has edited a series of booklets for the Chittenden County Historical Society as well as the Historic Guide to Burlington.
Neighborhoods — the second volume is due out this November. All this flows from the cramped office Carlisle has fashioned at the top of the stairs in her Burlington home. More a hallway than a room, the book-lined space hosts collections of "ladies crafts" of the 19th century, just like the other cozy rooms in her home — except for the spacious '50s style kitchen/living room with a full bank of windows overlooking her gardens and Lake Champlain.
Carlisle's love of history and collecting has manifested in other ways as well. For the community, she started the Heirloom Appraisal Day at the Fleming Museum, now in its 12th year, and is a silver appraiser still. She also serves on the Fleming's board of advisors and collections subcommittee, sharing her opinions with, testifies Curator Janie Cohen, a "very thoughtful" eye.
"One thing I love is, she's essentially catalogued her household," says Cohen. "She's got a collection of '50s furniture that she's lived with since then." Cohen also points to Carlisle's crowded walls, the craft manuals and dozens of books, documents and archives crammed into shelves and closets. She recalls with a smile the time years ago that Carlisle purchased some tiny Chinese slippers — the kind used for binding feet, similar to some in the Fleming's collection — and ended up "on the mailing list for some bondage catalogue." She probably filed that document away, too.
"As she catalogued the Shelburne collection, she learned about it and really became an expert on a wide variety of collectibles," continues Cohen. "She's become a community asset."
So have her famous scrapbooks. "I never kept these for anything other than my own fun," Carlisle insists, yet future historians will appreciate the neatly arranged newspaper clippings, cards, invitations, photos and other memorabilia of her own, her family's, the museum's and the community's doings from the last half-century.
Actually, those books are already in service. Stored in a closet off her living room, their pages have grown dog-eared by visiting researchers, journalists and other curious guests. Not surprisingly, anything relating to the Shelburne Museum is bookmarked — the items include the first ticket to the museum from 1953, photos from the final voyage of the Ticonderoga in 1954, photos of staff, new constructions on the museum campus and, finally, yellowed obituaries of both Webbs.
Carlisle shares her books with relish, embellishing their musty written records with vivid anecdotes from her own still-reliable memory. More than simply collecting history's scraps, her own vivaciousness resuscitates them. Not everyone has the gift of making the long-dead come alive. Carlisle does that, and more: After an hour or so in her company it becomes evident that her zest for being in the now makes all the difference.
Enthusiasm for daily life is a quality that characterized Electra Havemeyer Webb as well. Her early interest in folk art and ability to find beauty in everyday objects — tools, quilts, household items — was unusual for the time, Carlisle explains. Even though she inherited her parents' love for pricey European paintings and fine sculpture, her heart went to the quotidian art and utilitarian artifacts of pre-industrial America.
And collect she did. Anything and everything. Carlisle recalls people coming to the museum grounds with carts of stuff and just dumping it. She acknowledges that neither Webb nor any of her collector friends really knew, or cared, what these items were worth. In fact, it would be some years before a burgeoning interest in folk art and the historical period garnered many of the items much respect. But the nascent museum did not lack for quantity. "She intended for the exhibits to keep changing," says Carlisle. "She had storerooms like you wouldn't believe."
And whatever came, Carlisle researched and counted. It was a daunting task. "Every word you wrote was going to be embalmed," she says in mock horror. "This was a museum. You had this terrible sense of responsibility."
The staff was a small and very creative team in the beginning, she notes; necessity proved the mother of invention time and time again — like in figuring out how to move a lighthouse from Colchester Point to the museum, or the Ticonderoga from lake to land, or a slate jail from Vergennes. "Keep in mind the roads at the time," Carlisle points out.
Webb was a driven but gracious, and generous, taskmaster: "She had a routine every morning — she was very organized," says Carlisle. "Everyone had a chore, but you had freedom to do it the way you wanted ...You couldn't wait to come in the next day; you never knew what was coming."
What did take shape was a museum unlike any other, then or now. While some of Electra Webb s wealthy friends built historic villages —- such as William Chorley's Colonial Williamsburg — she envisioned a "collection of collections." Different buildings completely outfitted, such as an early schoolhouse or settler's home; or old buildings restored and used for display of folk sculpture, decoys, rugs, costumes, hand tools or toys. Webb intended for the museum to be a gift to the people of Vermont, Carlisle says; something educational, something to bring beauty and enjoyment into their lives.
The final contribution of Electra Webb to the museum was the Webb Gallery of American Art in I960, just months before she died. While not all the objects in the Shelburne are of the highest quality or particularly valuable beyond their historic interest, this addition was different.
"When she opened the art museum, she was competing with the best," declares Carlisle. "It was well received by critics, and she was very very proud."
Today, there are 37 buildings and some 80,000 objects in the Shelburne Museum; it is internationally known — more than five million people have passed through its gates since 1947 — and has grown well beyond its genesis as a rich woman's hobby. That woman would be thrilled, no doubt, to know that her museum is consistendy rated as one of the best places to take kids, and touted in magazines and travel guides.
Now the Havemeyer-Webb fortune has been replaced by fundraising efforts more typical of nonprofits in the '90s. Yet a major hue and cry went up last year when the board of the Shelburne Museum voted to "deaccession" several Impressionist works in a Sotheby's auction in order to provide for a Collections Care endowment. So outraged was J. Watson Webb Jr. at this perceived deviation from his mother's vision that he resigned as chairman of the board. The controversy was big news in the art world nationwide. For her part, Carlisle is characteristically philosophical about the sale, and believes that her former employer would be as well.
"It was a terrible thing to realize [the sold artworks] weren't going to be around any more; but you do what you gotta do," says Carlisle. "Mrs. Webb was pragmatic. I think she would realize she had to do something about conservation. I believe she would have understood."
Electra Webb might have been mollified, too, at the museum's somewhat ironic purchase of a pastel drawing that the deaccessioning sale permitted: a late 19th-century portrait of herself as a young girl and her mother, Louisine Elder Havemeyer, by the American Impressionist artist Mary Cassatt.
If the wounds of last year's schism are not completely healed, the 50th anniversary of the Shelburne Museum nonetheless offers ample cause for celebration -— it has proven, after all, a generous gift to the people of Vermont. Lilian Carlisle is sure to be on hand for the party. And you can bet she'll be saving the invitation.