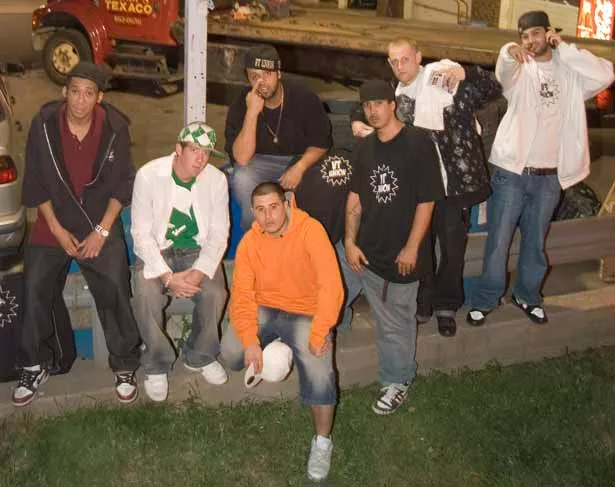 Left to right: A-Dog, DJ Russell, Dakota, Burnt MD, Nastee, Network, Manus
The cry erupts from a crowded dance floor at a nightclub in a Vermont resort town: "Play some hip-hop!" DJ Premier stops his turntables, the scratch of needle on vinyl silencing the bustling throng. Obviously irritated, he grabs the microphone and glares at the crowd of après-ski revelers.
"Stop asking me to play hip-hop," he demands, pausing before continuing, "This . . . is . . . hip-hop." He drops the needle, and the sounds of Joan Jett and the Blackhearts fill the speakers.
"They should have been asking him to play rap," says Nastee, chuckling as he relates the story from his recording studio in a small, ramshackle apartment in Burlington's Old North End. "He was playing hip-hop," the MC explains. "Anything can be hip-hop. Just because he was playing Joan Jett doesn't mean it's not hip-hop.
"As soon as you extend a section or loop one part," he continues, mimicking a DJ scratching a turntable with his hands, "it becomes hip-hop. They wanted Dr. Dre and Snoop Dogg. That's rap."
Vermont's musical landscape has long been praised for its vibrancy and variety. But perhaps because the state is largely rural, or because it's only recently begun to experience cultural diversity, Vermonters have been slow to grasp the rap/hip-hop distinction. If folks like Nastee have anything to say about it, that's about to change.
Over the last few years, Nastee and a legion of like-minded artists and entrepreneurs have been at the forefront of a hip-hop renaissance in the Green Mountains. Their backgrounds are as varied as hip-hop itself. But, to a person, they share a love of the music and culture that brings them together, and a desire to share that passion with the masses in one of the most unlikely places in the nation: Vermont.
************
"First, you have to understand where hip-hop came from," the MC states, seated in front of a platinum record he received for his work as an engineer on Mobb Deep's Murder Music. "Like any great art form, it was born out of suffering and frustration. It comes from Blacks, Latinos and Asians in New York City taking a bad situation and expressing themselves through it.
"Hip-hop comes from everything," he continues, speaking to the variety of sources - musical and otherwise - that feed into the genre and culture. "In that sense, it's all-inclusive. White, black, Indian, whatever. Anyone can love hip-hop. But you have to know how it started. That's the initiation."
Likewise, to love local hip-hop, you need to know where it began. While there have been DJs and MCs in Vermont for almost as long as there's been hip-hop, the current Burlington scene emerged from an unlikely source: local saxophone legend Dave Grippo, who is white.
"We all come from the root of Grippo," declares Nastee, perched in front of the mixing console of his home studio, where - unlikely as it seems, given the modest surroundings - a number of high-profile hip-hop artists, including Wu Tang Clan's Raekwon, have recorded tracks. Seated beside him are two fellow members of the local hip-hop collective VT Union, Dakota and DJ A-Dog.
Beginning roughly 10 years ago, Grippo held a residency at the popular Burlington watering hole Red Square. Every Monday night, the eclectic bar on the Church Street Marketplace would swell to near capacity, with throngs of revelers dancing and drinking to the funk-infused strains of Grippo and his rotating cast of all-star musicians.
"I love a lot of music besides hip-hop," explains A-Dog, adding, "they were playing funk music and I was really into it, so I basically forced myself on them." The talented turntablist offered to join the group, without pay, to experiment with scratching in a live band setting. Intrigued, Grippo agreed, and the positive response was almost instantaneous.
"It was crazy," says A-Dog. "Monday became the most popular night at Red Square. Bigger than Friday. Bigger than Saturday. It was great."
A-Dog's contributions inevitably led to the inclusion of MC Fattie B - then performing with now-defunct Burlington funk ensemble Belizbeha - and Nastee's brother Konflik. The gig essentially became a hip-hop/funk jam session. "It was awesome," says Fattie B, now 34. "Dave was easy to play with, and the fact that he was willing to incorporate a DJ and rhymes over funk classics like James Brown was great."
Feeling the desire to branch out beyond funk standards and create music of their own, A-Dog and the two MCs formed their own group, circa 2001, and began performing as Eye Oh You, eventually landing a Thursday night residency of their own at Red Square. That's about when Nastee entered the picture.
The Boston native had been working as a recording engineer in New York City and was involved with almost every big-name hip-hop artist on the East Coast, including Dead Prez, Busta Rhymes and Wu-Tang Clan. But the cutthroat nature of the industry on the national level had taken its toll, and Nastee began to explore other options. A fortuitous phone conversation with his brother ultimately led to an open mike at Winooski's Monkey House, where the MC witnessed Vermont hip-hop for the first time - and battle-rapped with future collaborator Dakota. "They just had to pick on the dude with the braids," recalls Nastee, smiling.
"Yeah," interjects Dakota, a central Vermont native who has also worked with local acts The Neighborhood and Tha Home Team, then chides, "and I smoked you, son."
"I couldn't believe it," says Nastee. "I was like, 'They've got hip-hop in Vermont?' Yeah, I guess they do."
Nastee soon left the grind of New York behind and settled in the Green Mountain State, where he started a group called Three the Hard Way with A-Dog, Fattie B and a young, local up-and-comer named Manus. The group was modestly successful and laid the groundwork for what would eventually become VT Union.
"Originally, Union was a collective," says Nastee. "But it's also a business, and a lot of people didn't get that. Everybody wants to be a rapper, but nobody wants to do all the other stuff - hanging posters, handing out flyers, booking shows," he explains. "We'd have meetings every week and, like, 15 to 20 people would show up. But when it came time to do all the work, it was just the same few people every time."
Those people were Nastee, Dakota, Manus and DJ A-Dog, now collectively known as VT Union.
The outfit has gained a reputation as one of the area's finest live hip-hop acts. It's also made connections with significant national players such as Raekwon, who is featured on VT Union's upcoming album. To a man, they credit hard work as the primary reason for their success so far. "We don't get paid to rhyme," says Nastee. "We get paid to do all the other stuff. We get paid to work."
************
The relationship of hard work to success is a concept that Burnt MD, 26, knows as well as any artist in Burlington. The sole proprietor of GTD Entertainment, he labors tirelessly not only in his own artistic endeavors but as a local champion of underground hip-hop. In the last few years, perhaps no single person in Burlington has been as instrumental as Burnt MD in bringing legendary pillars of the genre to the outpost that is Burlington.
This year alone has seen major artists such as CL Smooth, Planet Asia and Tash grace area stages under the banner of GTD's "Ill Sessions," owing almost solely to the local MC's efforts. "It's about spreading knowledge," he says with a smile. GTD's motto is "Spread the cure, kill the disease."
The pursuit of knowledge is ultimately what brought the Brooklyn native to Vermont. After a tumultuous series of life-altering events, culminating in a brief stint in the Navy, Burnt MD relocated to Burlington. There he met partner-in-rhyme and Southern Vermont native Network, 24, and together they formed a dynamic hip-hop duo, also named GTD. Burnt MD and Network bonded quickly, sharing both a love of music and a basic mystical world view, which would become the foundation of their brand of "higher-conscious" hip-hop.
"You can't grow without a pulse," says Network, nodding to Burnt MD. "And this man to my left has completely turned up the volume on live hip-hop in Burlington and given it that pulse, so that it can start growing."
It's a sentiment vividly reinforced by the response the pair receives as they hand out flyers for an upcoming show to passersby on Church Street - a task they perform even as we chat over cocktails on the patio of 1/2 Lounge. Almost without exception, the flyer's recipients express gratitude for the information. Many gush with surprise at the star power of the show's headliner - Tash of Southern California's Tha Alkaholiks.
"You're always tired when you wake up," says Network, gesturing toward a young man who enthusiastically accepted a flyer. "But people are waking up, and that's where I see Burlington hip-hop right now."
Burnt MD heartily agrees, and he should know, as he strives to remain in the public eye and bring local hip-hop to greater prominence. "This is where I work," he says, spreading his arms out as if to hug the city. "I'm out here every day, hittin' the street, giving people energy, making people happy, pissing people off. Anything. Something. People just want to connect, and that's what I'm trying to do."
************
If Burlington seems an unlikely place for a burgeoning hip-hop scene, perhaps it is. But here as in much of the U.S., hip-hop music and culture are becoming increasingly relevant, and the fact that Burlington is a small community may prove to be its greatest asset.
"When I left New York, people were shocked," says Nastee. "Most people didn't even know where Vermont is," he adds, chuckling. "But when I talk to them now, they understand. Here, I can DJ three or four nights a week at the clubs. I can make my own music and have people listen. I can get paid doing what I love to do, and there aren't many people who can say that."
A-Dog agrees, saying, "There are so many people who feel like they have to leave Burlington to make it work. But when you get to New York or California, you're at the bottom of the ladder looking up. That's a tough place to start."
"Anyone could do it and be the one to bust out of Burlington," says Dakota, who went to school with a Vermont artist who has made national waves: Grace Potter. "We're all kind of at the same level. Within that level, certain people might be a little higher or lower than others, but the difference isn't much."
Also a native Vermonter, Fattie B is now Vermont hip-hop's elder statesman, and proprietor of a cornerstone of that community, the boutique clothing store Steez. Fittingly, he views the local scene from a sage perspective. "It's a microcosm of hip-hop on the national level," he says, referring to Burlington. "You've got higher-conscious hip-hop, people with a real message. And you've also got 'retail rap,' or people who are just trying to make a quick buck."
Fattie B says he has "mixed feelings" about the current state of local hip-hop, but he's quick to credit local artists he sees as ushering in the scene's next wave - such as The Aztext. "They're really good, and they're doing the business part well, hitting college radio and doing all the promotional things," Fattie B says. "They're for real."
Whether Vermont hip-hop will ever gain national recognition remains to be seen. But with groups such as VT Union, GTD and The Aztext leading the charge, and newer artists and crews cropping up all the time - NYT, Mecca, Red Zone, Ill Intellecks and Matty C, to name a few - local fans of hip-hop can choose from a remarkable harvest of talent. "There are a lot of people here approaching hip-hop the right way," says Fattie B, "which is a very good thing." And that's what's up.