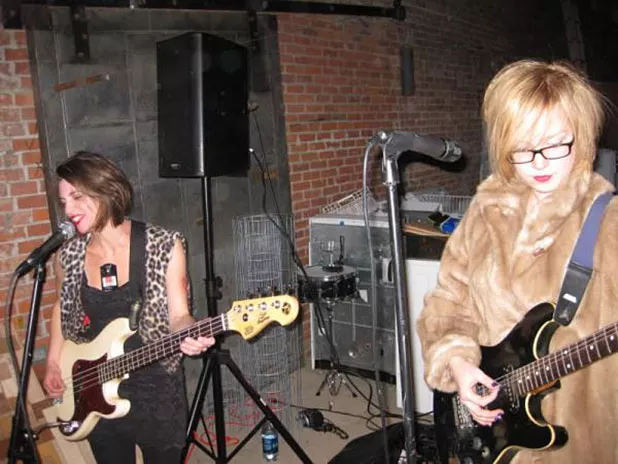 You people disgust me.
Did you know that, since it ran last October, one of the most popular stories in the digital version of this esteemed rag has been Lauren Ober's "Live Nude Students"? It's true. After spending several consecutive weeks in the top spot following its street date, the piece — a "State of the Arts" column bit about a 2010 calendar chock-full o' nekkid (albeit tastefully) UVM students — has rested comfortably among our most read stories, week in and week out.
But that's not all. Last week, "The Sex Spotters," by Seven Days intern Lea McClellan, was the most read feature online. Or at least the most clicked on.
What a bunch of pervs!
Look, nothing against my eminently talented colleagues. Both of those stories are good reads. But there's clearly a relationship between lurid headlines and page views. Need more proof? My 2008 story "Clicks to Licks" (wink, wink) is the second most popular story in the history of the 7D website. And what was it about?
Guitar Hero, obviously. Why, what were you thinking?
This week's column actually has nothing to do with nudity or sex. Or even Guitar Hero. But it is, almost exclusively, about women. Clothed women. But by cheaping out with a provocative headline, I've likely drawn a few thousand extra eyeballs this way. Such is the grotesque wonder that is the Internet. So, if you're seeing this online and were looking for, um, something else … surprise! But since you're here, you might as well keep reading. You might even learn something.
Live Nuda, Girls!
The music biz historically has been a male-dominated field. But in Vermont, women make up more than a healthy percentage of the music community. You could make a reasonable argument that female performers are making bigger waves than are their male counterparts. Grace Potter or Anaïs Mitchell, anyone? (More on the latter in a bit.)
But the popularity of women songwriters in the Green Mountains is not a phenomenon exclusive to the upper echelons of renown. It can be seen on every level, from the lowliest open mic to the grandest stages in the land. Sometimes we should remind ourselves how fortunate we are to have such powerful voices for our listening enjoyment. And since March is Women's History Month, now is as good a time as any, right? Right. This Saturday, Radio Bean plays host to "Ladies of Burlington," a showcase highlighting some of the city's finest female talent.
Leading off is Maryse Smith, who wowed this critic with a charming debut solo effort earlier this year, Is Becomes Was.
Next up is experimental pop songstress tooth ache., who, in addition to driving my computer's grammar check nuts, will also appear as one-half of grimy-as-fuck punk duo Susan. The latter act is new to me, but, based solely on the fact that they (apparently) altered a Wikipedia entry entitled "Music of Vermont" to include themselves, I heartily endorse them. It reads: "Vermont is a State in the United States. One of the state's best known popular artists is Phish. Other bands of note include punk band Susan, Grack Protter and the Eturnals, and Prydein."
God bless you, Wikipedia.
Also on the bill is Lady Lioness, with whom I recently have become infatuated, musically speaking. You can read my review of her latest album here. (Spoiler: I like it. A lot.)
And, last but not least, we have Nuda Veritas (aka Rebecca Kopycinski), who reportedly has a new album in the works, a follow-up to last year's stellar double disc. In a recent email exchange Kopycinski writes, "It's called Verses of Versus or Nothing's New and will have a lot more going on than the first release. What does that mean? Do I even know? It will, however, only be one album, bringing together the two distinct styles on Songs for Doing Dishes and Still Lives (sometimes in one song)."
Sold.
To Hades and Back
Me and my big ideas.
Unless you live under a rock, you probably know that the studio recording of Anaïs Mitchell's epic folk opera Hadestown hit shelves this past Tuesday. Media outlets both local (the Freeps and State of Mind) and national (NPR's "Weekend Edition," among others) have been fawning over the record. As well they should. It's phenomenal.
Knowing that my local music-scribe colleagues would undoubtedly be as giddy as I was/am over the CD, I decided I needed a different tack for 7D coverage. Besides, we've been reporting on the project's various incarnations for years. So, it's not like you didn't know it was coming. Or that it would be good. Really, really good.
Anyway, the plan was to explore the "town" through the eyes of its newest "residents," the shiny new all-star cast. Contacts were finagled. Press requests were sent. Groveling was, um, groveled. And the results?
Ani DiFranco's manager never even replied to say "no." (And Hadestown was released on her label, Righteous Babe.)
Justin "BonflippinIver" Vernon was presumably holed up in a cabin somewhere being impossibly brilliant. But his manager was really nice.
Nobody, and I mean nobody, seemed to have any idea where Greg Brown was. I'm actually sorta worried about him.
Petra Haden of The Haden Triplets was really enthusiastic at first. But then she disappeared … possibly with Greg Brown?
The only person to respond was The Low Anthem's Ben Knox Miller, who plays Hermes. And you wonder why I love that band? Anyway, here's what he had to say:
"I'm amazed at the ambition and imagination of the project. The whole concept is right out of left field, but it comes so naturally to Anaïs … The Hermes she had me play was different than any Hermes I'd ever imagined. A traveled hobo. A back-alley informant. Maybe wise, maybe just drunk … The whole project was brilliantly cast."
Agreed, Ben.
BiteTorrent
Perhaps you caught last week's interview with Neko Case in these very pages. There's no news here. I just wanted to reiterate that I got to chat with Neko Case.
Oh, right. There actually is a bit of news here: There are still tickets available for her show at Fuller Hall in St. Johnsbury — with Anaïs Mitchell, in fact — this Friday. Proceeds benefit Catamount Arts. You're waiting for what, exactly?
Speaking of benefits, Fletcher Allen is throwing a huge one for the Vermont Haiti Project at the Higher Ground Ballroom this Thursday, March 11. Scheduled to appear are Myra Flynn, Karen McFeeters, Julie Winn, Monique Citro, Smokin Gun, Dave Grippo and McKenna Lee with Rock'd Country.
Finally, Amateur Night, er, St. Patrick's Day falls on a Wednesday this year, which presents a conundrum for yours truly. Do I write about it this week and hope you remember? Or do I wait and hope you read me in your drunken stupor? I can't win. So I leave you with this: Paddy's Day is Wednesday, March 17. A bunch of Irish(ish) bands are playing all over the place. Have fun with that.