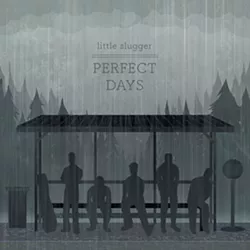 Little Slugger, Perfect Days
(Self-released, CD, digital download)
When we think of "the good old days," it usually evokes a time when responsibilities are low, freedom is high and the window is brief. Burlington's Little Slugger pine for various versions of the good old days on their newest release, the superb Perfect Days. The band is a bright star in the constellation of artists that is Burlington's Future Fields, the label/studio that produced, recorded and mixed the album.
For a relatively new act, Little Slugger are prodigiously adept in all the right ways. They pull influences from across the pop spectrum — gritty garage-pop, twangy alt-country, laid-back indie rock and even a touch of soul. What's more impressive is that they do all these styles well and blend them together in a way that feels unique. They've mastered the art of the pre-chorus, as evidenced on the title track. And they have equally nailed the art of the post-chorus, as heard on "Straw Man." The verses on "Forget the Bed" are so catchy, they rival its hook.
The band never fails to make each song fuller and brighter. From trumpet countermelodies and beds of "oohs" and "ahhs" to interplay between lead and rhythm guitars, Little Slugger lay it on thick whenever they get the chance.
A deep longing permeates the record's 10 tracks. References to hometowns and old stomping grounds, combined with relentlessly sunny production, conjure up images of carefree summer fun.
On the title track, Sam Bevet sings, "Sitting out on a bridge / Dreaming of a storm / That could wash it away." This leads to the song's hook, "Our perfect days are miles away." Though he doesn't specify, it's likely he's looking back as opposed to forward. On "The Key," Ben Chugg sings, "I'm feeling lonely again / I've gotta find myself an old friend." Both singers want to purge their current situation for a long-gone familiar one.
On "Forget the Bed," Bevet gets a little more specific. He sings of a past relationship: "All those nights you're spending / All your money / 'til your head is spinning / And your heart's beginning / To remember why you loved her so much more."
The most appealing thing about Perfect Days is that, throughout its nostalgic recollections, it doesn't get too bogged down in pessimism about the present. Instead, Little Slugger seem to recollect and recapture past joy as a way to power through tough times ahead. Or maybe that's what they want their listeners to do.