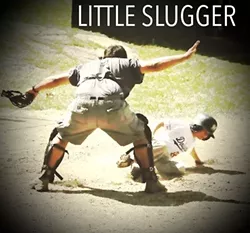 (Self-released, CD, digital download)
Upon finishing the 40-ish minutes of Little Slugger's self-titled debut album, one could be forgiven for assuming they had just listened to a veteran band whose members spent a few years becoming comfortable in their sound, road-testing their catalog of songs to create their tightest set for an album release. It might come as a surprise to discover that the Burlington group is less than a year old.
Though the band itself is still in its infancy, its members have legit local pedigrees. Multi-instrumentalists Ben Chugg (guitar, bass, vocals, trumpet) and Sam Bevet (vocals, guitar, bass) logged time in Busted Brix — the latter also plays with Fridge and the Spins and Eastern Mountain Time. Erin Cassels-Brown (vocals, guitar, bass, drums) is a member of North End Honeys and You Know Ono. Lead guitarist Greyson Webb and drummer Matt Usifer play with YKY and Fridge, respectively.
Each of the album's 11 tracks contains a blend of biting vocals and guitar riffs that are equal parts twang and crunch. Chugg's trumpet provides undeniable charm and glues the Little Slugger sound together. That charm first appears on the third track, "Bleed." On the second verse, his brass stabs accent the vocal and guitar melodies before providing a swelling bed on which the vocals rest.
"How to Live" offers traditional alt-country sentiments in the guitar leads and vocals. Lines such as "I've gotta put the hammer down / Get the hell out of town / Keep running to the end of the line" bring to mind hitting an empty highway in a '69 Super Bee and gunning it in hopes of leaving problems in the rearview.
"Autopilot" is a no-holds-barred shredder with Cobain-worthy screaming vocals and a downright smoldering guitar solo provided by guest Henry Webb. By this point on the album, it seems that Little Slugger realize they've done enough character development. Here they unveil the album's most powerful series of songs.
"Sophia" is a high-energy love story driven by Tex-Mex-tinged trumpet melodies. That feel carries through to "Burlington Bar Scene," where Chugg is joined by fellow Busted Brix alum Meghan O'Daniel on trumpet.
"Whiskey Nights" presents the album's strongest songwriting. The John McCauley-esque vocal grit is complemented by a melodic sensibility you could hear on the better albums by the Decemberists or Band of Horses. And once again, brass punctuations are used strategically.
By album's end, listeners may feel like they've emerged from a roadhouse brawl. You'll get two black eyes from "Autopilot." "Whiskey Nights" cuts like a broken bottle shank — but it also offers the warmth of a new girlfriend stolen from the 300-pound leader of a biker gang. The album has rowdy appeal, worth experiencing again and again.