Burlingtonians looking for new daytime dining options can double their pleasure this week. The Little Red Kitchen opened on Monday, while the Swingin' Pinwheel Café & Bakery debuted on Tuesday.
Located in the old Sugarsnap building at 505 Riverside Avenue, the Little Red Kitchen (open on weekdays, 9 a.m. to 6 p.m.) welcomed a steady stream of Monday commuters picking up grab-and-go sandwiches and salads. A salad of cubed beets and goat cheese over spinach with ginger dressing was an apparent hit. Meanwhile, owner Cheryl Strenio was pushing her brother John's invention of spaghetti served on a crusty, buttered hoagie. "After you try it, you can say, 'Take me now, Lord. I have lived!'" Strenio told customers.
While her sandwich bread comes from Stewart's Bakery in Williston by default, gluten-free loaves also line the shelves. Baker Kaitlyn Cassano turns out specialties such as caramelized-apple cakes and lemon-poppyseed cake.
Downtown at the Swingin' Pinwheel (11 Center Street, open until 2:30 p.m. except Monday), the former Ken's Golf Shop has been transformed into a cowboy haven, complete with wagon wheels, cacti and a mural of the wide western sky. The food reflects the feel, with intense cowboy coffee and chunky beef-shoulder chili. But there's more to the bill of fare, says Andrew Machanic, who opened the café with fiancée Wendy Piotrowski.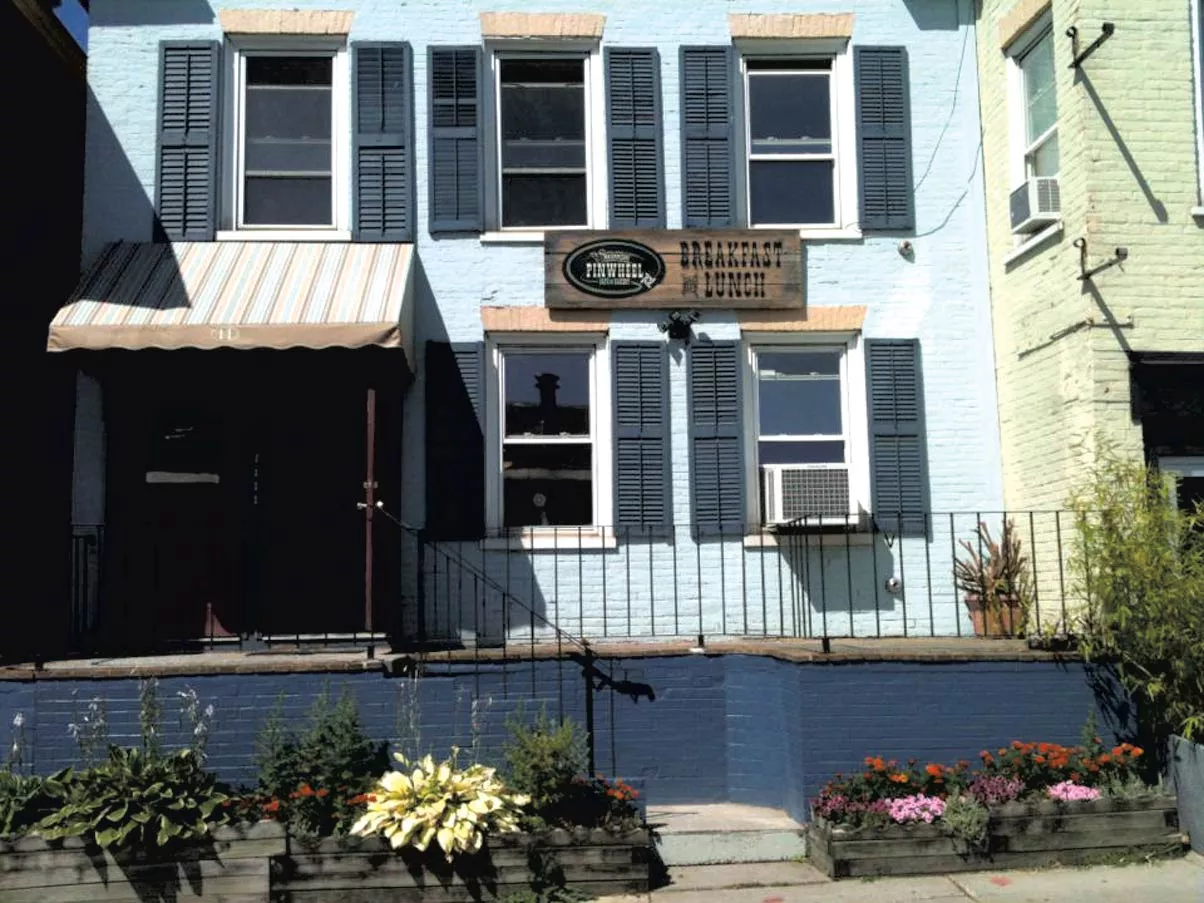 Courtesy Of Swingin' Pinwheel
The business takes its name from a German family recipe for a pinwheel pastry Machanic made with his mother for special occasions — and now serves to his customers. "It's sort of a cross between a croissant and a Danish and a flaky pastry," he explains. "We want them to be almost like the next cronut."
Machanic uses the same dough for his wafflini — sandwiches pressed in a waffle iron. Fillings include combinations such as prosciutto, Gouda and honey mustard. He dusts the pressed treats with powdered sugar and salt before serving. "It's meant to be finger-licking good and you've gotta have more," says Machanic.
Another novel menu item is the Swingin' Pinwheel's stuffed popover, crammed with breakfast-sandwich fillings or seasonal fruit compote. Other morning sandwiches are served on house focaccia. The same meat and veggie options are also available as mix-ins for savory oatmeal. Machanic says he particularly likes the creamy porridge with a dose of cheddar.
Though he and Piotrowski emphasize the ease of takeout, the café has six tables available, and the possibility of more. In the coming months, the pair will need them when western-swing nights become part of their offerings.
The original print version of this article was headlined "Twice as Nice"