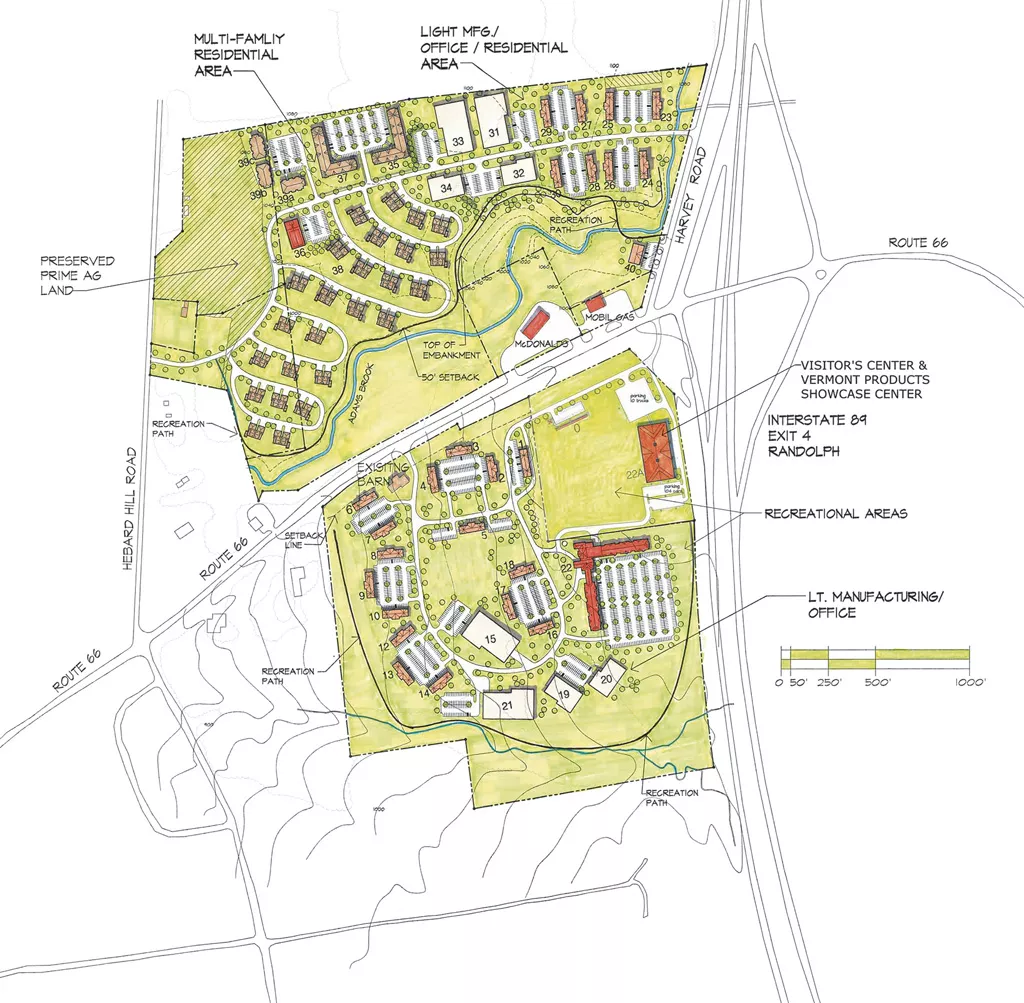 Proposed plan for Green Mountain Center
Charlie Sjobeck lives at the end of a two-mile dirt road in Randolph, a town that still doesn't have a traffic light. Though Interstate 89 runs alongside his property, the place feels cut off from the outside world. Sjobeck likes it that way, but he knows things might soon change. His land is at the center of what could be the biggest and most argued-about development in Vermont since Taft Corners in Williston.
Jesse "Sam" Sammis, a wealthy developer from Greenwich, Conn., has big plans for 178 acres of open land around Exit 4 in Randolph. On it he aims to build 274 homes, a 180-room hotel and conference center, more than 500,000 square feet of office and light industrial space and a 10,000-square-foot fitness center. To sweeten the deal, he's offered to construct, staff and maintain an interstate rest stop with an attached retail outlet — so the State of Vermont doesn't have to.
The project, which Sammis has dubbed the Green Mountain Center, has won support from Randolph's selectboard, development review board and bigwigs from Gifford Medical Center, Vermont Technical College, GW Plastics and Lake Sunapee Bank. Local business leaders are convinced it would bring two things the town of 4,800 covets — jobs and visitors — and have inundated state regulators with letters breathlessly cheering on the development.
But, as state regulators begin their review of the project, opposition is building among local farmers, conservationists and residents. A grassroots group, Exit 4 Open Space, has gathered more than 700 signatures on a petition urging regulators to reject the proposed project.
Critics say it's far too big for Randolph and will siphon away business from the already struggling downtown while destroying vital farmland around the interstate. Brian Shupe, executive director of the Vermont Natural Resources Council, said, "It's a huge, out-of-scale project for the location."
Randolph is in something of an economic no-man's-land — it's 30 miles northwest of West Lebanon, N.H., a thriving commercial center in a state without a sales tax, and 20 miles southeast of Montpelier and Barre. Jobs are scarce. The town is dependent on small farms and a few local businesses in a downtown with too many empty storefronts.
"We need a shot in the arm," Town Manager Melvin Adams said. "We need something to encourage young people to stay in Randolph. There's definitely a need, and I think the critics out there think with their blinders on."
In a letter to regulators, Gifford President Joseph Woodin wrote: "We envision the Green Mountain Center will be a huge boost for all of Central Vermont and particularly will be a positive benefit for the entire Randolph community, from farmers to restaurants to retail stores to the Randolph Historical Museum to the Chandler Center for the Arts to the Vermont Technical College to the Gifford Medical Center and many other businesses in the area that desperately need more foot traffic to survive."
Sammis is something of a big fish in little Randolph. He rides in the Fourth of July parade every year and is currently the town's largest property owner. He and his wife control approximately 1,400 acres of property valued at more than $12.6 million, including the Three Stallion Inn and neighboring Montague Golf Club, a few downtown retail buildings, several homes and huge swaths of undeveloped farm- and forestland. The part-time Randolph resident maintains a large home tucked behind a brook in the woods off Lefebvre Road, not far from the proposed development site.
Real estate is his business. When he's in Connecticut, seventy-something Sammis is focused on New England Land Company, which he founded in 1971 to focus on high-end projects in the New York area. The company has had leasing arrangements with Eastman Kodak and IBM, and developed the 750,000-square-foot "Center at Greenwich," which includes a 400-room Hyatt Regency Hotel.
His success has won him a mixture of admiration and wariness among Randolph locals.
"Sammis has a lot of influence in town, and he throws his weight around. People do what he says," said David Hurwitz, a Randolph woodworker and leader in the Exit 4 opposition group. But his proposed development, Hurwitz warned, "is disconnected from reality" and will likely hurt the downtown, which is three miles from the highway exit. "The pitch is, it will bring millions to downtown Randolph. There's nothing to back that up. It's PR hype. I don't buy it. Nobody is going to go downtown. You get off, buy gas, take a bathroom break and get back on the highway."
Opponents liken the Green Mountain Center to one of Vermont's most notorious development projects: Taft Corners off I-89 in Williston. After a decades-long struggle with conservationists, developers eventually secured permission to transform tracts of farmland there into dozens of big box and chain stores in several strip malls just off Exit 12.
Sammis said he admires Taft Corners, but bristled at the comparison between his proposal and the Williston development. "I like Taft's Corners. I think they did a good job. They've got nice looking buildings, they've got nice landscaping. I don't see anything wrong with that project," he said in a brief telephone interview.
But his would be different, he said. More than 60 percent of what you now see at the proposed site — mostly open land and woods against a Green Mountain backdrop — would remain unchanged, according to Sammis. Currently the site, which includes both sides of Route 66, is home to a driving range, a McDonald's and a gas station.
Referring to his opponents, Sammis said, "They ought to have their arm around me saying, 'Holy smokes, what a good job you've done!'" Speaking about himself, he emphasized, "I'm a conservationist. I've saved the most valuable land as open space."
Instead, most of the local enthusiasm — and press attention — has been focused on the proposed welcome center and attached Vermont Products Showcase Center, where local businesses would be able to promote themselves and sell products. Sammis would pay for its construction and maintenance — an estimated $15 million to build and $300,000 annually to maintain.
In a state that has closed interstate welcome centers in recent years to save money, it proved a persuasive pitch.
"It will not cost Vermont taxpayers one single dime," Gov. Peter Shumlin said at a January 2013 press conference announcing the project at the Three Stallion Inn. Sammis made $2,000 donations to Shumlin in August 2012 and September 2014 after a lifetime of donating to Republican politicians, including Mitt Romney and George W. Bush, the Valley News reported in May. His only other local campaign contribution was $1,000 to James Sault, a Republican from Randolph who ran for state representative in 2010.
Sammis has made it clear that he will not build the welcome center unless his entire project wins approval. And like any major proposal or renovation, Green Mountain Center must win clearance from the local district environmental commission, which enforces Act 250, Vermont's sweeping land-use law.
The first battle in the lengthy Act 250 process will be over whether the development conforms to local and regional plans, which call for the preservation of valuable agriculture land. The project would later have to meet other criteria.
Local regulators say the project seems to comply with existing plans. But Shupe and others say dozens of acres Sammis proposes to develop boast rich soils: Sammis has, over the years, leased his land to local dairy and vegetable farmers.
"If this happens," Shupe said, "no farmland is safe anywhere."
Sammis has been visiting Vermont since the 1940s. As he built his real estate business in Connecticut, he said he was determined to keep one foot in the Green Mountain State. "I love Vermont," he said. "I saw Vermont as a place I wanted to bring my family. I'm back and forth. I'm not a newcomer on the block."
Indeed, almost everyone interviewed for this story was able to reference a personal encounter with the man they call "Sam." But that doesn't mean they understand his motives. Plenty are curious why seventy-something Sammis is pushing for the Green Mountain Center while he has kept the proposed site posted "for sale." The Three Stallion Inn has also been on the market for a while.
Sammis said he has no plans to pull up stakes — the signs have been there for years and could help him lure prospective tenants to his project. But ultimately, he said, everything is for sale, and his land would be far more lucrative if it came with permits allowing for a major development.
"In real estate," he said, "everybody has a price. I would sell it at the right price."