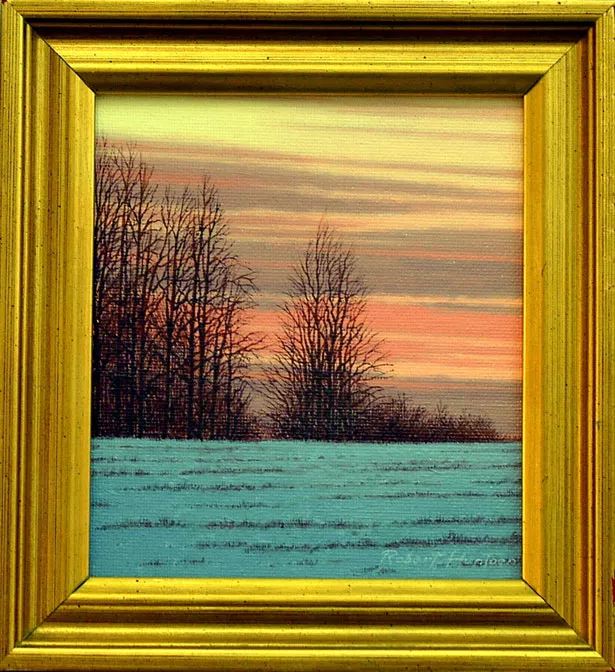 "New Year's Day, Shelburne, VT" by Robert Huntoon
The 11th Annual Small Picture Exhibition currently on view at the Bryan Memorial Gallery is, somewhat ironically, huge. The Lilliputian dimensions of individual artworks - the maximum size permitted is 12 by 16 inches - mean that some 220 pieces fit comfortably in the gallery. As always, paintings dominate, but photographs, drawings and a few prints also appear. Collectively they represent the efforts of more than 100 regional artists.
Calling someone "yellow" was fightin' words in the Old West, but one of the gallery's regular exhibitors happily wears the tag as a nickname. Adrien "Yellow" Patenaude favors that citreous hue in every canvas he creates. But there's a method to his madness: His eccentric aesthetic results from a real command of color.
In "Kingdom Vista," an 8-by-8-inch acrylic landscape, Patenaude lays out diagonal swaths of golden yellow edged by pale greens, which reach deeply into the picture toward lavender mountains. The colors are flat, like silkscreen images, and the artist's palette is reduced to fewer than half a dozen variations on his key hues. Two slivers of red in the middle ground of "Kingdom Vista" - perhaps stands of poison sumac - jostle the colors into a harmonious whole.
Another "flattened" painting, the 10-by-16-inch oil "Gray October" by Helmut Famira, uses red punctuation in a similar way. Dots of the color, perhaps representing maple leaves, are scattered in and around tall pines in a snowy copse under a gray sky. Without the animating red, the work would be as dreary as its title suggests.
Debi Gobin also takes an interesting chromatic approach in her 10-by-13-inch "Mountain Song." In the painting, she's employed a triadic harmony of purple, yellow and green to depict a robust vista. Divided by the mountain, mirror-image diagonals sweep across both valley and sky.
Robert Huntoon has a more traditional slant on landscape painting, working with naturalistic colors and obsessively fine detail. In his 6-by-5-inch acrylic "New Year's Day, Shelburne, VT," horizontal furrows in a field are dusted by snow with a bluish cast; these are echoed in the sky by stripes of pale crimson and violet. At left, along the field's horizon line, are perfectly rendered, naked trees.
Huntoon's "Sounds of Silence," a 5-by-13-inch oil, depicts another snowy field flanked by trees, but this time in a panoramic view on a misty morn. The painting is almost monochromatically silver, except for a foreground row of leafless shrubs and two pale-brown ribbons of scruffy grass.
While many of the painters utilized fine brushes in their works, Andrew Sinclair apparently created with small palette knives. He spread wet paint with the consistency of peanut butter to create his 6-by-8-inch oil, "North Beach 1." Rather than detailed brushwork, bands of texture define the scene: Trees standing over a promontory of rocks reach into pale-blue Lake Champlain. There's a distant light-gray hill, and a smooth, creamy sky above.
Small photos aren't as novel as diminutive paintings, but the images here are nonetheless worth including in the show. Carol J. Truesdell's "American Bitterns" is a 9-by-7-inch portrait of three of the heron-sized birds. Though they stand in the photo's foreground, the bitterns are nearly invisible due to their amazing camouflage. The birds' habitat is a marsh, and their banded brown feathers blend perfectly with surrounding grasses.
Winter scenes are always popular in this annual end-of-year show, and this one is no exception. "Sugar on Snow," by Daniel Patullo, is a 12-by-8-inch, vertically oriented photo of snowy woods. The vantage point provides a very low horizon. A red sugar shack is nestled deeply in the woods, and the steam of sugaring rises through the trees. Patullo's sturdy composition is based on a low vanishing point sited behind the structure, so that the trees stand high, like the vaulted arches of a Gothic cathedral.
Roughly 60 pieces had sold from the show as of this writing, so it's a safe bet there will be a 12th Annual Small Picture Exhibition to look forward to next year.