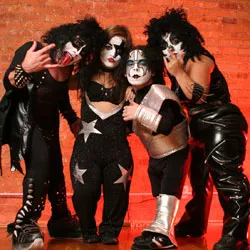 In the pantheon of rock and roll, few bands have parlayed a gimmick into genuine stardom quite like Kiss. The legendary quartet with the Halloween makeup have flamboyantly rocked and partied for nearly 40 years, developing a rabid cult following along the way. And, not surprisingly, the band has inspired a number of tribute acts over the decades. But to truly pay homage to one of rock's great gimmicks, one needs an equally compelling angle to stand out among the face-painted crowd.
Enter Mini Kiss, a New York City-based Kiss tribute act composed entirely of little people.
Seven Days recently caught up with Mini Kiss founder Joeseph Fatale (aka Mini-Gene Simmons) by phone, in advance of the band's upcoming booze cruise concert aboard the ferry in Burlington this Saturday, August 6.
SEVEN DAYS: Tell me about the origin of the idea for Mini Kiss.
JOESEPH FATALE: I've actually been doing this kind of stuff for years, on "Saturday Night Live," Conan O'Brien. But about 15 years ago, I was going through my records and came across my Kiss albums. I thought, Oh, my God. This would be so much fun to do. Little people dressed as Kiss.
SD: And the name came right away?
JF: It just came sputtering out. Mini Kiss. I even got it patented before we started. And why not? Gene Simmons patented everything he did, you know?
SD: And how did he feel about your band?
JF: We did a Dr. Pepper commercial with [Kiss], and we hung out and had a great time. They loved us. I actually think we helped bring them back to life a little bit.
SD: You guys don't stick strictly to Kiss songs, though.
JF: Nope. I've learned through trial and error that you need to mix things up to keep your audience. So, with us, you get a bit of an '80s tribute, too. A little Guns N' Roses. A little Mötley Crüe. A little [Black] Sabbath.
SD: That's a little bit of awesome.
JF: It is. But to me, the best part is that we get a lot of kids that come see us. We grew up to Kiss. They're growing up to Mini Kiss.
SD: It's a niche within a niche.
JF: Sure. And that's part of the reason you can't do an hour-and-a-half set of just Kiss songs. Most people don't really know a lot of their songs. They didn't have a lot of big hits. This guy over here might really want to hear "God of Thunder," but 90 percent of the crowd doesn't know that song. You have to please your crowd, keep the people laughing. When we do GNR, I put the Slash hat on, with the sunglasses and a cigarette. I look like mini-Slash.
SD: Do you write your own music, too?
JF: I'm coming out with an album, actually. All originals. I've been a musician most of my life. I've been writing since I was a kid, and I have a huge little studio down in my basement.
SD: What kind of stuff do you write?
JF: It's like Limp Bizkit meets 50 Cent, or Snoop Dogg.
SD: Holy shit.
JF: Yup. It's good stuff. Heavy.
SD: Describe the typical reaction of someone who is seeing Mini Kiss for the first time.
JF: Especially kids, when they first see a little person, they look at us like, Oh, my God. What's that? But you know, we're little. We're different. And kids are always gonna look at you, no matter what. But when we put that makeup on … and of course then they really look at us like, Oh, my God. What's that? But then they get into it. They get wild. It's sweet.
SD: Is it hard to find musicians for the band?
JF: I've been through 22 different members. Most of them were the singers.
SD: Why is that?
JF: They mess with the drugs, alcohol. And after a while, they get big heads.
SD: Um … yikes.
JF: I've fired a lot of people. One day I'm gonna put a book out.
SD: Do you ever have problems with hecklers?
JF: It's rock and roll. You're always going to have assholes here and there. Drunken idiots. One day, many years ago, the singer I had then was only about three-foot-four, little guy. This drunk guy came onstage and picked him up, swung him around a little bit.
SD: Whoa. So what did you do?
JF: I hit him right in the back with my guitar.