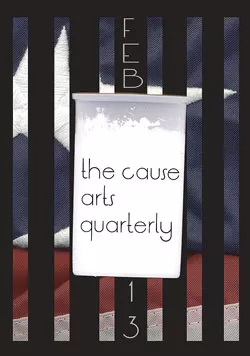 Last Saturday afternoon, Marcus Iannacone, a recent University of Vermont grad, stood on the stage of Burlington's Radio Bean reading a prose poem. An early-twenties crowd buzzed softly around the bar.
"Do you want to listen to my poem?" Iannacone asked a newcomer, who smiled and nodded. "It's really meaningful." A few lines later, he broke off again to inquire, "Is anyone listening? Seriously, this could be something."
Even with a sympathetic crowd — which this was — writers can have a hard time wresting a few minutes of attention away from their peers' conversations, smartphones and other distractions. That's why some of them band together and start literary journals — yes, paper ones.
In the past few years, Burlington has seen the birth of at least two print periodicals with no academic affiliation: biannual The Salon: A Journal of Poetry & Fiction; and now The Cause Arts Quarterly, edited by Eric Bieber, Vincent Marksohn and Taylor Morse. The Cause celebrated its second issue on Saturday with the well-attended Radio Bean release party, featuring musical interludes by the Dusty Neutrals.
Marksohn is an art major at UVM, and Morse and Bieber are English majors, but they stressed that a campus journal is "not what it's about at all," Marksohn said. They accept submissions from the general public and have gotten The Cause onto the shelves of indie bookstores in Chicago; Northampton, Mass.; and Bloomington, Ind.
The editors are serious about the "arts" part of their name. While the journal's interior is devoted primarily to words, both issues of The Cause come with a cover insert that holds a small pigment print, suitable for framing.
"I'm excited, as the artist," said Samantha Donnelly, who created a print included in the new issue using a strip of 120 film. "It's tangible; it's more of an object. I can't imagine a happier moment than when I can put my art into someone's hands."
Why start a literary journal at a time when even long-established ones are struggling for funding? After "exploring the boundaries of art and literature and book production" at UVM, the students "wanted to connect our efforts," said Morse, who was wearing a dandyish powder-blue sports coat. "We wanted to take control of something as our own."
At a university-affiliated journal such as UVM's Vantage Point, the editors said, they wouldn't be able to control as many aspects of the final product. "Everything is curated," said Marksohn, who likened the process to a gallery show he helped curate in his native New York City. Because the staff is so small, "we get to consciously and very systematically create the piece as a whole."
The opening editor's note sets the tone. In the February issue, it evokes images of violence: "We've reached the end again — a moment of stagnation between frames of wartime, a paused VCR that violently cycles through red, green, and blue hues anxiously waiting to resume."
Many of the pieces in The Cause are short and cryptic, with prose falling on the prose-poetry side. A few address the time-honored concerns of young writers: love lost and found, shitty jobs. (At the reading, Hunter Gambino got laughs with his prose-poem "Vague Ramblings of a Cubicle Worker.") But in general, the authors go for a self-consciously elevated, even theatrical, tone or let the play of language take center stage. The strongest pieces in the February issue have incantatory rhythms and a complexity that sneaks up on you.
The first issue of The Cause bore the subtitle "Art and Action," reflecting not an explicit political orientation but an interest in "bringing people into art," Marksohn said. Part of that involves personally selling the journal at events and distributing it through Burlington's Ra Press (which regularly releases slim volumes of local poetry and prose).
One day, the editors would like to publish books under The Cause name. "We don't rule out anything," Marksohn said.
*****
Speaking of book publishing, Honeybee Press — which publishes The Salon — is all over that. With the help of a Vermont Arts Council grant, the Burlington writers' collective kicked off its book series in 2011 with Edie Rhoads' poetry collection The Day Bat.
Last year brought two more volumes of poetry, each with a striking letter-pressed cover crafted from Egyptian cotton recycled by the Peace Project. Dropped Apples is the work of Honeybee editor and publisher Benjamin Aleshire; Cities of Rain, of associate editor Robert McKay. Both will read this Thursday at the Writers' Barn, a space run by Shelburne's Wind Ridge Publishing.
McKay finds mystical dimensions in the back-to-the-land lifestyle, while Aleshire's poetry is both elegant and accessible, whether he's recalling travels in Central America or anarchist potlucks in Burlington. In "Records," an elegy to vinyl turns into a broader reflection on mortality and memory, as Aleshire describes a turntable, "its needle tracing / history's grooves, / pricking us in places / we didn't expect."
In an email, Aleshire writes, "I'm interested in shaking up the … traditional monotone-mumbling of poetry reading." Here's to art in action.
The Cause may be purchased at thecause-actionart.com.
Benjamin Aleshire reads as part of the Painted Word Poetry Series on Wednesday, March 27, 6-7 p.m., at the Fleming Museum of Art, UVM, in Burlington. Free. Aleshire and Robert McKay read on Thursday, March 28, 7:30 p.m., at the Writers' Barn, 233 Falls Road in Shelburne. For more upcoming readings and book-purchasing information, see honeybeepress.org.