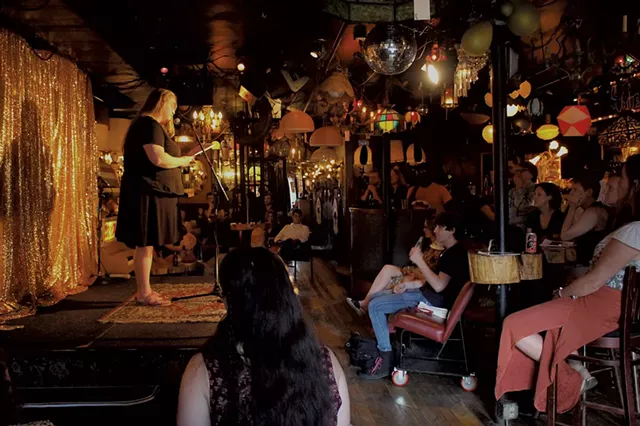 Courtesy Of Bridget Higdon
Druidical poet Elizabeth Horstmann reading at Lit Club at the Light Club
Soft yellow light bathes Meg Reynolds as she steps onto the stage at the Light Club Lamp Shop in Burlington. Her hair is half pulled back, and bangs fall across her eyebrows. She adjusts her glasses, and then leans into the microphone.
"It's time for poetry," she says. "Let's hear it for poetry."
The audience bursts into applause. At least 35 people are in attendance, tucked into corner booths and sitting on mismatched stools.
Reynolds is the host of Lit Club, a weekly poetry open mic held at 7 p.m. every Monday at the tiny venue on North Winooski Avenue.
Dozens of lampshades bloom from the ceiling, their light refracting against the bottles of liquor lined up behind the bar.
University of Vermont student Addison Bale started Lit Club at the Light Club in 2015. While studying abroad, he had been inspired by an open mic poetry reading at Shakespeare and Company, a bookstore in Paris. When Bale returned to Burlington, he approached Lee Anderson, owner of Light Club Lamp Shop, and asked if the space could host a similar event.
"Lee said, 'Let's give it a try,'" Reynolds says in an interview with Seven Days, "and suddenly the event just really took off."
She took over as the main organizer after Bale graduated in 2016.
"I was a regular and was living down the street," Reynolds says. "So it just made sense."
The structure of every Lit Club event is the same. The evening begins with a handful of open mic poets, who sign up on a clipboard. Next is the featured artist, a professional poet or literary group who performs a sampling of work. The evening closes with another round of open mic readers.
Reynolds, who grew up in New Hampshire, moved to Vermont 10 years ago. She now calls the Light Club Lamp Shop her "other living room."
She has an MFA in poetry from the University of Southern Maine, and her work has been published in several journals and anthologies. She teaches writing and humanities courses at Vermont Adult Learning in Burlington.
As host of Lit Club, Reynolds tries to find different poets and groups to feature each week. She also organizes monthly theme nights, such as the Voices of Color and LGBTQ showcases.
Reynolds believes in striving "to create a space for folks who have been traditionally marginalized," she says, because otherwise the event "tends to swing cis white male. I would have nights where that was the whole lineup, and I would think, How the fuck is this happening?"
Tonight, the featured performers are poets who were published in the latest edition of Druidical: A Bardic Arts & Literary Journal. Founded in March by Mary Kay Kasper and Mariko Middleton, Druidical is devoted to honoring artists' connection to nature, spirit and storytelling.
"It is time to create new stories, new myths," Kasper says while introducing the group. "We believe storytelling is for everyone. It comes from the land within you."
After the druids and a short break, Reynolds reappears onstage to introduce the second half of the open mic acts.
Pennsylvania native Jason Price Everett steps onto the Lit Club stage for the first time, though he says he's been writing poems for more than 35 years.
"I was walking by and saw the sign for Lit Club in the window," he says. "I thought, Oh my God, an open mic. And so I made a point of doing it."
Everett reads his poem "The Ghost of Bradhurst Avenue" with the strong voice of a seasoned poet. But other open mic readers seem a little less confident.
Reynolds believes the mix of experience at Lit Club is part of what makes it special.
"We are really lucky in Vermont in how many generous, completely skillful poets we have here," she says. "But then there are absolutely brand-new open-mic folks that come up, and I can see them trembling from where I'm sitting."
Some poets step onto the paisley carpet of the stage with worn journals or pages of loose-leaf paper in hand. Others opt to read from their phones.
The last poet of the night is Rajnii Eddins, a regular reader and host of the Lit Club's monthly Voices of Color Showcase.
"All right now, everybody rub your palms together," he says. "That's how you send an artist energy and love."
Every member of the audience rubs their hands together, filling the room with a gentle shushing sound. After reading a poem from his new book, Their Names Are Mine, Eddins asks the audience for words to contribute to an improvised hip-hop routine.
Someone calls out "revolution"; another shouts "puppy dog." Eddins ends up with about a dozen unrelated words, and then weaves them into an off-the-cuff rhyme. He stumbles over the words and laughs as he goes.
Eddins, a local educator and writer, has been penning poetry since he was 11 years old. His mother, Randee, founded the African-American Writers' Alliance in Seattle, Wash., when he was a boy.
"I was the only child member," he says later. "I learned that there are no mistakes in poetry, that it's all about playfulness, growth and development."
Eddins has found a similar sense of community at Lit Club. "This is such an encouraging, loving and supportive space," he observes.
When Lit Club ends at 9 p.m., musicians start shuffling in, ready to set up for the next round of entertainment. But none of the poets seems ready to leave.
Reynolds compliments Everett on the meter of his verses. The Druidical poets give each other long hugs. More cocktails are ordered.
"I've had poets from New York City, California, the Midwest all come to Lit Club and say this is a special place," Reynolds says. "When we fill it, the room is poetry. It's the perfect vessel."