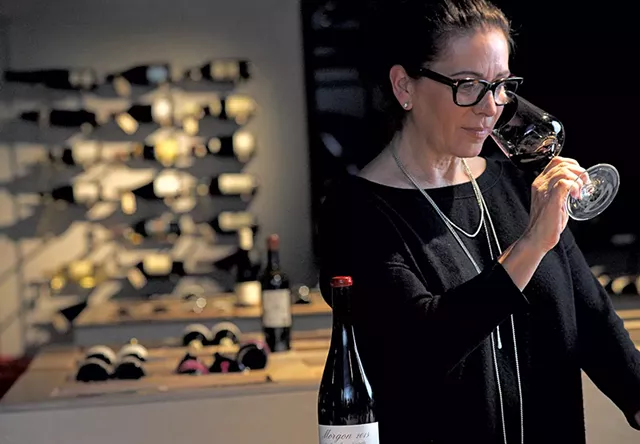 Matthew Thorsen
Lisa Strausser at Dedalus Wine Shop in Burlington
On a chilly March afternoon, Lisa Strausser loads up a padded, rolling wine case from the back of her Audi in downtown Burlington. "I always over-pack," she says as she shuffles bottles in and out, on a quest for the right mixture.
Strausser, 57, is the New England sales manager for Kermit Lynch Wine Merchant, a renowned California-based importer of French and Italian wines. Today she's meeting with Jeff Baumann, the beverage director for Monarch & the Milkweed, and Paul Sayler, the brewmaster of Zero Gravity Craft Brewery.
Baumann and Sayler will taste wines for the Great Northern, a restaurant on Pine Street that's set to open in early May and will have a raw bar. Among other bottles, Strausser has brought them a salty Muscadet, an Italian Grüner Veltliner and a Kuentz-Bas Riesling that, she notes, "makes my mouth water."
Normally, Strausser says, she would have a meeting like this with a sales representative from one of the companies she wholesales to — such as Vermont Wine Merchants or Farrell Distributing. But after decades of working in the Vermont restaurant industry, she's personally familiar with the players and their needs.
Strausser got her start in the food-and-beverage biz working for the Perry Restaurant Group — at the Sirloin Saloon in Shelburne and Manchester, as well as at Sweetwaters in Burlington — as a part of the management team. She was a partner at the now-defunct O Restaurant on Burlington's waterfront. Strausser then moved on to New Hampshire-based beverage distribution company g.housen. She joined Kermit Lynch in 2014. Seven Days met up with the oenophile to learn more about her job.
SEVEN DAYS: Can you tell me a little bit about working for Kermit Lynch?
LISA STRAUSSER: I'm one of a team of four or five people that do national sales, so I travel a lot — a couple times a year to France or Italy. Those are buying trips. We bring customers and drive around for a few weeks to visit all the domains. And the rest of the year, I'm selling to distributors. I spend a lot of time in Massachusetts, in Boston. But I cover all the New England states. I'm gone more than I'm home.
SD: You were just on a trip, correct?
LS: I was in Italy, but I started in Paris and ended in Rome. If you drew a line from Rome over to the Adriatic coast, I visited pretty much that entire northern region of Italy. It was amazing. But you're in and out of a different hotel every night. I had lunch in Venice one day and ended up in Parma for dinner.
There's really great food, amazing wines — we hiked up into these vineyards way in the mountains. Corsica was insane. It was my first time there.
Matthew Thorsen
Lisa Strausser at Dedalus Wine Shop in Burlington
SD: What kind of training did you need to get to this point in the wine business?
LS: Years of restaurant work, managing restaurants from a young age, and being around people in my early twenties that were really passionate about wine. And when I met [my husband, Jay Strausser], as well, he was also into wine. We'd have wine groups where we'd meet on Friday nights and taste things. We still have those people in our life even today.
I'm not a trained sommelier, [though] that's kind of the trend now. It's being around it, being passionate about it, loving food and wine and that whole world. It's all I've ever done.
SD: So people are gravitating toward sommelier training?
LS: Oh, yeah, and definitely in the cities. Everyone wants to have a sommelier degree. But it was really rare for people to have a Master of Wine back in the 1980s, and very few women. It's always been a male-dominated business.
SD: Is that still true?
LS: No, I think you see more and more women.
SD: When did that begin to change?
LS: Jancis Robinson is probably one of the most famous — she's written a lot of books. So, maybe [in] the 1990s or the early 2000s. But the trip I was just on, I was the only woman. None of the buyers were female. So, it's still like [the rest] of life: It's male-dominated. All my bosses are men.
SD: Are you conscious of that as you're navigating these relationships?
LS: No. I've worked with men — being one of the only women in the field — for a long time. When I worked for Tony Perry and the Perry Restaurant Group, I was one of the first females ever trained as a manager [in 1981]. He didn't even have women waiting on tables. Women were hostesses and cocktail waitresses. So I'm used to it.
SD: How many vineyards did you visit on this last trip?
LS: Not as many as the normal January trip to France, where you literally taste 1,200 wines in two weeks. It's insane. In Italy it was less, because we spent more time with each vigneron in their vineyards, learning about their farming practices and their [families]. So, around 600.
SD: Is that different from what you were doing with g.housen?
LS: Not really, because I've always wanted to know the story behind the wine. For me, that connects the dots to where it comes from. But because I work for Kermit [now], I need to know intimately the people who are making the wine that I'm selling. Because they are families — generation after generation of family members making wine the same way. It's really fascinating.
SD: Can I go with you?
LS: I know. A lot of people are like, "Can I just come carry your suitcase?" But I try to tell people, "It's really hard. It's not easy. You're at the first appointment at eight o'clock in the morning, and you're in the car driving to appointments all day long. Then you get back to the hotel at 6 p.m. and usually have 10 minutes to go to your room, use the bathroom, and then, oftentimes, you're back into a meeting area in the hotel tasting wines of people you didn't get to visit."
SD: You must have an encyclopedic knowledge.
LS: It's hard sometimes. I have all these notebooks [from each trip], and if there's something I haven't tasted in a while, I'll go back and review my notes from the trip.
SD: What kind of wines do you like to drink?
LS: I like wines that represent the sense of place — where it's from. I hate wines with new oak. I tend to gravitate toward wines that are higher acidity — earthy. I love lighter-bodied reds that you can chill in the summer. I love Beaujolais; it's one of my favorite regions for wine. I love the white wines of Corsica, the vermentino. I could drink those all day long.
I don't have a favorite, but I have a style: I like to know that my wine comes from someone, is farmed with loving care for the environment — organically — and that it's as pure and natural as possible.
SD: Any trends emerging that are reflected in your portfolio?
LS: Within the Kermit Lynch portfolio, Corsica is an emerging wine region that [we'll] be exploring. It's fascinating — an island that was once Italian, now is French, and there's a long history of Italian viticulture.
SD: If you had three weeks to go to any wine region at your own pace, where would you go?
LS: Corsica. [It has] amazing snow-capped mountains and white sandy beaches, all in the same vista. And beautiful vineyards. And it's not overrun with people. It's beautiful, and the wines are amazing.