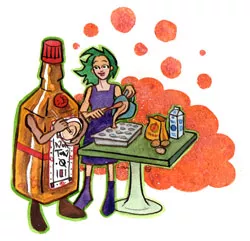 It looked like Bridget Jones had made my cranberry sauce. The sticky, congealed mess of burst berries would have fit right in alongside her curdled caper-berry gravy and mistakenly blue soup in Bridget Jones's Diary. As I caught a strong whiff of vodka from the concoction, that scene suddenly wasn't quite so funny. It smelled more like freshman year of college in my kitchen than dinner.
Nothing could persuade me to spoon the chunky pink mixture over my vodka-and-herb marinated pork chops. My stomach sank — a feeling all too familiar from the kitchen sessions that ended with bitter banana-chocolate-chip muffins, cardboard-like rosemary crackers or whatever was my cooking failure du jour. Cosmopolitan-inspired pork would not be on the menu that night.
Baking with booze had seemed like such a no-brainer. I love a good cocktail almost as much as I enjoy experimenting in the kitchen, and drunken dishes such as bananas Foster prove the hard stuff pairs well with food.
But what really piqued my interest were the mouthwatering flavor combinations found on every cocktail menu: lime and mint in mojitos, pineapple and coconut in piña coladas, almond and citrus in amaretto sours. Rather than simply use booze in ordinary fare, I would craft a three-course dinner, each dish boasting the qualities of one specific happy-hour drink. I couldn't imagine a more festive way to kick off the holiday season.
Fairly certain my 1973 copy of The Joy of Cooking wouldn't get me far in this exercise, I grabbed a pen and paper to start brainstorming. Translating beverages into something edible and appealing was tricky: Some lent themselves well to creative interpretation (rum-and-Coke brownies, for example), while others were tough to crack. Looking at you, blue Hawaiian.
Oddly, the Internet wasn't much help. There were recipes galore for tempting alcoholic desserts, from a frozen strawberry-margarita pie to a Grand Marnier soufflé, but hardly any savory suggestions. I would have to work off-recipe.
Off-recipe cooking is a many-splendored thing. There's an exhilarating freedom to adding a dash of vanilla here or a pinch of parsley there; the sheer possibilities of what you can create are intoxicating — especially when you're already adding liquor to the mix. But it's a dangerous road to wander down alone, at least when you're a home cook with no formal culinary training, like me. One too many soups that turned out lackluster despite spoonfuls of seasonings had taught me as much. Nevertheless, I formulated a menu, drawing from existing recipes when possible and working in key cocktail elements.
The feast started off on a high note. While my boyfriend had voiced his doubts about my idea for a Bloody Mary Bruschetta, the appetizer turned out to be surprisingly addictive. The vegetable-heavy drink was an obvious choice for a savory starter. Diced tomatoes and slivered celery were seasoned with salt and pepper, the juice of half a lemon, a few tablespoons of Worcestershire sauce and some drops of Tabasco — with a small dash of vodka purely for show. Served over crusty slices of toasted baguette, the appetizer was fresh and juicy, with just enough heat to whet our appetites for the meal to come.
With a guy in the apartment, it hardly seemed fair to ignore his go-to happy-hour libation: beer. Luckily, I was pretty sure beer-battered anything was palatable. I set about mashing boiled potatoes with an egg, milk and grated Parmesan cheese for the next course: beer-battered potato puffs. After packing the mixture into bite-size balls, we drenched them in a brew with Magic Hat #9, rolled them in flour and slipped them into a frying pan of sizzling oil.
The puffs crisped up wonderfully: They had a thick, crunchy outer layer, while the insides remained soft and fluffy. Texture aside, though, it was all woefully underseasoned, and the distinctive fruitiness of #9 was nowhere to be found. The dish hardly celebrated the suds.
As you can already surmise, the Cosmopolitan-Glazed Pork Chops didn't make it to the table. I had intended to drizzle the pork with a smooth cranberry sauce made tangy by a hint of vodka and triple sec. Instead, the chops had to go solo. Perhaps I shouldn't have used frozen cranberries left over from, um, Thanksgiving 2008 ... But I suspect the fatal flaw was simply too much time on the burner — and the alcohol accentuated the berries' sweetness instead of cutting it.
The marinade of vodka, crushed garlic and parsley still made for tender and well-seasoned meat. But it was hard to be happy with a couple of ho-hum courses after spending the entire day in the kitchen.
The real kicker, though, was the Mojito Cake. Working rum, lime and fresh mint into an ordinary vanilla-cake recipe yielded an incredibly fragrant batter that baked into two fluffy, golden rounds. I whisked up a hot-buttered rum-inspired mint glaze in which to drench the cakes as they cooled — though I would've happily grabbed a snifter to drink the warm concoction on its own. Because the cake was so decadent, I iced the layers with an airy whipped-cream frosting. There's little I won't do for a good mojito, and this one quite literally took the cake.
With a full belly, I reflected on my mixed bout of boozy cooking. The success of the Mojito Cake made me question, yet again, why I ever strayed from dessert. Butter, flour and sugar make sense to me; try as I may, sautéing and seasoning prove elusive. And, just maybe, there's a reason other cooks have limited their cocktail adaptations to confections. A three-course supper might have been a tad ambitious.
But I wasn't done playing yet. I cleared another weekend and headed to the liquor store, where the same cashier I'd had the previous week eyed my haul of supplies. Armed with a couple of tried-and-true recipes from some trusted food blogs — I was relieved to be back to working from meticulously listed ingredients and instructions — I emerged that Sunday afternoon with two seriously unusual, but seriously delicious, sweet treats.
The Salted Margarita Cookies surprised me, because I don't love tequila, and salty sweets normally drive me nuts. But this riff on buttery shortbread cookies turned out lime-kissed bites rimmed with a blend of granulated sugar and coarse sea salt. They had just enough zing to call to mind the popular cocktail.
My White Russian Soufflés, on the other hand, were pure comfort food. I melted white chocolate into a warm bath of Kahlúa — I sort of wanted to climb into the pan and join the party — before blending the mixture with eggs, heavy cream and cream cheese. The liquid, divided among petite soufflé cups, rose into light and spongy coffee-laced cakes.
Meanwhile, I had dozens of dishes in the sink, my liquor cabinet was severely depleted, and I was stone-cold sober. Next time I get fired up about booze, I may just head to the bar. But I'd traded a killer hangover for a few killer recipes, and that was a good enough buzz for me.