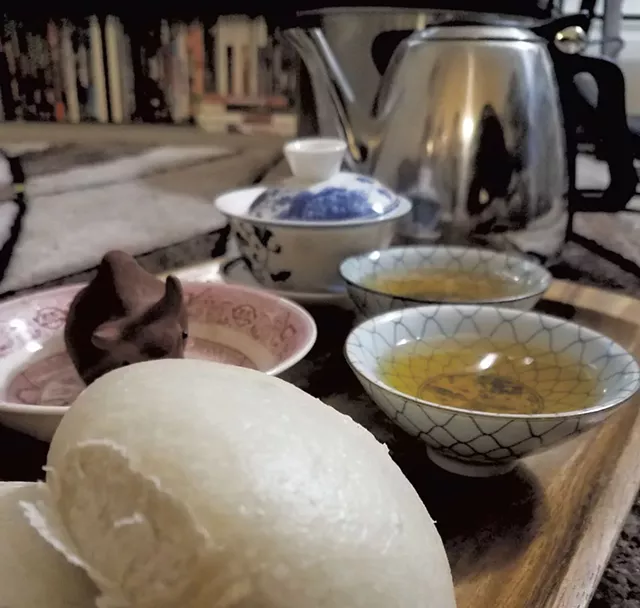 Courtesy Of Lion Turtle Tea
Tea and dim sum
From biker bar to teahouse. No, it's not the name of a new sitcom. It's the trajectory of the storefront at 41 King Street in Burlington.
Thirty-plus years ago, the Sheik — a hangout that attracted the Harley-Davidson crowd — occupied the building at the corner of King and South Champlain streets. Most recently, the space was home to King's Corner Deli, a sandwich shop that closed in December.
Up next will be Lion Turtle Tea, a 25-seat café that will specialize in loose-leaf tea and Asian food, co-owner Tim Williams said. Lion Turtle will pair seasonal teas with dim sum plates that likewise change with the seasons. The space is currently under renovation, and Williams expects the teahouse to open in July.
"The concept for this comes from my love of South Asian food — and tea," he said. "I've been drinking tea since I was 11 or 12."
Williams, 28, is opening the Lion Turtle with Jace Jamason, who will manage the front of the house while he runs the kitchen. Williams, who grew up in St. George, works as a catering chef with Richard Witting of Firefly Catering. His past experience includes cooking at City Market, Onion River Co-op, Williston Central School and Groennfell Meadery. Jamason is a program assistant in the Department of English at the University of Vermont, Williams said.
If renovation proceeds apace and the teahouse opens on schedule, it will be the season for green teas, Williams noted. These include Longjing, which he described as super light and sweet, possessed of a "melony grassiness that screams" warm weather.
Dim sum dishes to accompany such teas will include lightly fried tempura squash blossoms, Williams said. "You've got some really green fresh tea; let's explore some fresh and bright flavors."
Fall will be just right for roasted oolong tea, Williams said. He likes to complement that with "something slightly greasy and filling," such as steamed pork buns or a vegetarian bun filled with squash and roasted nuts.
Those who are curious to taste Williams' dim sum can do so at a pop-up event on Wednesday, March 20, at Deli 126 in Burlington. Lion Turtle will serve veggie bao, pork bao and Sichuan-style pickles. When the café opens, its hours will be Tuesday through Saturday, 11 a.m. to 10 p.m.