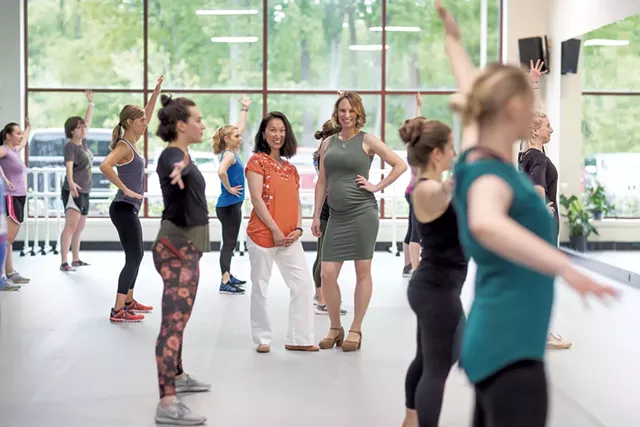 Luke Awtry
June Buechner Carney and Megan Stearns (at center) in the Lines Vermont studio
Entering a dance studio for the first time takes bravery at any age. But for adults who haven't danced in a while, or never did, it can feel like leaping off a high dive. And if the room is full of youngsters, well, that can send the most intrepid adventurer hightailing it back home.
Lines Vermont aims to make the leaping — and twirling, tapping and tendu-ing — as stress-free and convenient as possible. The new South Burlington studio and store, which opened on May 29, offers daily classes in ballet, barre, contemporary, hip-hop, jazz, tap, Pilates and yoga — and caters to adults.
"You don't have to register," said co-owner June Buechner Carney. "You can just drop in and take classes, and there are no recitals, nothing else."
Classes range from beginner to advanced and are designed for adults but also serve teens "mature enough to be on their own," Carney noted. Participants may pay by the class, purchase five- or 10-class packs, or buy monthly memberships for unlimited classes.
Located in the former Kids City on Farrell Street, Lines Vermont also houses Carney's dance supply store, formerly Lines for the Body in Williston. Since 2008, the store has been the local go-to source for apparel and footwear for dancers of all ages.
Lines Vermont fulfills a longtime dream for Williston resident Carney and co-owner Megan Stearns of Hinesburg. Both women grew up in dance studios and were particularly inspired by New York City's Steps on Broadway, a studio that serves dancers of all ages and levels. They appreciated the inclusive community created as principal ballet dancers practiced alongside octogenarians, and they believed the same was needed in Vermont.
They also sought to complement youth-oriented local studios that follow the academic calendar by offering classes year-round and offering workshops and master classes taught by world-class instructors from Vermont and beyond.
"We really wanted to bring in teachers that create a very supportive atmosphere," said Stearns, former creative director of Let's Grow Kids. She and Carney, who teach at the studio, have hired instructors that include former professional dancers. All of them "instill a joy of dance and have a teaching style that acknowledges that people have different body types, so different things are going to work for them," Stearns said. To avoid an insular or competitive culture, instructors encourage students to learn from other teachers and at other studios, she emphasized.
After a recent beginner ballet class taught by Haley Bradstreet, three women had only good things to say about the class and what Lines Vermont offers.
"Haley's energy is great. She's so enthusiastic," said Charlotte Hardie of Charlotte. "I'm always looking for more movement or dance classes in the area. I'm so grateful for this opportunity. Most studios are geared to teens or kids, so it's nice having a community that's more adult-dance focused."
"I've never taken ballet before," said Juliana Taylor of Burlington. "It's nice to feel welcomed."
In addition to the ballet class, she had taken a Pilates stretch class earlier in the day with former ballet pro Steffi Thomas. "There was an amazing woman who was older than 60 in class with us, and she was killing it!" Taylor remarked.
All classes take place in a stunning 1,600-square-foot studio. With a sprung floor, a long wall of mirrors, tall windows, a vaulted ceiling and three skylights, the space is bright and welcoming. "It's top-of-the-line. We spared no expense with the studio," said Stearns, who believes it's a comfortable size for 40 to 50 people.
She and Carney expect that number of dancers at this Sunday's master classes with American Ballet Theatre principal dancers Devon Teuscher and Corey Stearns. The latter, who is Megan Stearns' brother, will teach an intermediate-level class; Teuscher will teach intermediate and advanced classes.
The studio also has changing rooms for women and men, two bathrooms, and a shower on-site.
The nearly 1,400-square-foot store is equally inviting. A chandelier hangs near the entrance over a custom wooden counter, colorful clothing dangles from racks, and a raised platform is designed specifically for pointe shoe fittings.
The entire layout was conceived by Stearns and Carney and designed by Jason Carney, the latter's husband and a partner at Williston-based E4H Environments for Health Architecture.
Small touches speak to the co-owners' desire to create an inclusive and community-oriented vibe. A comfortable couch and chairs facing a swath of windows at the studio entrance encourage shoppers and students to watch classes. The website invites Vermonters to suggest classes they'd like to take. And collaboration with REV stationary-bike fitness center next door has already shaped Lines Vermont offerings. "Everybody over there was asking for yoga classes, something not as intense" as bike workouts, Carney recalled.
Aware that the studio's Harlequin marley floor isn't conducive to dancing in high-heel shoes, Carney and Stearns already are thinking about expansion. Decorative plumbing and hardware showroom Close to Home, which was next door, just moved to Pine Street. "In six months, if things are going well and no one's in there, we'd love to have a studio for ballroom, with a wooden floor," Stearns exclaimed.