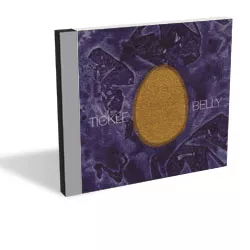 (Self-released, CD)
Linda Bassick made a name for herself as a backup singer and member of local 1970s rock cover band Mellow Yellow. Finally, she has released a solo debut album, Tickle Belly. Clocking in at a scant seven songs and a brisk 22 minutes, the record is a short, sweet affair. But as the old showbiz axiom goes, it's better to leave 'em wanting more. Bassick largely does just that, delivering a record long on sturdy songcraft and rock-solid performances and loaded with potential.
A laid-back acoustic groove opens the record and introduces the lead track, "Live and Learn." Bassick has a distinctive and malleable voice. Here, she favors a thin, edgy delivery that imparts a hint of prickly frustration to musings on the grind of daily minutiae and the feeling that she's seen it all before. "The more we live, the more we learn. / The more we know, the more we burn," she sings. It's a jaded sentiment. But it's somewhat softened by her shrugging, almost dismissive purr.
Bassick's vocal versatility is on full display on the following cut, "Get Along." A lackadaisical lead-guitar line meanders alongside a fluttering acoustic progression. More full throated than on the preceding song, Bassick's croon is emotionally charged as she pleads for just a little peace, love and understanding.
If the record has a flaw, it's that Bassick tends to lean heavily on variations of that tried-and-true rhythmic groove common to acoustic pop — think of every G. Love song ever written. Throughout the record, she mixes tempos and moods to decent effect. But underneath, particularly through the first four tracks, that pervasive bounce lurks, and the mildly repetitive feel detracts from her obvious lyrical strengths.
However, Bassick is clearly capable of mixing it up and presenting her considerable songwriting charms under different stylistic guises. "Tell Me" is a winking roadhouse stomper. "Truth" puts a bluesy spin on that earlier acoustic-pop template and features Bassick's most ambitious instrumental arrangement. Album closer "Hangin'" is an inventive, head-bobbing blues rocker. Its spirited angst suggests that Bassick might be at her best when she rolls up her sleeves and gets down and dirty.
Linda Bassick plays Radio Bean this Sunday, December 11.