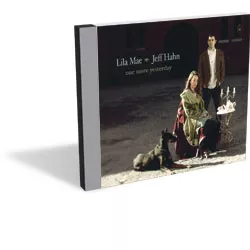 (Self-released, CD)
Before we begin, I'd like to apologize to Lila Mae and Jeff Hahn. You released your debut album, One More Yesterday, at the beginning of the summer, and since then, my copy has sat buried under an ever-growing pile of local CDs, patiently awaiting review. I am so sorry that it's taken me this long to write about your record. Because it's a stunning album that local folk audiences should be devouring, especially now as the final exhalations of summer yield to the steely melancholy of fall.
Album opener "Broken Bell" sets the record's heavyhearted yet wistful tone. A brooding piano ripples alongside a gentle acoustic guitar as Mae gorgeously intones lyrics, her voice barely rising above a melodic whisper. The intensity builds, ever so carefully, to the song's chorus, where Hahn's pure-toned, confident harmony bolsters his partner's hushed delivery, seeming to both comfort and embolden her. It is elegant and subtle, and the first beautiful moment on a record full of them. To wit …
"Some Kind of Dream," a pleading, love-struck gem, features Mae's most gripping poetic imagery. The title track is atmospheric alt-country perfection. "I'll Hear You Calling" sounds as if it were made to fall in love to. "A Sinner's Prayer" is a hopelessly hopeful lament set to a strolling waltz. The Hahn-fronted "My Heart is in Texas" is tender and exquisitely sad. And the delicate, guitar-voice ballad "Falling Overnight" closes the record in a wash of dreamy, heartsick longing.
A few years ago, Caitlin Cary and Thad Cockrell released a duet album, Begonias, that barely registered a blip on most music fans' radars — save for the most rabid alt-country aficionados. It's a shame, since the record was a stunner, a throwback to the golden age of male-female country duets — think George Jones and Tammy Wynette, or, more stylistically accurate, Gram Parsons and Emmylou Harris. Yesterday bears striking similarities to Cary and Cockrell's record in that both reveal a rare synchronicity between musical partners. Individually, Mae and Hahn are impressive and compelling. When they join forces, they are transcendent, as if their voices were made for each other.