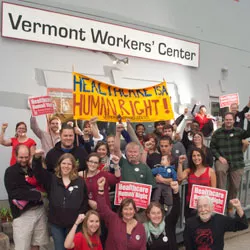 Vermont Workers' Center members
More than a thousand chanting and sign-waving Vermonters marched to the Statehouse two Sundays ago in Montpelier. They formed a sea of red, on account of T-shirts worn by hundreds of members of the Vermont Workers' Center. And it was no accident that the group's third annual health care rally coincided with May Day — the international workers' holiday.
With its Health Care Is a Human Right campaign, the Burlington-based Workers' Center successfully spun health care as a labor issue, and vice versa. The center argued that one of the many shortcomings of the present system is that it discourages worker mobility. Most Vermonters get health insurance through their employers and generally won't risk losing it by quitting even jobs they hate.
The VWC's relentless activism helped push Vermont where no state has gone before: down the path to guaranteeing affordable and comprehensive coverage for every one of its residents.
"The work we've done on health care could not have been accomplished if Vermonters outside the Statehouse had not mobilized," says State Rep. Mark Larson (D-Burlington), lead House sponsor of the Green Mountain Care legislation. "And the Workers' Center has played a huge role in that."
While the achievement may be unprecedented, there's nothing mysterious about how it happened: "It all comes down to organizing," says James Haslam, the center's director.
VWC president Peg Franzen, 71, offers a similarly concise explanation: "We just decided to go out and build grassroots support everywhere in the state."
The center's three full-time paid field organizers, 300 dues-paying members and legions of sympathizers have been dogged and ubiquitous. As the banners borne along Main and State streets proclaimed, the Workers' Center has built a truly statewide base. Windham County sent one of the biggest contingents to Montpelier; Bennington, Rutland and the Kingdom counties were represented, too, along with Washington, Addison, Chittenden and Franklin.
Another sign of success: There were plenty of young people in the crowd. Becca Stowell, a 19-year-old Johnson State College student, had personal and political reasons for taking part in the rally. Her brother recently had a bicycle accident but didn't see a doctor for his injuries because he doesn't have health insurance. A broader motivation, Stowell added, is that she wants "to be part of the change you see happening here."
The Workers' Center traces its origins to a campaign for a "livable wage" initiated in central Vermont in the mid-1990s. The center's founders helped build support for a strike waged by nurses at Copley Hospital in Morrisville in 1998. Lasting alliances developed as a result of that morale-boosting victory, notes Sue Lucas, a Copley union leader who now serves on the Workers' Center's 11-member coordinating committee.
"That's how solidarity works," Lucas explains. "We won with the help of the Workers' Center, and it seemed like we should give back."
Initially, the center was based in Barre — an appropriate locale, given the Granite City's trade-union tradition. But Barre is an exception in a state that "doesn't have a particularly strong labor movement," observes Paul Searls, a Vermont history professor at Lyndon State College.
Nonetheless, the Vermont Workers' Center has managed to become a powerful force at a time when labor organizations in much of the country are either on the defensive or retreating in a rout.
"You've gotta love Vermont," observes Searls, himself a member of the American Federation of Teachers. "Its small scale creates a dynamic in which individuals can have their voices heard and can get things done."
The center tapped into the health care issue through a workers'-rights hotline that Haslam helped establish in the late '90s. It still operates today. "More and more people were calling the hotline with health-care-related issues," he recalls. But there wasn't much the Workers' Center could do to help — at least not on an individual basis. "Organizing people to fight for change together became a big part of what we do," Haslam says.
Activists began canvassing door to door, talking with Vermonters about an ever-more costly, employment-based health insurance system that many bitterly condemned. "We learned that the vast majority were in support of health care as a human right, but the politicians kept saying it wasn't possible," Haslam continues. "It was clear that defenders of a system that makes some people a lot of money had more leverage than we did."
From the start, the Workers' Center "focused on a cause — support for unions, both established and new — that no one else in Vermont was focusing on," observes Ellen Kahler, executive director of the Vermont Sustainable Jobs Fund and a former leader of the Burlington-based Peace and Justice Center. "They also got into the health care issue in a big way when others weren't concentrating on that."
For all its current visibility and drive, however, the Workers' Center was not alone in campaigning for universal health care, notes Deb Richter, a Cambridge physician and activist who has been leading a campaign for a single-payer insurance system for more than 20 years. "They definitely have contributed massively to the effort," Richter says, "but many groups have worked to get us where we are. And we all have our own specialties in terms of who we reach."
State Sen. Randy Brock, a Franklin County Republican, has a different perspective on the Workers' Center's ability to sway lawmakers to its point of view. Asked if he thinks the center has been effective in its lobbying, Brock responds, "I think they've been loud."
He differs with labor historian Searls on the virtues of Vermont's size in allowing a relatively small number of activists to have a big impact on public policy. "Those who are loudest and most persistent and most present at the Statehouse may reflect a disproportionate share of public opinion," Brock says. "I hear from constituents saying 'We can't be present in Montpelier every day to express views because we work.'"
A great many Vermonters are wary of what the legislature is doing on health care, Brock insists. "They have very strong concerns about the approach we're taking with its heavy role for government," he says.
The center did make "a smart strategic decision," says livable-wage researcher Doug Hoffer, in basing its campaign not on a single-payer system per se but on the principle of health care as a human right. That spin enables organizers to make a principled case that's difficult to refute, as opposed to defending specifics that can be attacked from many angles.
Franzen, Haslam and the center's coordinators have also been "smart in staying away from party politics," Hoffer suggests.
The Vermont Workers' Center moved to Burlington's Old North End four years ago "because Chittenden County is where most workers' struggles are," Haslam says. But the center does not have a close relationship with the city's Progressive Party, despite sharing many Prog values. At the same time, "we work very closely with Bernie," Haslam notes, referring to Vermont's socialist U.S. senator.
That nonparty approach "has enabled them to avoid the poison partisanship" that would have limited the center's effectiveness in lobbying the legislature, Hoffer says. It's a matter of exigency as well, Haslam notes. "We have a broad array of political perspectives among our members: There are Democrats, Progressives, Socialists, Greens, anarchists." The center's rhetoric, however, is definitely Marxist inflected.
The center wins praise for its Statehouse lobbying, even from some lawmakers it singled out for criticism. "As a former lobbyist, I understand it's their purpose to advocate strongly for their positions," comments State Sen. Sally Fox, a Chittenden County Democrat lambasted by the Workers' Center for supporting an amendment — cosponsored by Brock —barring undocumented migrant workers from Green Mountain Care coverage. Fox has no hard feelings, in other words.
Electioneering is not one of the center's priorities. Haslam does claim some credit for pushing Peter Shumlin to embrace universal health care when he ran for governor. "Shumlin campaigned hard on that because he's smart," Haslam says. "He saw that people were getting organized on it."
But success in elections should be seen as a byproduct of ongoing political involvement, Haslam suggests. "Look at all the hope and effort put into electing Obama," he says. "This would be a different country today if that movement had stayed active."
The center's ascent to a predominant position on the Vermont Left has generated some tensions within that relatively small segment of society, including among some activists associated with the 32-year-old Peace and Justice Center. Some resented the VWC's ability to corral funds that the peace center could not tap while also building the sort of statewide grassroots network that the PJC has not developed.
"As time went on, and the Workers' Center continued to grow, I would admit to feeling a measure of jealousy," says Robin Lloyd, a PJC cofounder.
But those negative sentiments have been largely set aside, say Lloyd and Anna Guyton, PJC's 24-year-old program manager. In fact, the downsized organization is exploring a merger with the Workers' Center, for which it was the original "fiscal agent." Action on that option is expected within the next three months, Guyton says.
One obstacle is the fear that peace-related issues will not receive adequate attention within a disciplined organization dedicated to economic issues. But Workers' Center leaders note that their members have taken part in antiwar rallies and are involved in efforts to cut the military budget as well as to mitigate climate change. Haslam says he's open to having a closer relationship with PJC. "We do recognize," he says, "that it's hard to talk about issues we care about without also talking about spending on wars. It's also true that a universal health care system is relevant only if we've got a livable planet."