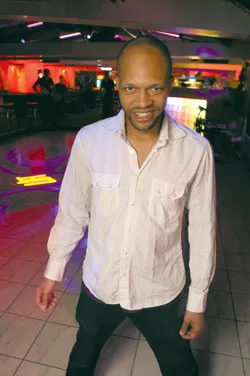 Matthew Thorsen
DJ Craig Mitchell at Lift
It's been a long time coming.
On Thursday, July 2, renowned local DJ Craig Mitchell threw open the doors of Lift. Located in the former space of the late, great Club Toast — then Millennium and, more recently, Second Floor — the venture is the latest addition to the city's thriving nightlife scene. The response? Overwhelming.
For most of the opening night, expectant club-goers dressed to the nines stood in a queue that extended from the lower Church Street venue's front door, down an entire block and around the corner onto King Street. All totaled, 1000 patrons paid a visit to the Queen City's new late-night destination. Given the joint's max capacity of 250, this means the crowd turned over an astonishing four times. And what they found upon arrival was no doubt equally stunning: Lift more resembles the high-end, urban-chic dance clubs of Montréal, Boston and New York than it does either of the two establishments that preceded it. Mitchell's club seems to have shooed out all prior seediness, and it's barely a week old.
The sleazy accoutrements of the past — dingy pool tables, cheesy neon, plastic cups, etc. — have been replaced by numerous plush black leather couches, tasteful lighting and actual cocktail glasses … like, made out of glass. A state-of-the-art DJ booth looms over the expansive dance floor in the center of the room. A "VIP" section (in Burlington?) offers views of the "little people" from behind a velvet rope along the back wall. Meanwhile, seven — count 'em, seven — security personnel keep vigil over the proceedings. Notorious nightly drama is apparently a thing of the past, too.
As giddy as Burlington's bar-going public apparently is — Lift's Facebook page already has more than 1300 fans — no one is happier about these developments than Mitchell himself.
"Of all the things I've done, this is the coolest," he says. "By far." That's saying something, given that the 38-year-old Michigan native's past credits include 19 years of professional deejaying across the country, monthly residencies in Boston and Miami, topping Billboard dance charts, and working with the likes of Yoko Ono and Moby.
Mitchell, a graduate of St. Michael's College who splits his time between Burlington and Boston, first entertained the notion of running the Second Floor in January. At the time, he was considering a move to Las Vegas, but his plans changed when the club went up for sale in mid-May. Two weeks later, Second Floor closed for good, and Mitchell's crew began dismantling the bar that night. "We had two months' worth of work to do in, like, two weeks," he says with a grin. He adds that his staff was removing boxes from the dance floor literally minutes before the club opened.
But the club's renovation goes well beyond fancy new lighting and a fresh coat of paint. To complete the transformation required something of a paradigm shift as well. Asked to sum up his vision for the new venture, Mitchell says simply, "Music equals life." (By way of contrast, Second Floor sponsored a "hottest bartender" contest via its MySpace page.)
On a superficial level, Lift is a dance club. But Mitchell refuses to pigeonhole it into any specific demographic. "People ask what kind of music we'll play all the time," he says. The answer? "Good. That's it."
Mitchell admits the bar will cater to a somewhat specific clientele. And on most nights, house music will likely reign. But he plans to bring in a variety of music, relying heavily on what he calls the "cream of the crop" of local DJ talent, from A-Dog to ZJ and many excellent turntablists in between. He also plans to lean on notable deejaying friends he's made touring the country, as well as the artists traveling the Montréal-to-Boston pipeline.
As for the rumors that live music might return to the space: They're true. Mitchell envisions bands playing the club regularly. He even hints at a Toast tribute night at some point in the future. "Anything that is conducive to the space," he says. "Anything that makes sense."
But more than any particular style of music, Mitchell envisions a place where people can come for an experience unlike any other in Burlington. "You're getting … all the stuff I see in bigger cities that makes people feel special," he says. He adds that he hopes to cultivate the kind of passionate core clientele that Toast did. "It didn't matter what was going on at Club Toast," he says. "Hip-hop fans would go to punk shows. And you went because it was Club Toast. You called it home. That's the kind of vibe I want. Lose the labels, come in, and have a good time."
Undoubtedly, "big-city" atmosphere implies a degree of exclusivity. Though there is no strict dress code, Lift is selective about who can and cannot enter. But that's as much about vibe as it is practicality. "One little thing can set off a bad reaction," he says. "And this space deserves the love, because there is a lot of love within these walls.
"This isn't the best club in the world. It's not the biggest club," Mitchell concludes. "But it is a great club. And it is a lot of fun."