When former lieutenant governor Barbara Snelling died on November 2, every major media outlet in Vermont — and the Boston Globe — noted her passing. Legendary University of Vermont debate director Alfred "Tuna" Snider, who died in December, was memorialized on Slate and in the New York Times. Chef and restaurateur Michel Mahe's death spawned numerous articles and commentaries documenting his culinary legacy — including one just a few weeks ago in Seven Days.
But most of the thousands of Vermonters who died this year were memorialized by a smaller circle of friends and family. Notices of their deaths often appeared only in obituaries, which hinted at fascinating lives and made us want to know more about them.
For our last issue of the year, Seven Days chose seven of these individuals to profile — because of how they lived, or because of how they died. A professor, a poet, a devoted hiker, a refugee — all of these people contributed in various ways to the rich cultural and civic fabric of this state, and left an indelible mark on the loved ones they left behind.
In sharing their stories, we aim to honor the memories of those who died, and to deepen readers' understanding of the diverse and extraordinary array of people who call Vermont home.
"The woods were his temple"
Donald Hovey Hill, 1927-2015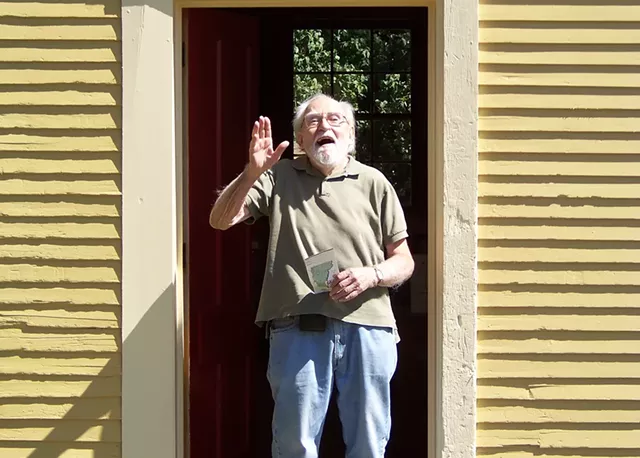 Donald Hovey Hill of Swanton was a "man of letters," though not in the traditional sense of the term. For 33 years, he owned and operated North Country Press, a small commercial print shop in St. Albans that introduced him to almost everyone in the community. Hill, who died New Year's Day at 87, was also a poet whose verses were often inspired by, and written during, his many outings in the Green Mountains.
But his most enduring letters may be those he etched on signs along the Long Trail. A lifelong hiker and founder of the Green Mountain Club's Northern Frontier chapter, Hill hiked the trail from end to end. He also sewed his own sleeping bags, booties, vests and parkas on a foot-treadle sewing machine, and even crafted his own tools for painting blazes and clearing brush while he walked.
As his son, Christopher, put it, "He was the finest putterer I've ever seen."
Pixley Hill, Don's wife, called her husband "Mr. Route 7." He was born in his childhood home on Route 7 — Main Street in St. Albans — and attended Bellows Free Academy in St. Albans on Route 7, too. Upon returning from serving in World War II, he attended Middlebury College before studying art, printing and typesetting at the Rochester Institute of Technology.
Pixley and Don married in 1974, after his first wife, Josephine "Jo" Dodge, died in a tragic bicycle accident in 1971. Pixley described Hill as a "Renaissance man" with diverse interests and abilities. He sang baritone with the Champlain Orchestra and the Cloud Messengers. He was a talented dancer, an avid birder, and lover of jazz, opera and classical music. He was also a woodworker, antique car buff and map collector, and could recite lengthy poems by heart, especially those of Robert Frost.
"Even up to the very end, he was still memorizing something, writing something, reading something, listening to something," says Pixley.
As Hill told videographers Bobbie Flack and Jane Williams in a 2008 documentary, he formally got into hiking after taking Christopher backpacking near Lowell one Friday evening in 1965. Though the two spent a miserable, rain-soaked night in a shelter reeking of creosote, "I got the [hiking] bug right there, and my son did, too," he says in the film. Hill joined the GMC after the trip and remained an active member until he died, maintaining trail logs, crafting signs and marking trails.
Hill also told hikers where to "go" in another sense. Anyone who's ever sought relief along the Long Trail owes Hill a debt of gratitude for the many outhouses he constructed. So impressive were his Long Trail contributions that, in 1999, the GMC dedicated the Spruce Ledge Camp near Eden in his honor. As Christopher recalls, "It was one of the only times I ever saw my father speechless."
Clearly, though Hill enjoyed the company of others, he also relished hiking alone, often leaving before dawn and returning after dusk. Once, he slept outdoors in minus-25-degree weather — an extreme athlete before the expression existed.
In 1989, a near-fatal accident in the woods severely curtailed Hill's hiking abilities. While he was cutting timber with a friend, a widow-maker — a treetop or limb that drops when a tree is felled — crushed three of his vertebrae and severely bruised his lungs.
Still, Hill remained undaunted. Unable to hike as much, he took up boating. He even built his own kayak and canoe, then paddled Lake Champlain end to end.
Hill was eventually diagnosed with pulmonary fibrosis. Though one's lifespan with the condition is typically short, Hill lived another 20 years before it finally robbed him of his life.
At Hill's memorial service last January, Emerson Lynn, publisher of the St. Albans Messenger, remembered his longtime friend and neighbor as a man gifted with an economy of words and power of persuasion. As Lynn put it, Hill "had the enviable ability to write a letter to the editor and say in 20 words what I could not say in 10 times the space."
Yet Hill also listened more than he spoke, Lynn added, and reveled in nature's quiet solitude.
"The woods were his temple," Lynn added. "He sought a life with meaning, something not measured in zeroes. I know few who could be any less materialistic than Don. He achieved that in ways that showed a strong mind and an indomitable spirit. He managed to do this through to his last breath."
Hill drew that last breath eight miles from where he was born — or, as he might have put it, a short walk home.
— KEN PICARD
"She was just straight up out there"
Sondra Elice Solomon, 1948-2015
Sondra Solomon stood out. Visually, it was impossible for her not to — she was a black woman in one of the whitest states in the nation, and she had a rare genetic disorder called neurofibromatosis that covered her body in tumors.
But Solomon, an accomplished scholar, left an impression on people for other reasons. Rather than ignore people's reactions to her, she studied them. She had a PhD in psychology and, as a professor at the University of Vermont, but she often focused her research on people who possessed what she referred to as "physical distinctions."
Some of her papers addressed people like her — "visually distinct" women from ethnic minority groups. She also spent years — and, with a colleague, received more than $3 million in grant funding — researching the impacts of stigma on HIV-positive people in rural areas. She studied how nondisabled people draw conclusions about the social skills of people with disabilities. And she examined how scars affect the self-esteem of burn survivors.
The list goes on: When her sister, Fredericka, was cleaning out Solomon's condo in Colchester, she found "reams and reams of papers," which included interviews with people whose "distinctions" ranged from amputations to alopecia.
According to Solomon's colleague, Larry Rudiger, she didn't just study stigma — she advocated for those who faced it. "She was devoted to making UVM as good as it can be," recalls Rudiger, a senior lecturer of psychological science who first met Solomon when they were both graduate students at UVM.
Among other posts, she chaired the committee that reviews the university's diversity curriculum, and she directed the Fall Institute on Racism, Heterosexism, Bias and Oppression. Solomon also went out of her way to mentor students of color and students with disabilities.
Her efforts extended beyond the university, too — she served on the board of the Vermont People With AIDS Coalition and led the state chapter of the Children's Tumor Foundation.
Describing her as a "tiny, big person" — Solomon was 4-foot-11 — Rudiger also mentions that she "dressed like a million bucks."
"She had a tremendous amount of poise and grace," recalls Jill Abilock, who met Solomon through Buddhist meditation, which Solomon practiced for roughly 40 years.
Born in the Bronx River Houses — also known as the Projects — to Episcopal Protestant parents from the Virgin Islands, Solomon wasn't always so comfortable in her own skin.
Fredericka, who is five years younger, said they both attended large New York public schools, and she remembers her older sister as quiet and reserved — a "remarkably smart" introvert who threw herself into her schoolwork: "She realized early on she wasn't going to fly by on looks and a cute personality."
The tumors caused by Solomon's neurofibromatosis started to proliferate around puberty. "She always wore long-sleeved blouses. It didn't matter how hot it was. She really felt it was her burden to protect the world from her differentness," Fredericka recalls. At around the same age, they moved to Riverdale — at that time an almost entirely white community.
The tumors increased as Solomon got older, but during her twenties, she began to overcome her shyness, Fredericka says, noting, "Something changed remarkably." Eventually, "she was just straight up out there."
After graduating from Long Island University, Solomon got a job as a lab assistant in New York, studying liver disease. She disliked being sequestered in the lab, according to Fredericka, and her desire to be around people ultimately led her back to school to study psychology. After getting a master's from New York University, she came to Burlington to complete her PhD at UVM.
Solomon remained a city girl at heart — "She never bought a proper pair of boots," Fredericka notes — but she loved Vermont and had been planning to build a house on land she owned in Calais. Solomon never married and didn't have children. If she had, they would have had a 50 percent chance of inheriting her genetic disorder.
Last June, Solomon was diagnosed with cancer. A tumor on her spine made it difficult for her to walk, and radiation failed to help. It's unclear whether neurofibromatosis was the cause.
Solomon died on September 13, at age 66. Abilock spent many days by her hospital bed. She says Solomon approached the illness with the same dignity and courage she had demonstrated throughout her life.
Abilock is considering publishing one final work that Solomon left behind: a children's book titled The Owl and the Stream. Abilock interprets her friend's story, about a lonely owl who befriends a stream, as a parable. The lesson: Accept who you are.
— ALICIA FREESE
"He knew how to be cool"
Zachary Wade "Creature" Nicholson, 1984-2015
It's never easy for skateboarders in small-town, unpaved Vermont to find places to ride. Growing up in Waitsfield, Zachary Nicholson and his buddies were often forced to retreat to his mom's basement to skate.
That is, until they banded together and convinced local officials to let them convert the town ice rink into a skating park in the warm months. The group built and installed ramps and jumps, and dubbed the place the "Skatium." It wasn't the last skate park Nicholson helped build in Vermont.
"Anything to be around skateboarding and skate parks was good enough for him," recalls Nicholson's lifelong best friend, Jean-Luc Matecat.
Matecat, who was two years older, gave Nicholson his first skateboard. Within a year, the natural athlete was a better skater than Matecat and almost anyone in town.
As a kid, Nicholson often wore T-shirts from skateboard maker Creature. Some friends started using it as his nickname. It stuck, forever — almost everything Nicholson owned as an adult was plastered in Creature stickers.
Born in Colorado, Nicholson moved to Waitsfield with his parents when he was 4 years old.
He made friends easily. When he was just in second grade, the fifth graders wanted to hang out with him. "It was innate in him; he knew how to be cool," his mother, Marsha Nicholson Van Leeuwen, says. "He was just a lot of fun."
She remembered skiing and snowboarding with him and his buddies — he'd whoop and laugh as he careened down the mountains at Sugarbush Resort and Mad River Glen.
Nicholson also had a quiet, soulful side.
His bedroom was the closest to the front door. Seeing himself as his mother and younger sister's protector, he kept a baseball bat by his door, ready to fight off any intruders. Nicholson was also a tireless reader. As a kid, he went for sci-fi and detective stories. As an adult, he dabbled in Chinese literature.
Nicholson was famous for big, enthusiastic hugs, which he would dole out without discrimination. He made friends easily as an adult, too. Women, his mom says, liked his deep-blue eyes.
He rarely talked about the pain lurking behind them.
According to Van Leeuwen, the trouble started when he was about 16 years old, when Nicholson and a friend pilfered opiate pain medications from the friend's mother. It grew into a heroin addiction, which sent Nicholson on a decade-long journey of detoxing, rehabbing, cleaning up and relapsing. It claimed his life in January, when the 30-year-old fatally overdosed inside his Winooski apartment.
Even among his close friends, Nicholson rarely talked about his struggles.
"He had a lot of pain in his life, and he never burdened anyone too much about it, even when we wish he had," Matecat says. "He had a spirit that was unbelievable. He always found time to care, to look out for his friends and worry about everyone else when he probably should have been worried about himself."
Nicholson supported himself as a cook. He had stints at some of the highest-profile restaurants in the Burlington area, including the Daily Planet, Mule Bar, Bluebird Tavern and Misery Loves Co.
When he was clean, he was a reliable worker.
Matecat was the first chef at trendy Mule Bar, which opened in Winooski in 2013. Nicholson would show up early and stay late to help Matecat in the kitchen. Back at the apartment they shared, he and Matecat would relax by cooking meals together. Nicholson dreamed of opening his own café one day.
He spent many weekends with his mother, either taking her around to various Burlington restaurants — where staffers invariably greeted him warmly — or visiting her at her current home in Plattsburgh, N.Y., to help with household projects.
"He always said it was payback and he needed to pay me back a lot," Van Leeuwen remembers. "On his birthday, he said, 'I'm still here because of you, Mom.'"
In his final months, Nicholson became an advocate and organizer for the effort to build a new skate park in Burlington, which opened in November. He never got a chance to use it.
On a winter afternoon last January, Van Leeuwen came up to Burlington for a visit. She and her son grabbed lunch at the Skinny Pancake. He was chatty and excited about his life.
"He seemed really good to me," Van Leeuwen recalls. "He made me feel good, and we had some good laughs, and then we said goodbye."
Two days later, she was awakened by police pounding on her front door.
— MARK DAVIS
"He left everything as it was"
Phal Bhattarai, 1927-2015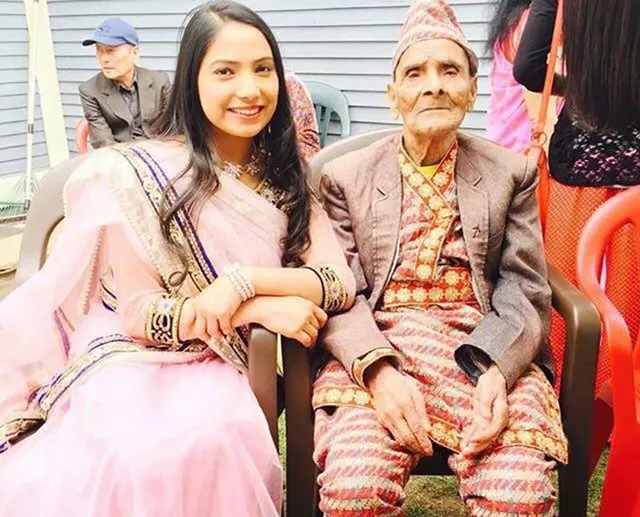 Pabitra and Phal Bhattarai
Moving to a new country is not the way many would choose to spend their old age. Indeed, Phal Bhattarai had not planned to spend his final years in the United States. He lived most of his life in his native Bhutan, then spent two decades in a refugee camp in Nepal before arriving in Vermont on July 18, 2012. He and seven family members were part of a group of more than 1,700 Bhutanese refugees who have been resettled in the Burlington area.
Back in Bhutan, Bhattarai grew rice, corn and cardamom. His second son, Prem, shares details of that time through an interpreter — Bhattarai's grandson, also named Prem. Son Prem says his father had little time for leisure because he was always working. When he wasn't harvesting, he had to work on government construction projects, remembers his son. He'd be away for as long as 90 days, and he'd have to bring enough clothes and food supplies with him.
Bhattarai hadn't wanted to leave his farm in Goshi, in southern Bhutan. The Bhattarai family was among the tens of thousands of ethnic Nepalis who were stripped of their Bhutanese nationality and expelled from the country in the early 1990s after former king Jigme Singye Wangchuck implemented the "One Nation, One People" policy.
When the police came to their village and chased them out in 1992, the family didn't have time to pack anything other than some rice. Prem says his father, who was 65 years old at that time, "felt so sad" for having to leave the house and farm that he had built. "He didn't get a chance to sell anything or harvest anything. He left everything as it was."
Life in the refugee camp was "terrible," remembers son Prem. Their small, four-room hut was made of bamboo poles and plastic, with a thatched roof. The huts were built close together and often caught on fire. It was too hot during the summer and too cold during winter. The refugees received rationed food, which included brown rice, pumpkin, cabbage, potatoes and bananas. There were few jobs in the camp, and they weren't allowed to leave to work, says Prem.
By the time the elder Bhattarai got to Vermont, he was very thin and ill. He didn't have much of an appetite and couldn't hold down much food — he was diagnosed with a stomach ulcer. But he still enjoyed French fries from McDonald's, says granddaughter Pabitra, Prem's sister.
When he needed to go to the hospital, Pabitra was the one who took him there. "My brother is always busy, and I was the only one who could help with the translation," she explains.
When the family was in Nepal, they lived in different camps and she only saw him twice a year. But in Vermont, Pabitra quickly developed a "very close" bond with her grandfather.
He liked going to Lake Champlain, she recalls. "He wanted to see the boats. He wanted to be on one. We did go to Newark," says Pabitra.

Like most millennials, the 21-year-old first-year nursing student at Norwich University loves taking selfies — but mostly with her grandfather. She has countless photos of him smiling toothlessly and wearing the shades she bought for him at University Mall. "People used to ask me, 'Why do you have your grandfather's pictures in your phone and on Facebook?'" she says with a laugh.
Grandson Prem would also bring him to a Colchester farm — Bhattarai missed being around animals.
But Bhattarai's ill health meant he couldn't go out often. Moreover, he didn't speak English. "During winter, he'd sit inside and watch Nepali shows on YouTube. That's all," Pabitra says.
On September 17, Bhattarai, 88, suffered a stroke. It was hours before he received medical attention. The elder Prem didn't know the symptoms and thought his father was just exhausted when he was unresponsive. The younger Prem says most people in the Bhutanese community "don't know about stroke" because it's something they never encountered in their home country.
After Bhattarai spent a night at the hospital, doctors told his family they couldn't do anything more for him. They advised the family to bring him home, where he died on the morning of September 22.
At Bhattarai's funeral, friends and relatives from North Carolina, New Hampshire, Ohio and Pennsylvania came to pay their respects. The younger Prem said he learned from the visitors about his grandfather's generosity. "When somebody came to his house in Bhutan, he didn't let those people go without food."
As per Hindu tradition, Bhattarai was cremated. His clothes were distributed among his four children, all of whom now live in the U.S., and some clothes were cremated along with him. Son Prem, who works at Peerless Clothing, chose to keep a coat. "He wore that from a long time ago," he says. "That's why I keep that."
— KYMELYA SARI
"Very caring, would do anything for anybody"
Patricia Forguites, 1952-2015
Patricia Forguites was generous to the last. The Essex woman donated her corneas when she died September 27; today someone is seeing through her eyes. The gift is even more poignant because Forguites never received the donation she needed: a heart.
Giving, not receiving, was the focus of the 63-year-old woman's life, says her husband of 40 years, Randy Forguites. "She was very caring, would do anything for anybody, and always smiling," he explains during an interview in the cozy Essex apartment they shared.
Pat and Randy's romance began at a coed football game in 1974, when both were living in Connecticut. Some of the guys were tackling the girls, says Randy, which wasn't very gentlemanly. "Her first impression of me was, I didn't tackle her," he recalls with a chuckle. "With me, I think it was love at first sight."
Within a year they were married, and they soon made their way to Vermont, Randy's home state; he worked as a test engineer at IBM from 1978 to 2012. They lived in an old house on Main Street in Essex Junction, where they raised four children, before downsizing to an apartment a few years ago.
In addition to raising a large family, Pat worked in admissions at the University of Vermont College of Medicine and as a lactation consultant. She nursed all of her children at a time when it was considered unusual to do so.
Tricia Cassi, a friend who first met Pat through the La Leche League, recalled her as deeply nurturing person. Her work on breastfeeding education with new moms was a natural extension of her giving, warm personality.
"She was just so kind and gentle and always loved the babies and wanted to support mothers to fully blossom," Cassi says.
When her children were small, Pat volunteered at Hiawatha Elementary School. She also volunteered in the nursery school at the First Congregational Church in Essex Junction, made Christmas stockings for all her relatives and made her special fudge — not too hard, not too soft — for the many people she cared about. "She was really fussy," remembers Randy. "She wouldn't give anything unless it was just right."
In the late 1990s, Pat began experiencing heart problems. Doctors installed a pacemaker in 1999. A year later, when she was 48, they diagnosed her with congestive heart failure.
Doctors raised the possibility of a heart transplant in 2008, Randy says, but Pat hesitated. "She realized that somebody would have to die to give her a transplant," he says.
Her condition worsened. When she was 60, in 2012, her doctors told Pat she needed a new heart to survive. After a round of tests, she was placed on the heart transplant list at Tufts Medical Center in Boston. She was told it could take a year or more to move up the list.
Doctors installed a heart pump so Pat could survive as she waited. But complications ensued that almost killed her. After 21 days in a coma, she miraculously came to. "She could only wiggle her left big toe; she was pretty much paralyzed," says Randy, who left his job to care for his wife.
Pat made progress and was able to move around with a walker. "We both were really thinking she could get better," her husband recalls. But, due to her weakened state, Pat was taken off the active transplant list after two years and told she would need to go through another round of tests to get back on.
She was reluctant to endure the ordeal. The question became moot in September. Pat had a cerebral hemorrhage at home and later died at the UVM Medical Center. When doctors asked about organ donation, Randy said yes.
"She wanted to give her organs if something happened to her," he says.
Doctors could not use Pat's heart, lungs or kidneys because of her health issues. They could use her eyes and tissue, though, and notified Randy with a letter that her corneas have been successfully transplanted. Her gift has inspired him to follow suit when the time comes.
"I probably would do the same thing. Not probably, I will do the same thing," he says. "I'm sure."
— MOLLY WALSH
"A way of looking at the world that was pretty intense"
Ann Jean Thomas, 1926-2015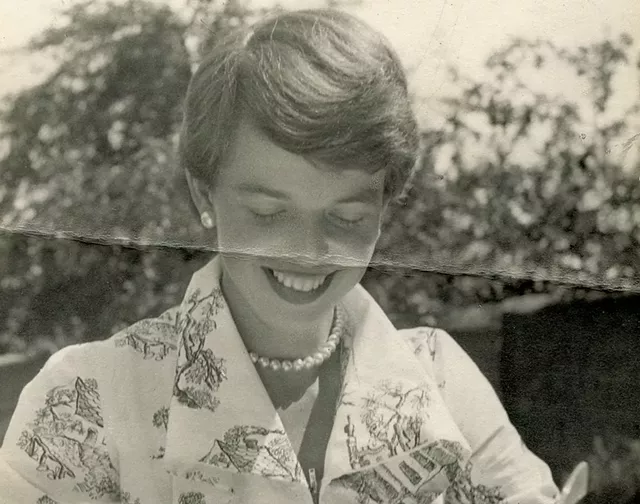 Straw Hat
by Ann Jean Thomas

Through
the holes
in my straw hat
I see the sunday

I see as
a bee's eyes sees
zeros of honey light
multiply endlessly

Then
everything
has gone
for a millisecond cold

as
those suns
are eclipsed
by a passing chicadee
Boundless curiosity fueled Ann Thomas' worldly and eventful life. The Woodstock resident's travels spanned three continents and brought her into contact with prominent 20th-century literary and cultural figures. Her interests varied widely, as well — from writing poetry to researching the use of lithium in treating manic depression, an illness she struggled with to varying degrees for most of her life.
Thomas "had a way of looking at the world that was pretty intense," says her daughter, Charlotte Lanahan.
Charlotte spoke with Seven Days at ShackletonThomas, a handmade furniture and ceramics company in Bridgewater, founded by her sister Miranda Shackleton and Miranda's husband, Charles. Both sisters live nearby and work for the company, Miranda as co-owner and master potter, Charlotte as business manager.
To hear the sisters tell their mother's many stories is to be enraptured by a woman who was, in many ways, larger than life.
Thomas — "Buzzy" to her friends and family — was born in London, England, in 1926 to Rona and Arthur J. Davis, RA. Her father was a prominent architect known for designing London's Ritz Hotel, as well as ocean liners including the Queen Mary. An archive of his work — completed by Thomas in 2010 — is housed at the Royal Institute of British Architects in London's Victoria and Albert Museum. When she was just 16 years old, Thomas began studies at Oxford's Lady Margaret Hall, where she crossed paths with writers C.S. Lewis and J.R.R. Tolkien.
"Mum was really taken by C.S. Lewis," explains Miranda. On the other hand, "she was always very rude about Tolkien because she did not like him — because he did not like women." Thomas was allegedly part of a group of female students who would stand outside meetings of the Inklings, an all-male literary discussion group that included both Lewis and Tolkien, gleaning whatever ideas could be overheard.
Ann and husband David, whom Miranda says her mother described as "a dashing young naval officer," married in 1952. They subsequently moved to Boston, where David studied at Harvard Business School and Thomas worked at the Radcliffe College library. There she helped to administer the university's summer school under the direction of Henry Kissinger (later a U.S. secretary of state) and encountered poets Sylvia Plath and Ted Hughes.
Like Plath, Thomas was no stranger to despair. After her son Toby was born, Thomas experienced severe postpartum depression, and her emerging mental health struggle intensified. In the '60s, the family moved to New York City. "My father worked hard to find the best research people for manic depression," Miranda explains.
Thomas was one of the first patients prescribed lithium by psychiatrist Ronald Fieve at New York-Presbyterian Hospital/Columbia University Medical Center, and she became a medical researcher in her own right. "She got really interested in her own illness," Miranda recalls. In addition to taking lithium, now widely recognized as being an effective stabilizer for manic patients, Thomas underwent multiple electric-shock therapy treatments.
Even outside of the academy, Thomas remained a scholar. "She always had about seven desks piled high with photos and paper," daughter Charlotte remembers. For example, Thomas fervently pursued the hypothesis that the women killed during the Salem witch trials were victims of ergotism, a condition caused by consuming wheat and other cereals affected by a poisonous fungal disease.
While David Thomas worked in advertising, the family traveled extensively. From 1971 to 1981, they lived in Sydney, Australia. Thomas was fascinated by the art and lives of the country's Aboriginal community, and she collected many bark paintings and artifacts — three of which she donated to the Hood Museum of Art at Dartmouth College in 2006 for its exhibition "Dreaming Their Way: Australian Aboriginal Women Painters."
Senior curator Katherine Hart describes Thomas as "a person who had a great deal of respect for these objects, and a great deal of sensitivity for objects in general. She really thought of them as almost sentient in some ways."
Indeed, Miranda describes her mother as "very mystical." Thomas' love of the natural world is revealed in her poetry, which she began writing at age 6. She gave her daughters personalized poems on their birthdays and other momentous occasions throughout their lives. She published her verse, too — her work appeared in Oxford Poetry, the Atlantic Monthly and Verse, among other publications. Her first collection, A Safe House, came out in 1996. In 2013, Thomas published All Summer's Ahead, a poetry almanac with simple illustrations by Miranda.
Ann and David moved to Woodstock in 2002 from Somerville, Mass., to be near their daughters. In November 2014, family and friends gathered at Woodstock's public library for a special reading: Each person was given one of Thomas' poems, which were read aloud in the order she had written them.
Thomas died at home in July from complications of cardiac arrest. She was 88. In addition to her daughters, she is survived by her husband, David, and sons, Mark and Toby, as well as seven grandchildren.
Though Thomas was a scholar, explorer, patient, artist and mother, Miranda asserts, "She was a poet more than anything."
— RACHEL ELIZABETH JONES
"An amazing ability to connect with people"
Benjamin Donald Wood-Lewis, 1999-2015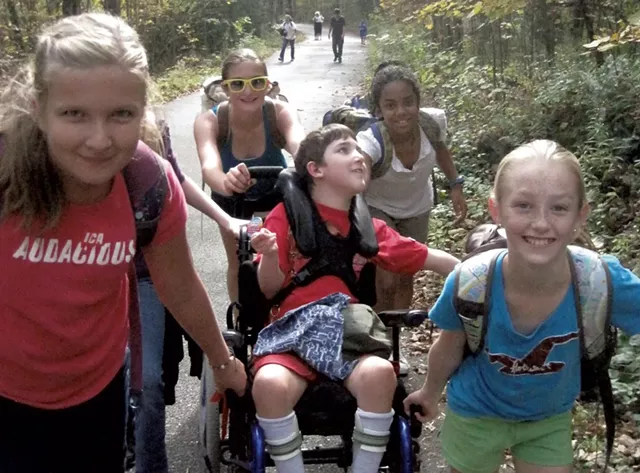 Middle school classmates helping Ben Wood-Lewis climb Mount Philo back in 2011
Teens who transcend cliques and make friends with everyone are a rarity. Ben Wood-Lewis was one of them.
"Ben was the coolest kid in town," remembers his friend and former classmate Joshua Scheidt. "Nobody disliked him."
His father, Michael Wood-Lewis, agrees that Ben "had kind of an amazing ability to connect with people."
That was even more remarkable given that he couldn't speak, walk or communicate on his own. Ben had cerebral palsy, a neurological disorder caused by brain damage. He had little control over his body. To navigate the world, he relied entirely on others — starting with his parents.
Michael and Valerie Wood-Lewis adopted Ben, their first child, a day after he was born. He developed CP in the neonatal intensive care unit when he was two weeks old, due to high bilirubin levels brought on by jaundice. After 83 days in the hospital, the couple brought him home to their South End apartment. Remembers Michael: "I couldn't imagine how we were going to raise this child."
They had some help — Ben had a large team of medical professionals, including doctors, a respiratory therapist, occupational therapists, physical therapists, an assistive communication team, a palliative care team at Boston Children's Hospital and personal care assistants who were with him 24 hours a day. But the Wood-Lewises had recently moved from Washington, D.C., and they didn't yet have many friends nearby.
Valerie remembers bringing Ben to playgroups, where she found compassion but not camaraderie. "What everyone else was talking about was not what we were talking about," she recalls.
Meanwhile, the tech company Michael had been working for had recently imploded. Contemplating his next move, he thought of a neighbor he had known growing up who had also had CP. The two became friends, which, Michael says, had a profound effect on his life.
He hoped his neighbors would develop similar friendships with his own son, but the connectedness he felt in his old neighborhood was missing in his new one. That was partly why he and Valerie developed a free, location-based email newsletter service in 2000, and invited their neighbors to join. The emails proved popular, and evolved into Front Porch Forum, an online community-building platform now used by 120,000 Vermonters statewide.
FPF wasn't just a business success. It helped the Wood-Lewises, who had had moved into a two-story house in Burlington's Five Sisters neighborhood, to meet their neighbors. Ben quickly won people over. He accepted everyone without judgment and frequently flashed his irresistible smile.
And he loved to play. Thanks to adaptive sports programs — and enthusiastic helpers — he was able to ski, surf, bike, parasail and wrestle on the floor.
His parents advocated for him every step of the way. That included prompting the school district to build a wheelchair ramp at Champlain Elementary, working with the Burlington Department of Parks and Recreation to purchase mats to make North Beach wheelchair-accessible, and galvanizing an effort to install an elevator at Edmunds Middle School, so that Ben could maintain the friendships he had developed at Champlain.
Those campaigns didn't just help Ben and others with mobility issues, says neighbor Patrick Halladay. His son, Daniel, was in Ben's class from third through eighth grade. Both Daniel and his sister, Hannah, spoke at public meetings to advocate for the elevator. They learned about how government works and grappled with issues of inclusion, fairness and civic responsibility.
"Talk about a fantastic learning experience," Halladay marvels.
They did fun stuff together, too. Halladay remembers Daniel's third-grade birthday party, which included sledding at Calahan Park. "The kids were doing what they could to pull Ben up and down the hill," he remembers. "They're pulling him up, and he's falling down laughing."
Halladay, a former elementary school teacher who now works with the Vermont Agency of Education, says he's seen this dynamic at work in the classroom, too. Students learn valuable lessons from their peers with special needs, and often bond over helping a classmate.
On Ben's first Edmunds Middle School field trip to Mount Philo, for example, his classmates spontaneously decided that he shouldn't miss the hike to the top. Rather than have a teacher drive him up, the kids pushed and pulled him themselves.
Josh Scheidt went on a similar class trip a year later, when a teacher brought a cross-country ski harness and a rope, which the students attached to Ben's wheelchair. A group of 10 kids, including Josh, took turns helping Ben to the summit.
"We were moving at a pretty good pace," Josh remembers. "It was hard but fun."
Because of Ben, Josh got involved in the Special Olympics unified team. He and Ben bowled, played basketball and did track and field together.
Josh says people recognized Ben everywhere he went. "Everybody in the room knew him," he says. "He was an incredible person."
Despite his CP, Ben wasn't a sick kid, say his parents. So it was a surprise when he struggled to recover from a planned July surgery to replace a medication pump in his back; his decline was likely due to the accumulated effect of severe CP on his body. After three weeks in intensive care at Boston Children's Hospital, Ben came home, but he was failing.
Over three days, friends and neighbors visited at the rate of "a hundred a day," says Michael, first to welcome Ben home, and then to say goodbye and console the family, including Ben's younger siblings Maddie, Henry and Isaac. Ben died at home in August, surrounded by his family, a month shy of his 16th birthday.
His memorial service at Burlington's First Unitarian Universalist Society drew hundreds of mourners, many of them his peers. A slide show of photos featured numerous group shots with a wide variety of pals.
"There are not many people who could cross groups like that," says Valerie. "He was a bridge builder."
— CATHY RESMER